Saturn's 'Great Springtime Storm' in visible light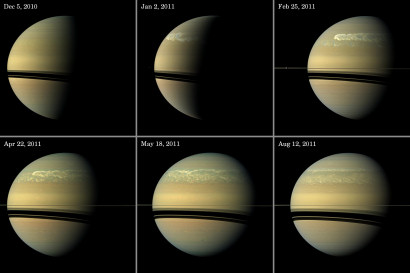 This series of images track the development of a giant storm whirling over Saturn's mid-northern latitudes in December 2010, as seen at visible wavelengths during much of 2011.
This turbulent storm, which affected Saturn's lower atmosphere - the troposphere - has long since ceased. Interestingly, the storm's aftermath in the stratosphere upwards from the troposphere, consisting of a giant vortex that is visible only at infrared wavelengths, is likely to persist until the end of 2013.
Last Update: 25 October 2012