News Archive
224 items found page 1 of 12
A mixed-up magnetic storm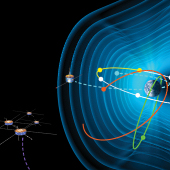 The Sun is a variable star, experiencing 11-year-long cycles of activity which impact our planet and near-Earth space. Forecasting the changing space weather and the effects it will have on Earth remains a challenge, as illustrated by an unusual magnetic storm that was observed by ESA's Cluster quartet and one of the Chinese-ESA Double Star spacecraft.
Date: 28 August 2014
Cluster helps to model Earth's mysterious magnetosphere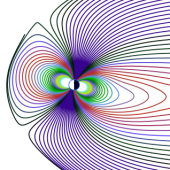 For many years, scientists have been striving to understand the constantly changing structure and behaviour of the huge magnetic bubble that surrounds our planet. One approach – pioneered by Russian scientist Nikolai Tsyganenko - has been to develop models based on data sent back by spacecraft, such as ESA's Cluster quartet.
Date: 07 May 2014
2nd Announcement of Opportunity for Cluster Guest Investigators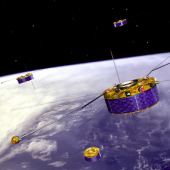 This Announcement of Opportunity solicits special operation proposals for participation in the Guest Investigator (GI) Programme of the Cluster extended mission from the European Space Agency (ESA). The aim of the GI Programme is to open future spacecraft science operations to the scientific community. Investigations are solicited which identify compelling utilization of the Cluster spacecraft payload for scientific study, for the period 2015-2016. The deadline for proposal submissions is 2 June 2014, 23:59 CEST.
Date: 17 February 2014
Cluster takes a tilt at radio wave sources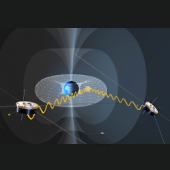 A new study using ESA's Cluster mission has shown improved precision in determining the source of a radio emission produced by the Earth. The experiment involved tilting one of the four identical Cluster spacecraft to measure the electric field of this emission in three dimensions for the first time.
Date: 26 November 2013
Cluster shows plasmasphere interacting with Van Allen belts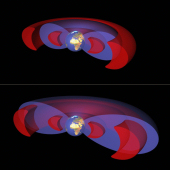 Near-Earth space is populated by charged particles - electrons and ions - which occupy regions known as the plasmasphere and the Van Allen radiation belts. Over the past decade, the four identical spacecraft of ESA's Cluster mission have made numerous studies of these regions, and a recent paper has revealed intriguing links between these overlapping regions.
Date: 10 September 2013
Wobbly magnetic reconnection speeds up electrons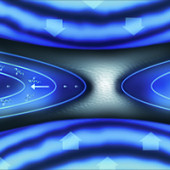 Scientists have discovered a missing piece in the puzzle of where high-energy particles in Earth's magnetosphere come from. Using data from ESA's Cluster mission, they found that magnetic reconnection can accelerate electrons to very high energies - as long as reconnection happens at a variable pace rather than steadily. The result will improve predictions of space weather, studies of fusion plasma, and the understanding of astrophysical environments affected by magnetic fields.
Date: 18 July 2013
Cluster discovers steady leak in Earth's plasmasphere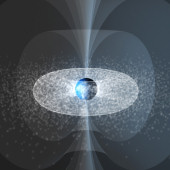 A steady wind, discovered by ESA's Cluster mission, is slowly escaping from Earth's plasmasphere - the torus of plasma that surrounds our planet's atmosphere. The outflow amounts to almost 90 tonnes a day. Predicted by theory two decades ago, this is one of the main mechanisms that replenishes Earth's magnetosphere with fresh plasma.
Date: 02 July 2013
ESA science missions continue in overtime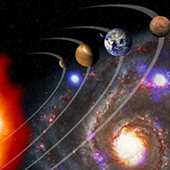 ESA has extended the productive lives of 10 of its operating space science missions. This decision secures funding for ESA's world-class science missions until at least the end of 2014, and provides a framework for planning until end of 2016.
Date: 20 June 2013
Cluster hears the heartbeat of magnetic reconnection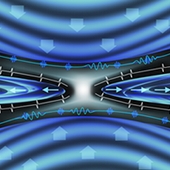 For the first time, scientists have resolved the detailed structure of the core region where magnetic reconnection takes place in the magnetosphere of Earth using unprecedented wave measurements. The study, based on data from ESA's Cluster mission, has mapped different types of electrostatic waves in this region. The waves trace populations of plasma particles that are involved in the different stages of a magnetic reconnection event.
Date: 02 May 2013
Cluster finds source of aurora energy boost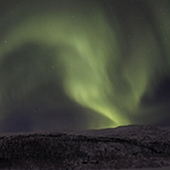 A new study based on data from ESA's Cluster mission has revealed the importance of bursty bulk flows (BBFs) - fast streams of plasma that are launched towards Earth during the magnetic substorms that give rise to bright aurorae. By modelling these fast plasma streams using a kinetic approach, scientists have discovered that earlier studies based on magnetohydrodynamics tended to underestimate their role in the energy transfer during magnetic substorms. The new, more accurate description suggests that BBFs can carry up to one third of the total energy transferred during a substorm; in such cases, BBFs represent a major contributor to the brightening of aurorae.
Date: 10 April 2013
Turbulent eddies may warm the solar wind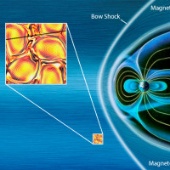 The Sun ejects a continuous flow of electrically charged particles and magnetic fields in the form of the solar wind. One of the long-standing puzzles of solar physics is that the solar wind is hotter than it should be. However, a new study of data obtained by ESA's Cluster spacecraft may help to explain the mystery.
Date: 18 December 2012
Cluster observes a 'porous' magnetopause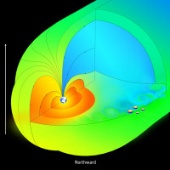 A new study based on data from ESA's Cluster mission shows that it is easier for the solar wind to penetrate Earth's magnetosphere than had previously been thought.
Date: 24 October 2012
Cluster looks into waves in the magnetosphere's thin boundaries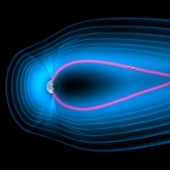 Exploiting a favourable configuration of ESA's Cluster mission spacecraft, scientists have detected and characterised lower hybrid drift waves, a special kind of plasma waves that develop in thin boundaries both in space and in the laboratory. The measurement of fundamental properties of these waves was possible when two of the spacecraft were flying very close to one another in the tail of Earth's magnetosphere. With wavelengths of about 60 km, these waves appear to play an important role in the dynamics of electrons and in the transfer of energy between different layers of plasma in the magnetosphere.
Date: 01 August 2012
Origin of particle acceleration in cusps of Earth's magnetosphere uncovered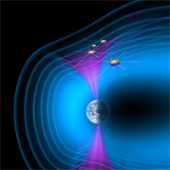 While flying through one of the cusps in Earth's magnetic field, the four spacecraft of ESA's Cluster mission have sampled the population of highly energetic particles that often fill these 'cavities'. A study of the data shows that particles are accelerated locally, within the cusps, as they cross regions characterised by different electric potential - a configuration that results from magnetic reconnection events. This is an important contribution to the long-standing debate concerning how and where these particles are accelerated.
Date: 05 June 2012
Earth's protective bubble hasn't burst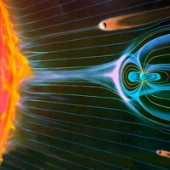 For the first time, the loss of atmospheric ions from Earth and Mars has been observed during the same solar wind stream. In a new study, data from ESA's Cluster and Mars Express spacecraft, which orbit the Earth and Mars respectively, have been used to compare the outflow of oxygen ions when the planets were aligned. The study's findings reaffirm the importance of the Earth's magnetic field in protecting our atmosphere from the solar wind, which had been questioned in recent years.
Date: 07 March 2012
Cluster reveals Earth's bow shock is remarkably thin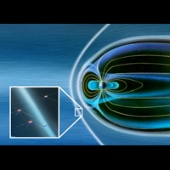 A new study based on data from ESA's Cluster mission has revealed that the bow shock formed by the solar wind as it encounters Earth's magnetic field is remarkably thin: it measures only 17 kilometres across. Thin astrophysical shocks such as this are candidate sites for early phases of particle acceleration. The finding thus sheds new light on the much debated issue of particle injection in the context of cosmic ray acceleration.
Date: 16 November 2011
Ultrafast substorm auroras explained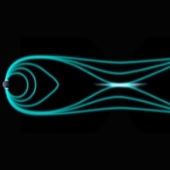 From time to time, sudden releases of energy in Earth's magnetosphere lead to major disturbances that result in bright auroral displays over the planet's polar regions. These auroras are caused by a phenomenon known as a geomagnetic substorm. The precise cause of these substorms has been debated for decades, but new computer simulations, allied to analysis of data from ESA's Cluster spacecraft, are now filling in many of the missing pieces in the puzzle.
Date: 06 September 2011
Cluster observes jet braking and plasma heating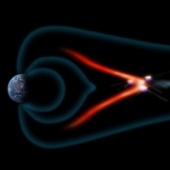 High speed plasma flows, often referred to as jets, are extremely common across the Universe. Such jets are observed in Earth's magnetosphere, in solar flares, and near various objects powered by black holes. New insights into the processes that modify these streams of ionised particles have been provided by rare in situ measurements of plasma flows made by ESA's Cluster spacecraft.
Date: 04 July 2011
First results of Cluster's auroral acceleration campaign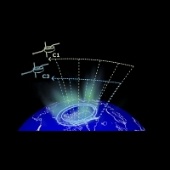 Auroras, more commonly known as the northern and southern lights, are one of the most beautiful and awe-inspiring natural phenomena. New insights into the processes that generate Earth's auroras (and those of other planets) are now being provided by a flotilla of ESA satellites, known as the Cluster mission, as they sweep through the region of space where these colourful curtains of light are created. As they fly in formation above the planet's poles, the Cluster spacecraft are gathering the first multi-point observations of auroral nurseries.
Date: 01 February 2011
ESA spacecraft model magnetic boundaries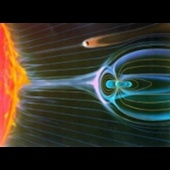 European scientists have used observations from ESA's Cluster and Venus Express spacecraft to improve models of the interaction of Earth and Venus with the solar wind, the perpetual stream of electrically charged particles emitted by the Sun. This has implications for understanding the effects of charged particles on orbiting spacecraft.
Date: 07 January 2011
224 items found page 1 of 12