News Archive
12 items found page 1 of 1
CoRoT's new detections highlight diversity of exoplanets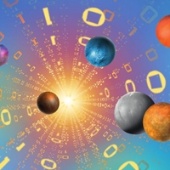 Ten new exoplanets have been discovered by the European satellite, CoRoT. Confirmed via meticulous, ground-based observations, these exoplanets exhibit a wide variety of masses, densities, orbital parameters and other properties, highlighting the broad diversity of planets around stars other than our Sun. The inventory includes seven hot Jupiters, a planet smaller than Saturn and a system of two Neptune-like objects orbiting the same star. The results have been announced today, 14 June 2011, at the Second CoRoT Symposium held this week in Marseille, France.
Date: 14 June 2011
CoRoT unveils a rich assortment of new exoplanets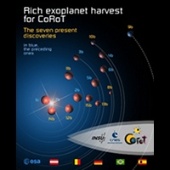 By detecting the faint dimming in the light emitted by stars during a transit event, CoRoT has detected six new exoplanets - each with its own peculiar characteristics - and one brown dwarf. One of these exoplanets, designated CoRoT-11b, has twice the mass of Jupiter and orbits a rapidly rotating star; this type of star is an extremely difficult target for exoplanet searches and its detection marks a significant achievement for the CoRoT team.
Date: 14 June 2010
Newly discovered planet could hold water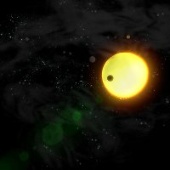 The Corot satellite strikes again with another fascinating planet discovery. This time, the newly discovered gas giant planet may have an interior that closely resembles those of Jupiter and Saturn in our own Solar System.
Date: 18 March 2010
CoRoT mission extended until 2013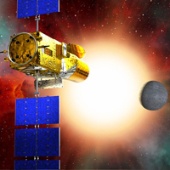 Satellite operations for the CoRoT mission have been extended until 31 March 2013. The decision by the French Space Agency, CNES, and the mission partners, including ESA, was taken on 23 October at a specially convened meeting at the CNES Headquarters in Paris.
Date: 28 October 2009
Smallest exoplanet is shown to be a solid, rocky world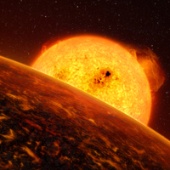 The confirmation of the nature of CoRoT-7b as the first rocky planet outside our Solar System marks a significant step forward in the search for Earth-like exoplanets. The detection by CoRoT and follow-up radial velocity measurements with HARPS suggest that this exoplanet, CoRoT-7b, has a density similar to that of Mercury, Venus, Mars and Earth making it only the fifth known terrestrial planet in the Universe.
Date: 16 September 2009
CoRoT team announces detection of smallest exoplanet to date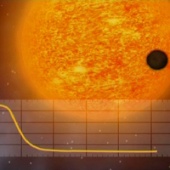 An exoplanet barely larger than the Earth has been discovered by the CoRoT satellite. This was announced on 3 February at a press conference during the First CoRoT International Symposium held in Paris.
Date: 03 February 2009
CoRoT finds other stars with Sun-like vibrations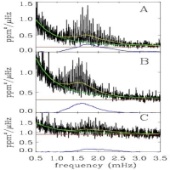 CoRoT has unambiguously detected solar-like oscillations in three main sequence stars. All three stars are of main spectral type F, with a significantly higher effective temperature than our Sun. These results are a milestone for the CNES/ESA CoRoT mission and in general for studies of stellar interiors through asteroseismology.
Date: 24 October 2008
CoRoT exoplanet stands out from the crowd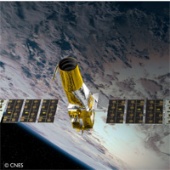 Analysis of data from the CoRoT spacecraft along with complementary ground-based observations reveal CoRoT-Exo-4b to be a gas-giant planet whose parent star appears to rotate in sync with the planet's orbit. This object is also of interest as it occupies a previously empty region of the mass-period parameter space for transiting exoplanets.
Date: 28 July 2008
New exoplanets detected by COROT
The COROT team has detected two new exoplanets and a new type of object. These discoveries were announced this week at the IAU Symposium on Transiting Planets.
Date: 22 May 2008
Unexpected Quality of Raw Data from Early COROT Observations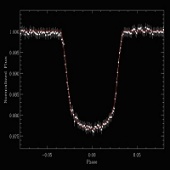 CoRoT started its first science observation period on 3 February 2007 and has already returned data with a quality that is exceeding the pre-launch expectations. CoRoT's accurate and continuous observations of stellar luminosities for selected stars allows for the study of their interiors and for the detection of exoplanets when they transit their parent star.
Date: 03 May 2007
Announcement of Opportunity for observations within the COROT Additional Programme
Date: 28 April 2005
European astronomers get their first chance to detect rocky planets around other worlds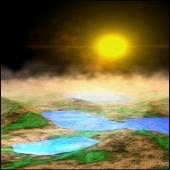 Astronomers from ESA's Member States are preparing to take part in a French-led mission to be the first to search for rocky planets around other stars. The mission, COROT, is an important stepping stone in the European effort to find habitable, Earth-like planets around other stars.
Date: 28 February 2002
12 items found page 1 of 1