Athena
Mission Summary

Athena
Advanced Telescope for High-ENergy Astrophysics
Spatially-resolved X-ray spectroscopy and deep, wide-field X-ray spectral imaging

Cosmic Vision Themes
The Hot and Energetic Universe
Primary goals
Mapping hot gas structures and determining their physical properties
Searching for supermassive black holes
Orbit
Halo orbit around L2, the second Lagrange point of the Sun-Earth system
Launch
2028
Lifetime
Five years, with possible five-year extension
Type
L-class mission
Athena – Advanced Telescope for High-ENergy Astrophysics – will be an X-ray telescope designed to address the Cosmic Vision science theme 'The Hot and Energetic Universe'. The theme poses two key astrophysical questions:
How does ordinary matter assemble into the large-scale structures we see today? and
How do black holes grow and shape the Universe?
To address the first question, it will be necessary to map hot gas structures in the Universe – specifically the gas in clusters and groups of galaxies, and the intergalactic medium – determine their physical properties and track their evolution through cosmic time.
To answer the second question, supermassive black holes (SMBH) must be revealed, even in obscured environments, out into the early Universe, and both the inflows and outflows of matter and energy as the black holes grow must be understood.
Because most of the baryonic component of the Universe is locked up in hot gas at temperatures of millions of degrees, and because of the extreme energetics of the processes close to the event horizon of black holes, understanding the Hot and Energetic Universe requires space-based observations in the X-ray portion of the electromagnetic spectrum.
By combining a large X-ray telescope with state-of-the-art scientific instruments, Athena will be able to make an important contribution to answering these questions.
On 27 June 2014, Athena was selected as the second L-class mission in ESA's Cosmic Vision 2015–25 plan, with a launch foreseen in 2028. The mission has now entered the study phase; once the mission design and costing have been completed, it will eventually be proposed for 'adoption' around 2019, before the start of the construction phase.
Science Objectives
The scientific objectives of the Athena mission will include investigating:
the formation and evolution of groups and clusters of galaxies
the chemical evolution of hot baryons
feedback effects of active galactic nuclei in clusters
missing baryons thought to populate the intergalactic medium
formation and early growth of black holes
accretion by supermassive black holes through cosmic time
galaxy-scale feedback involving active galactic nuclei and star formation
physics of accretion onto supermassive black holes as a driver of active galactic nuclei
Spacecraft
The Athena spacecraft will have three key elements:
an X-ray telescope with a focal length of 12 m and an effective area of ~2 m² at 1 keV
two instruments:

an X-ray Integral Field Unit (X-IFU) for high-spectral resolution imaging
a Wide Field Imager (WFI) for high count rate, moderate resolution spectroscopy over a large field of view
The telescope will use silicon pore optics (SPO), which will provide a unique combination of a large collecting area and good angular resolution across a large field of view while meeting a stringent mass budget. SPO offers an areal density roughly six times better than the electroformed nickel optics used for XMM-Newton.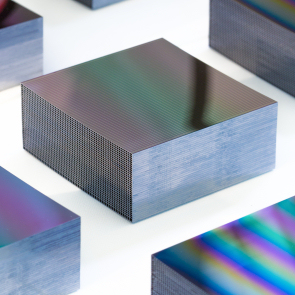 Silicon pore optics mirror stack.
Credit: cosine Research
Each pore in the SPO acts as a very small section of a Wolter I telescope. Two reflections from the inner surfaces of the pore bring the X-rays to a common focus. The pores have a cross-section of only a few mm², and around 1.5 million pores will be used to provide the required collecting area. Arrays of pores are manufactured in modules using commercially available silicon wafers. The wafers are diced into rectangles, typically 60 mm wide and with varying heights, and a thin wedge of material is deposited onto both sides of the wafer, so that when they are stacked the reflecting surfaces are arranged in a radial pattern that provides a common in-plane focus. This technology has now been under development by ESA for over a decade.
The Mirror Assembly Module (MAM) will support the X-ray optics and the associated structure, and will include a straylight baffle, a thermal baffle and an expandable Sun protection baffle to maximise the field of regard. During ground operation and launch, the X-ray mirror will be covered by a door, which can also be used for Sun protection after deployment. To maintain the performance of the optics and simplify calibration, a thermal control system will be required for the mirror. Magnetic diverters will be implemented to deflect soft protons and electrons thereby reducing the particle background.
A fixed structure will connect the MAM to the Focal Plane Module (FPM), which will be part of the Service Module (SVM). The two instruments will be mounted on a moving platform that will position one or the other in the focal plane of the telescope.
Instruments
X-ray Integral Field Unit
The X-IFU will be an advanced, actively shielded X-ray microcalorimeter spectrometer for high-spectral resolution imaging. The detector will be a large array of absorbers read out by transition edge sensors (TES). The TES microcalorimeter senses the heat pulses generated by X-ray photons when they are absorbed. The minute temperature increase occurring with the incident photon energy is measured by the sharp change in the electrical resistance of the TES. This must be cooled to a temperature of less than 100 mK and biased into its transition between superconducting and normal states.
Wide Field Imager
The WFI is a silicon depleted p-channel field effect transistor (DEPFET) active pixel sensor camera. It has a large field of view, high count-rate capability and moderate resolution spectroscopic capability. Each pixel consists of a p-channel MOSFET integrated onto a fully depleted silicon bulk. Electrons generated by the interaction of incident X-ray photons with the bulk material are collected at an internal n-doped gate and laterally constrained to the region below the transistor channel. This increases the conductivity of the MOSFET proportional to the amount of stored charge and is therefore a measure of the energy of the incident photon.
Operations
Launch readiness of Athena is planned for 2028. The mission could be launched by an Ariane 5 or another launch vehicle with equivalent lift capability and fairing size. It will operate at L2, the second Lagrange point of the Sun-Earth system, in a large amplitude halo orbit. The operational orbit will be reached with a direct transfer trajectory towards L2, with limited ∆V demands. The L2 orbit is preferred to alternative scenarios (for example, low inclination Low Earth Orbit, or Highly Elliptical Orbit) as it provides a very stable thermal environment as well as good instantaneous sky visibility and high observing efficiency.
Athena will predominantly perform pointed observations of celestial targets. There will be around 300 such observations per year, with durations ranging from 103 to 106 seconds, with a typical duration 105 seconds per pointing. This routine observing plan will be interrupted by target of opportunity observations (for example, gamma ray bursts and other transient events) at an expected rate of twice per month.
The telemetry and telecommands data rates will not present significant drivers for the ground system design and will be able to be met with existing systems. Automated responses to contingency situations such as high levels of solar radiation will be able to place the instruments into a safe configuration and to resume operations efficiently as soon as the alert has passed. Athena will require only standard ground station coverage during launch, activation, cruise, and orbit injection at L2. Station keeping and other L2 orbital operations will not require special coverage.
The baseline mission duration for Athena will be five years, with consumables sized to allow a five-year extension to maximise the return from this ambitious mission. With a conservative observing efficiency of 75%, Athena will be able to achieve the science goals of the Hot and Energetic Universe theme during the baseline mission, while preserving a large fraction (30–40%) of the available time for observatory science.
Athena's operational ground system requirements will be able to be satisfied with a standard ESA ground segment approach for commanding, controlling and monitoring the spacecraft and instruments, and for the downlink of housekeeping and scientific data. The baseline is to locate the Athena Mission Operations Centre (MOC) at the European Space Operations Centre (ESOC) and the Science Operations Centre (SOC) at the European Space Astronomy Centre (ESAC), with additional contributions funded by Member States.
Last Update: 09 November 2017