Success Story
14. The size of a black hole's dinner-plate
To explain eruptions seen in galaxies, theorists blamed giant black holes. Observations tallied with, but did not prove, the idea that a black hole eats gas from a flat, incandescent dinner-plate surrounding it, called an accretion disk. In 1997 a team led by Willem Wamsteker of ESA's Space Science Department made conjecture a reality. They announced that the accretion disk in Galaxy 3C390.3 was one-fifth of a light-year across, and 1500 times wider than the black hole at its centre.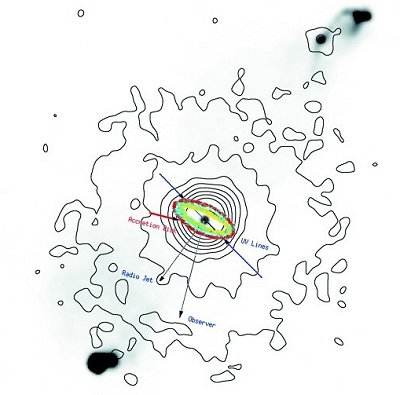 IUE examined Galaxy 3C390.3 thirty-nine times over fourteen years. The scientists also consulted observations by five X-ray satellites. Whenever the black hole consumed a larger morsel than usual, the galaxy flared up, but light took more than a month to reach the edge of the accretion disk. This delay measured the disk's width. From motions of gas, the scientists calculated the fate of an unlucky star captured by the black hole. Shredded by the intense gravity, its gas would swirl twice around the black hole before disappearing into its maw after 150 years.
"Results like this show that IUE's data will continue to give new astronomy for decades to come," Willem Wamsteker commented. "Future generations of astronomers will look back through our eighteen years of unique observations with questions that we haven't even thought of yet."
Golden age of high-energy astronomy
With its COS-B satellite launched in 1975 ESA pioneered gamma-ray astronomy and put European astronomers at the forefront of the field. Gamma-rays are even more energetic than X-rays. Exploding stars, black holes and other strange objects are among the sources of this powerful radiation.
COS-B was followed by the Russian-French mission GRANAT and NASA's Compton Gamma Ray Observatory, both of which involved some of the COS-B teams. ESA now has INTEGRAL, the INTErnational Gamma-Ray-Astrophysics Laboratory, which will use advanced detectors unavailable to the COS-B pioneers. Launch by a Russian Proton rocket from Baikonur is scheduled for 2001.
"With its enormous gain in sensitivity, spectral and image quality over its forebears, INTEGRAL will revolutionise the field in probing to the heart of the most violent events occurring in the cosmos", said Brian Taylor, head of ESA's Astrophysics Division at Noordwijk in the Netherlands. "INTEGRAL together with the X-ray astronomy satellite XMM promises a golden age for high-energy astrophysics at the start of the new millennium."
Last Update: 13 December 2005