Success Story
15. A vampire star closes in on its victim
The European Space Agency's first X-ray space observatory, launched in 1983, reached 192 000 km out into space. On its highly eccentric four-day orbit, Exosat made observations for up to 76 hours without interruption by the Earth's radiation belts. It could see cosmic X-ray sources flickering.
One startling revelation was of two stars moving around each other in an incredible 11 minutes, the shortest known revolution period in astronomy. In XB 1820-30, lying 20 000 light-years away in a dense star cluster in the Sagittarius constellation, the two stars would fit entirely into the distance between the Earth and the Moon, despite their combined mass of nearly twice our Sun.
Astronomers believe that a neutron star, about the size of Mount Everest but so dense that five hundred million tons of it would fit in a teaspoon, is feeding on a white dwarf star. The Earth-sized white dwarf is distorted into an egg-like shape by the intense gravitational field, its matter being sucked from it and heated to millions of degrees as it falls into the neutron star. The resulting X-rays are ten billion times more intense than those from our Sun.
"Before Exosat no one had identified such an ultra-compact pair of stars," said Luigi Stella of the Astronomical Observatory of Rome, a member of the discovery team. "Perhaps the system was formed through the head-on collision of the neutron star with another star in the cluster. This helps us to understand why some stars have a bizarre and violent history."
And for the next trick with X-rays...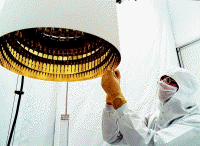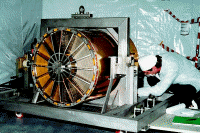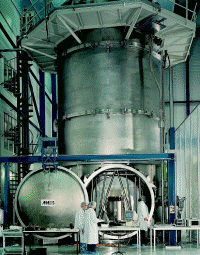 Making mirrors was one of the greatest challenges in the development of ESA's new X-ray satellite, XMM, which was launched December 10, 1999. After a year of trial and error, a process was devised which ensured that XMM would carry into space the best X-ray telescopes ever offered to the world's astronomers. Three mirror modules have a total area of 120 m² of high-precision optics!
"We had to nest 58 mirrors in a module, each with extreme specifications," said ESA's project manager Robert Lainé. "Critics thought we were too ambitious."
Each mirror shell, 60 cm long, was moulded on a nickel-surfaced mandrel made in Germany. Mandrels of decreasing diameters were shaped to an accuracy of a thousandth of a millimetre and polished to a smoothness a thousand times better.
The actual mirrors were formed in Italy, by deposition of a gold film, and backed with a millimetre of nickel. The flimsy shells were then eased ever so delicately off the mandrels. They could easily sag under their own weight and be deformed. The mirrors were packed together like Russian dolls, barely three millimetres apart and bonded on a support structure, becoming rigid enough to survive the conditions at launch and in space.
From five modules produced, tested and calibrated, the programme selected three with the best performance, to fly on XMM.

Last Update: 13 December 2005