News Archive
95 items found page 1 of 5
Young sun's violent history solves meteorite mystery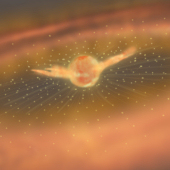 Astronomers using ESA's Herschel space observatory to probe the turbulent beginnings of a Sun-like star have found evidence of mighty stellar winds that could solve a puzzling meteorite mystery in our own back yard.
Date: 01 July 2014
New molecules around old stars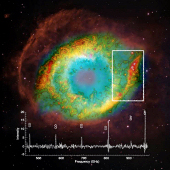 Using ESA's Herschel space observatory, astronomers have discovered that a molecule vital for creating water exists in the burning embers of dying Sun-like stars.
Date: 17 June 2014
Herschel discovers mature galaxies in the young Universe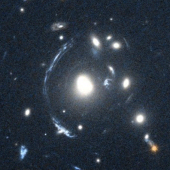 New Herschel results have given us a remarkable insight into the internal dynamics of two young galaxies. Surprisingly, they have shown that just a few billion years after the Big Bang, some galaxies were rotating in a mature way, seemingly having completed the accumulation of their gas reservoirs.
Date: 29 April 2014
Herschel completes largest survey of cosmic dust in local Universe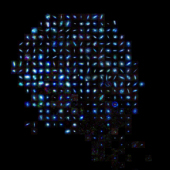 The largest census of dust in local galaxies has been completed using data from ESA's Herschel space observatory, providing a huge legacy to the scientific community.
Date: 18 March 2014
Bullying black holes force galaxies to stay red and dead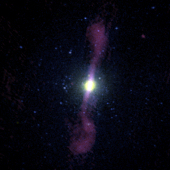 Herschel has discovered massive elliptical galaxies in the nearby Universe containing plenty of cold gas, even though the galaxies fail to produce new stars. Comparison with other data suggests that, while hot gas cools down in these galaxies, stars do not form because jets from the central supermassive black hole heat or stir up the gas and prevent it from turning into stars.
Date: 25 February 2014
Herschel discovers water vapour around dwarf planet Ceres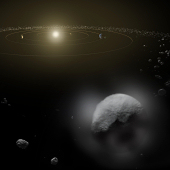 ESA's Herschel space observatory has discovered water vapour around Ceres, the first unambiguous detection of water vapour around an object in the asteroid belt.
Date: 22 January 2014
Herschel spies active argon in Crab Nebula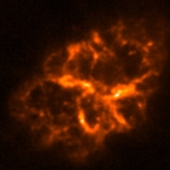 Using ESA's Herschel Space Observatory, a team of astronomers has found first evidence of a noble-gas based molecule in space. A compound of argon, the molecule was detected in the gaseous filaments of the Crab Nebula, one of the most famous supernova remnants in our Galaxy. While argon is a product of supernova explosions, the formation and survival of argon-based molecules in the harsh environment of a supernova remnant is an unforeseen surprise.
Date: 12 December 2013
Herschel throws new light on oldest cosmic light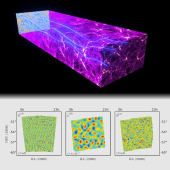 Cosmologists have achieved a first detection of a long-sought component in the Cosmic Microwave Background (CMB). This component, known as B-mode polarisation, is caused by gravitational lensing, the bending of light by massive structures as it travels across the Universe. The result is based on the combination of data from the South Pole Telescope and ESA's Herschel Space Observatory. This detection is a milestone along the way to the possible discovery of another kind of B-mode signal in the polarised CMB - a signal produced by gravitational waves less than a second after the Universe began.
Date: 01 October 2013
There is more gas in the Galaxy than is dreamt of by astronomers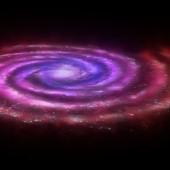 A survey from Herschel has revealed that the reservoir of molecular gas in the Milky Way is hugely underestimated - almost by one third - when it is traced with traditional methods. Monitoring the emission from ionised carbon, the new study identified molecular gas in the intermediate evolutionary stage between diffuse, atomic gas and the densest star-forming molecular clouds. The discovery not only indicates that there is more raw material for the formation of new stars in the Galaxy, but also that it extends farther than astronomers knew.
Date: 11 June 2013
Rare merger illuminates origin of 'red and dead' galaxies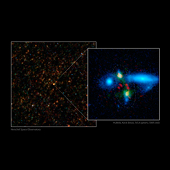 Astronomers have found a rare encounter between two massive and gas-rich galaxies in a survey from Herschel. The event took place when the Universe was only about three billion years old and involved two galaxies forming stars with exceptional efficiency whilst in the process of merging. This galactic collision would go on to form a very massive elliptical galaxy with hardly any star formation activity. The discovery suggests a viable mechanism for the origin of the puzzling 'red and dead' galaxies that are seen in the young Universe.
Date: 22 May 2013
Herschel reveals the Milky Way's warm heart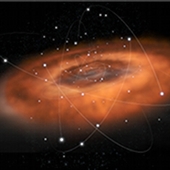 What heats gas near supermassive black holes at the centre of galaxies? Astronomers have looked at the centre of our Galaxy, the Milky Way, with ESA's Herschel Space Observatory and discovered a rich variety of molecules at surprisingly high temperatures - up to 1000 K. The new data suggest that the molecular gas is heated up by shocks, in addition to ultraviolet radiation from massive stars close to the Galactic Centre. Shocks develop in the gas as the material surges towards Sagittarius A*, the region harbouring the supermassive black hole at the heart of the Milky Way.
Date: 07 May 2013
Observation gives way to examination as Herschel coolant runs out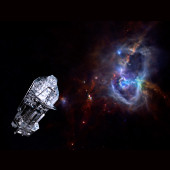 The liquid helium coolant that enabled instruments on board the Herschel space observatory to collect extraordinary images and spectra has finally run out. Launched in 2009, the ESA mission collected unprecedented data of the cool as well as of the distant Universe. Herschel's observations have exceeded expectations, enabling scientists to learn more about how stars form, about the rates of star formation in galaxies across the cosmos, and about the origin and presence of water in different celestial bodies. While observations have come to an end and the spacecraft is to be propelled to a stable parking orbit around the Sun, where it will remain indefinitely, the science mission will continue for several years with many discoveries still to be made in the treasure trove of images and spectra collected by the observatory.
Date: 29 April 2013
Herschel links water in Jupiter's stratosphere to 1994 comet impact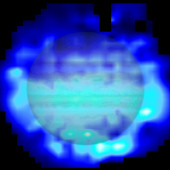 Astronomers have finally found direct proof that almost all water present in Jupiter's stratosphere was delivered by comet Shoemaker-Levy 9, which struck the planet in 1994. The result is based on new data from Herschel that revealed more water in Jupiter's southern hemisphere, where the impacts occurred, than in the north as well as probing the vertical distribution of water in the planet's stratosphere.
Date: 23 April 2013
Star factory in the early Universe challenges galaxy evolution theory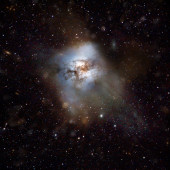 ESA's Herschel space observatory has discovered an extremely distant galaxy making stars more than 2000 times faster than our own Milky Way. Seen at a time when the Universe was less than a billion years old, its mere existence challenges our theories of galaxy evolution.
Date: 17 April 2013
Retired star found with planets and debris disc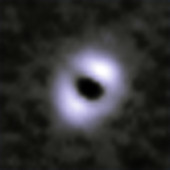 ESA's Herschel space observatory has provided the first images of a dust belt - produced by colliding comets or asteroids - orbiting a subgiant star known to host a planetary system.
Date: 09 April 2013
Hunting high-mass stars with Herschel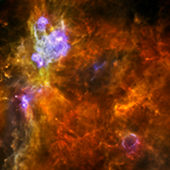 In this new view of a vast star-forming cloud called W3, ESA's Herschel space observatory tells the story of how massive stars are born.
Date: 27 March 2013
Herschel gets to the bottom of black-hole jets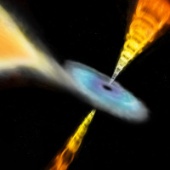 Astronomers using ESA's Herschel space observatory have detected emission from the base of black-hole jets for the first time. While studying the black-hole binary system GX 339-4 in a multi-wavelength observation campaign, they noticed changes in the source's X-ray and radio emissions signalling the onset of powerful jets being released from the black hole's vicinity. This prompted the astronomers to observe the source at far-infrared wavelengths with Herschel. As the first observation of emission from jets in a black-hole binary system at these wavelengths, the data have allowed the astronomers to probe the jets down to their base, where the far-infrared emission originates. Herschel's contribution to the multi-wavelength observations has proved a crucial addition to the understanding of black-hole jets and of the physical processes that take place very close to a black hole.
Date: 12 March 2013
Herschel to finish observing soon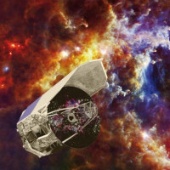 ESA's Herschel space observatory is expected to exhaust its supply of liquid helium coolant in the coming weeks after spending more than three exciting years studying the cool Universe.
Date: 05 March 2013
A cool discovery about the Sun's next-door twin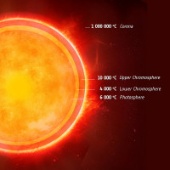 ESA's Herschel space observatory has detected a cool layer in the atmosphere of Alpha Centauri A, the first time this has been seen in a star beyond our own Sun. The finding is not only important for understanding the Sun's activity, but could also help in the quest to discover proto-planetary systems around other stars.
Date: 20 February 2013
Black holes and star formation: a Herschel perspective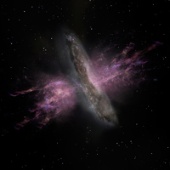 The effects of supermassive black holes on their host galaxies pose a tricky puzzle: are black holes able to influence, and possibly even suppress, star-formation activity on galactic scales? Astronomers have been searching for a signature of such a feedback effect, and have been spurred on recently by the large surveys of distant galaxies compiled with ESA's Herschel Space Observatory. A variety of results has emerged from the first joint analyses of these data and other observations, performed either in X-rays or in radio waves, but the only certainty so far is that it remains a vexed question.
Date: 13 February 2013
95 items found page 1 of 5