News Archive
95 items found page 2 of 5
Herschel sizes up massive protoplanetary disc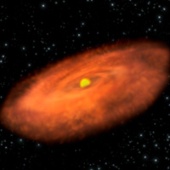 Astronomers using Herschel have detected heavy molecular hydrogen in the protoplanetary disc around the nearby star TW Hydrae. Detected for the first time in a protoplanetary disc, this molecule - which consists of one hydrogen and one deuterium atom - can be used as a tracer of the disc's main constituent - molecular hydrogen, consisting of two hydrogen atoms. The observations allowed the first accurate determination of the mass of a protoplanetary disc. With a mass equivalent to 50 times that of Jupiter, the disc around TW Hydrae is several times more massive than the primordial disc that gave birth to our Solar System, offering the tantalising prospect of the star hosting a complex planetary system in the future.
Date: 30 January 2013
Herschel intercepts asteroid Apophis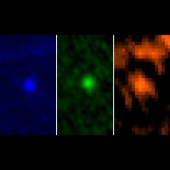 ESA's Herschel space observatory made new observations of asteroid Apophis as it approached Earth this weekend. The data shows the asteroid to be bigger than first estimated, and less reflective.
Date: 09 January 2013
New galaxy census highlights importance of starbursts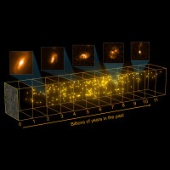 Astronomers have used ESA's Herschel Space Observatory to identify thousands of previously undetected starburst galaxies - among the most prolific stellar factories in the Universe. Follow-up observations with the W. M. Keck Observatory in Hawai'i have provided redshift measurements for almost 800 of these galaxies, which appear to span the past 12 billion years of cosmic history. The study confirms that, although less numerous than 'ordinary' galaxies, these infrared-bright galaxies played an important role in star formation throughout the history of the Universe. This rich data set will also allow future investigations into the physical mechanisms that triggered such intense star formation.
Date: 04 December 2012
Low-mass planets make good neighbours for debris discs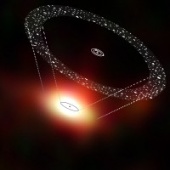 Astronomers using ESA's Herschel Space Observatory have detected massive debris discs around 61 Virginis and Gliese 581, two nearby stars that are known to host super-Earth planets. The study also reveals that debris discs are preferentially found in planetary systems with low-mass planets rather than in those hosting high-mass planets. This suggests that debris discs may survive more easily in the absence of very massive planets, and highlights the importance of debris discs in the study of planet formation.
Date: 27 November 2012
Large water reservoirs at the dawn of stellar birth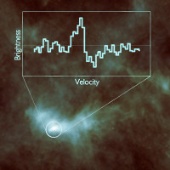 ESA's Herschel space observatory has discovered enough water vapour to fill Earth's oceans more than 2000 times over, in a gas and dust cloud that is on the verge of collapsing into a new Sun-like star.
Date: 09 October 2012
Comet crystals found in a nearby planetary system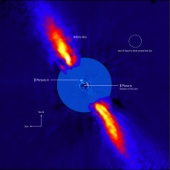 Pristine material that matches comets in our own Solar System have been found in a dust belt around the young star Beta Pictoris by ESA's Herschel space observatory.
Date: 03 October 2012
The most powerful black holes quenched their galaxy's star formation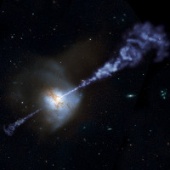 A survey of galaxies performed with ESA's Herschel Space Observatory has shown that only the most powerful black holes in the early Universe were able to quench the formation of stars in their host galaxies. This finding is an important contribution to our understanding of one of the most hotly debated phases of galaxy evolution.
Date: 10 May 2012
Herschel images extrasolar analogue of the Kuiper Belt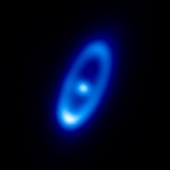 New images from ESA's Herschel Space Observatory reveal the glow from dust in the debris disc - a structure resembling the Kuiper Belt in the primordial Solar System - around the young star Fomalhaut. Detailed studies suggest that the dust in this debris disc consists of 'fluffy' aggregates of grains, which are produced by the frequent collisions taking place between comets within the disc.
Date: 11 April 2012
Herschel's new view on giant planet formation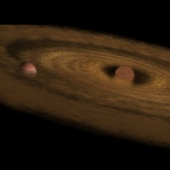 Astronomers have used ESA's Herschel Space Observatory to observe 2MASS1207, a peculiar brown dwarf with its own circumstellar disc and a planetary companion five times more massive than Jupiter. These new data provide the first image of this system taken at sub-millimetre wavelengths and show that the disc's mass amounts to a few times the mass of Jupiter. The presence of such a massive disc around this ten-million-year old brown dwarf suggests that its planetary companion formed directly from the disc's fragmentation. This reopens the debate on how giant planets form around stellar and sub-stellar objects.
Date: 13 March 2012
Herschel discovers tip of cosmic iceberg around nearby young star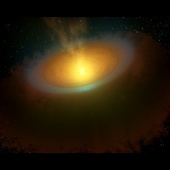 Using ESA's Herschel Space Observatory to study one of the closest protoplanetary discs to Earth, astronomers have detected cold water vapour for the first time in such an environment. Located in a thin layer at intermediate depths in the disc, the cold vapour hints at a much larger reservoir of water ice hidden deeper in the disc and amounting to several thousand times the mass of water that makes up our planet's oceans. The discovery sheds new light on the presence and role of water in the early formation stages of a planetary system.
Date: 20 October 2011
Herschel finds first evidence of Earth-like water in a comet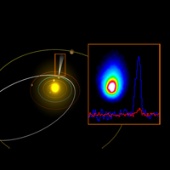 A team of astronomers using ESA's Herschel Space Observatory have discovered the first comet containing water that is similar in isotopic composition to that in Earth's oceans. This detection, in the comet 103P/Hartley 2, shows that contrary to earlier belief, comets may well have played an important role in bringing water to our planet, and that the reservoir of Earth-like water in the Solar System is far larger than suspected.
Date: 05 October 2011
Herschel probes the dusty history of a giant star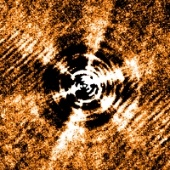 About 5 thousand million years from now, our Sun will expand into a red giant, swelling to such a size that it may swallow the Earth. It will then begin to shed huge amounts of dust, surrounding itself with an expanding circumstellar envelope (CSE) that ultimately will become a planetary nebula. New insights into this process have been revealed by ESA's Herschel Space Observatory, which is providing unprecedented images of the complex, outer structure of a nearby CSE.
Date: 20 September 2011
Herschel reveals how most stars formed in the Universe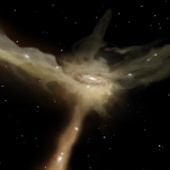 Do galaxies form their stars through violent and tumultuous merging events or rather via more steady and gentle processes? Scrutinising thousands of galaxies across the past 11 billion years of cosmic history with ESA's Herschel Space Observatory, astronomers have, for the first time, been able to answer this long-standing question. Contrary to previous belief, the new data reveal that most of the stars ever formed in the history of the Universe have done so quietly.
Date: 13 September 2011
Herschel uncovers 'hidden' oxygen in Orion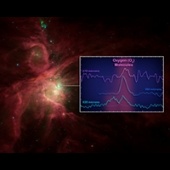 Herschel has found the first robust evidence of molecular oxygen in the Orion Nebula. The observed abundance is ten times larger than indicated by previous observations of other molecular clouds, but is still well below theoretical expectations. The results suggest that, in special circumstances, the heat from newborn stars can liberate oxygen frozen out on dust grains, thus increasing the amount of molecular oxygen able to form in warm, dense gas clouds.
Date: 01 August 2011
Herschel confirms Enceladus as primary water supply for Saturn's atmosphere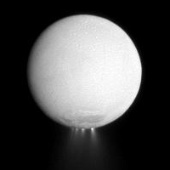 Observing Saturn, Herschel has detected evidence of water molecules in a huge torus surrounding the planet and centred on the orbit of its small moon, Enceladus. The water plumes on Enceladus, which were detected by the Cassini-Huygens mission, inject the water into the torus and part of it eventually precipitates into Saturn's atmosphere. The new study has identified Enceladus as the primary water supply to Saturn's upper atmosphere; this is the first example in the Solar System of a moon directly influencing the atmosphere of its host planet.
Date: 26 July 2011
Stardust in our backyard provides new clues to galaxy evolution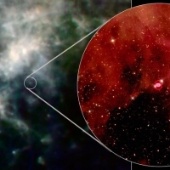 New data from ESA's Herschel Space Observatory have revealed surprisingly large amounts of cold dust in the remnant of the famous supernova SN1987A, which is located in the Large Magellanic Cloud, a neighbouring galaxy of the Milky Way, and was first observed 24 years ago. With this discovery, the astronomers confirm that supernovae are able to produce significant quantities of dust over very short time scales. This may help explain previous observations, by Herschel and other observatories, of abundant dust in the early Universe as seen in high-redshift galaxies. The results are published online today in Science Express.
Date: 07 July 2011
Herschel Announcement of Opportunity for Open Time (OT2) observations
The second (and final) in-flight Announcement of Opportunity (AO) for Open Time (OT2) observations with the Herschel Space Observatory has been issued. The OT2 call solicits proposals from the worldwide astronomical community. The deadline for proposal submissions is: 15 September 2011 at 12:00 UT.
Date: 10 June 2011
Caught in the act by Herschel: galactic storms sweep away the gas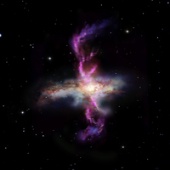 ESA's Herschel Space Observatory has detected massive amounts of molecular gas gusting at high velocities - in some cases in excess of 1000 kilometres per second - from the centres of a set of merging galaxies. Driven by star formation and central black holes, these powerful storms are strong enough to sweep away billions of solar masses of molecular gas and to interfere with global galactic processes. These observations indicate that, in the galaxies hosting the brightest Active Galactic Nuclei, outflows can clear the entire supply for creating stars and feeding the black hole. This finding provides long-sought-after evidence of highly energetic feedback processes taking place in galaxies as they evolve.
Date: 09 May 2011
Herschel unravels the thread of star formation in the Gould Belt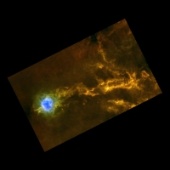 An intricate network of filamentary structure, exposed in extraordinary detail by the Herschel Space Observatory, has provided new evidence for how stars form from the diffuse interstellar medium. These filaments, located in giant molecular clouds in the Gould Belt, all exhibit remarkably similar widths - about one third of a light year - but only the densest ones contain pre-stellar cores, the seeds of future stars. These data suggest star formation is a two-step process: first turbulence stirs up the gas, giving rise to a web-like structure, then gravity takes over and governs the further fragmentation of filaments into stars.
Date: 13 April 2011
Herschel quantifies the dark matter threshold for starburst galaxies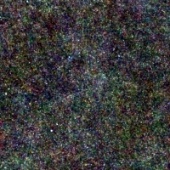 How much dark matter is needed to trigger a starburst in the cosmic cribs where galaxies are born? A new study, based on data from ESA's Herschel Space Observatory, has revealed that dark matter halos with a mass larger than 300 billion times the Sun's are particularly efficient at igniting massive starbursts, as they house the most active star-forming galaxies in the Universe. Astronomers have discovered this key threshold by measuring small fluctuations in the Cosmic Infrared Background, the integrated diffuse emission produced by the dust from every galaxy that ever existed. These fluctuations trace the distribution of otherwise mostly unresolved star-forming galaxies and of the dark matter halos that enshroud them. These results are reported in the 24 February 2011 issue of Nature and are published online today.
Date: 16 February 2011
95 items found page 2 of 5