News Archive
95 items found page 3 of 5
Andromeda's once and future stars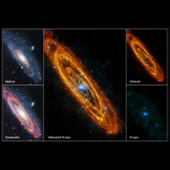 Two ESA observatories have combined forces to show the Andromeda Galaxy in a new light. Herschel sees rings of star formation in this, the most detailed image of the Andromeda Galaxy ever taken at infrared wavelengths, and XMM-Newton shows dying stars shining X-rays into space.
Date: 05 January 2011
Andromeda's once and future stars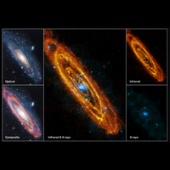 Two ESA observatories have combined forces to show the Andromeda Galaxy in a new light. Herschel sees rings of star formation in this, the most detailed image of the Andromeda Galaxy ever taken at infrared wavelengths, and XMM-Newton shows dying stars shining X-rays into space.
Date: 05 January 2011
Europe maintains its presence on the final frontier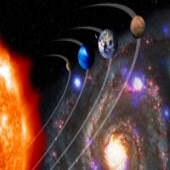 ESA has decided to extend the productive lives of 11 of its operating space science missions. This will enable ESA's world-class science missions to continue returning pioneering results until at least 2014.
Date: 22 November 2010
New method reveals gravitationally lensed galaxies in Herschel-ATLAS first survey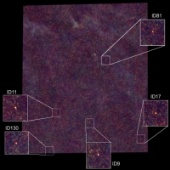 Astronomers using early data from one of the largest projects to be undertaken with the ESA Herschel Space Observatory have demonstrated that virtually all bright sub-millimetre galaxies in the distant Universe are subject to gravitational lensing, which amplifies their flux thus easing their detection and characterisation. Analysis of less than three per cent of the entire Herschel-ATLAS survey, which probes the distant and hidden Universe, yielded a first sample of five lensed galaxies and paves the way for the compilation, in the near future, of a rich catalogue of distant, star-forming and dust-obscured galaxies. The results are reported in the 5 November 2010 issue of Science.
Date: 04 November 2010
Herschel detection explains the origin of water in a carbon star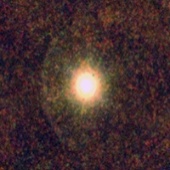 ESA's Herschel Space Observatory has detected water vapour in a location previously thought to be impossible - in the atmosphere of an ageing, red giant carbon star. The rich and detailed data provided by Herschel can be explained within a new framework in which ultraviolet photons play a key role. These results are reported in the 2 September issue of Nature.
Date: 01 September 2010
Special issue of Astronomy & Astrophysics dedicated to Herschel's first results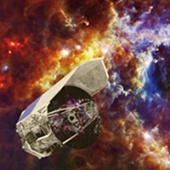 The first scientific results obtained with Herschel are appearing, this week, in a special issue of the journal Astronomy & Astrophysics. Based on data collected during the first few months of operations with this ESA observatory, the 152 new publications tackle a multitude of different astrophysical subjects, ranging from nearby Solar System bodies through newly-forming stars in our Galaxy, all the way to very distant galaxies. These first results provide a clear indication of the profound contribution that this mission will make to astronomy.
Date: 16 July 2010
Herschel Announcement of Opportunity for Open Time (OT1) observations
The first in-flight Announcement of Opportunity (AO) for Open Time (OT1) observations with the Herschel Space Observatory has been issued. The OT1 call solicits proposals from the worldwide astronomical community and offers 6592 hours of Herschel observing time. The deadline for proposal submissions is: 22 July 2010 at 12:00 UT.
Date: 21 May 2010
Herschel unveils rare massive stars in the act of forming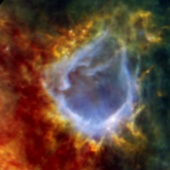 New images from ESA's Herschel space observatory reveal high-mass protostars around two ionised regions in our Galaxy. The detection of these rare stars in an early phase of evolution is key to understanding the mysterious formation of massive stars.
Date: 06 May 2010
Herschel reveals galaxies in the GOODS fields in a brand new light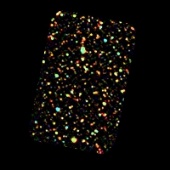 The discovery of a previously unresolved population of galaxies in the GOODS fields and the first measurements of properties of galaxies in the almost unexplored far-infrared domain are among the first exciting scientific results achieved by Herschel's PACS and SPIRE instruments. These findings confirm the extraordinary capabilities of ESA's new infrared space observatory to investigate the formation and evolution of galaxies.
Date: 06 May 2010
Herschel's HIFI follows the trail of cosmic water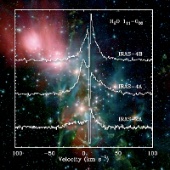 Herschel's HIFI instrument was especially designed to follow the water trail in the Universe over a wide range of scales, from the Solar System out to extragalactic sources. Early results, presented this week at the Herschel First Results Symposium, demonstrate how HIFI uses water to probe the physical and chemical conditions in different regions of the cosmos.
Date: 06 May 2010
Herschel-HIFI unveils precursors of life-enabling molecules in Orion Nebula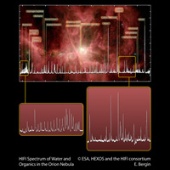 ESA's Herschel Space Observatory has revealed the chemical fingerprints of potential life-enabling organic molecules in the Orion Nebula, a nearby stellar nursery in our Milky Way galaxy. This detailed spectrum, obtained with the Heterodyne Instrument for the Far Infrared (HIFI) - one of Herschel's three innovative instruments - demonstrates the gold mine of information that Herschel-HIFI will provide on how organic molecules form in space.
Date: 04 March 2010
Herschel's HIFI instrument ready to resume operations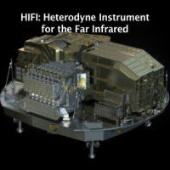 The HIFI instrument onboard ESA's Herschel observatory has been successfully switched on, after being inactive for more than 160 days due to an unexpected anomaly in the electronic system. This achievement brings Herschel back to its full observing capacity. HIFI was built specifically to observe water in a variety of celestial objects. Over the next three years HIFI spectra will be used to probe stellar environments and to study the role of gas and dust in the formation of stars and planets and the evolution of galaxies.
Date: 18 January 2010
Initial results from Herschel's science demonstration phase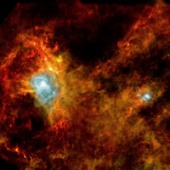 Initial results from the Herschel science demonstration phase have been presented by and to the scientific community at a recent workshop. Both SPIRE and PACS instruments have been tested to their full capabilities and have passed the tests with flying colours. Initial science results include the first image of a previously hidden region of star formation, observations of one of the coldest objects in the Solar System, and new perspectives on the highly energetic processes in the environments of newborn stars.
Date: 21 December 2009
Herschel's splendid spectra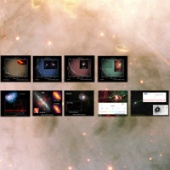 Herschel spectroscopy takes centre stage today as new spectra, obtained with the SPIRE, PACS and HIFI instruments during the performance verification phase, are released by ESA and the instrument teams. Taken together with earlier images the observatory is now on the way to demonstrating that the promised imaging and spectroscopic capabilities are being met.
Date: 27 November 2009
Herschel Science Demonstration Phase - Presentations of Initial Results
A Herschel workshop will be held on 17 to 18 December 2009 to present the initial results of the on-going Herschel science demonstration phase (SDP). The workshop will take stock of results achieved to date with the Herschel SDP observations.
Date: 18 November 2009
Mission extensions approved for science missions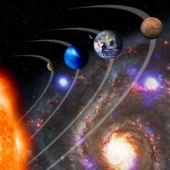 ESA's Science Programme Committee has approved the extension of mission operations for XMM-Newton, INTEGRAL, Venus Express, Mars Express and Cluster, as well as the ESA support to the operations of HST and SOHO, until 31 December 2012. An additional year of operations has been approved for Planck.
Date: 07 October 2009
New Herschel images reveal previously unseen detail in the Milky Way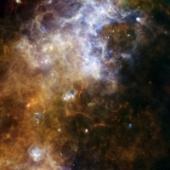 Images from the Herschel observatory, obtained during the performance verification phase, reveal previously unseen detail in a region of the Milky Way near the Galactic Plane. These images demonstrate that the 'SPIRE/PACS parallel mode', an important observing mode for the observatory, is delivering the expected performance.
Date: 02 October 2009
Herschel's 'first light' promises superb science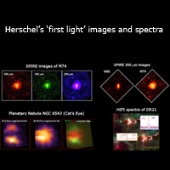 The first images and spectra obtained with the three Herschel instruments (HIFI, PACS and SPIRE) demonstrate their excellent condition and provide a foretaste of the exciting science that is to come.
Date: 10 July 2009
Herschel's sneak preview: PACS images of M51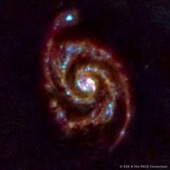 On 14 June 2009, precisely one month after launch, Herschel opened its eyes as the cryocover, the cryostat lid, was commanded to open. The images obtained by the PACS instrument during the remainder of the operational day (14-15 June) are shown below.
Date: 19 June 2009
Herschel and Planck commissioning has begun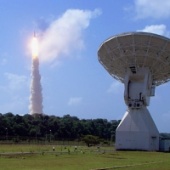 After a perfect injection by the Ariane 5 launcher on 14 May, the critical Launch and Early Orbit Phase (LEOP) for Herschel and Planck has started to wind down, while commissioning of the scientific instruments and subsystems on both spacecraft has begun.
Date: 20 May 2009
95 items found page 3 of 5