Herschel/HIFI image and spectrum of Comet 103P/Hartley 2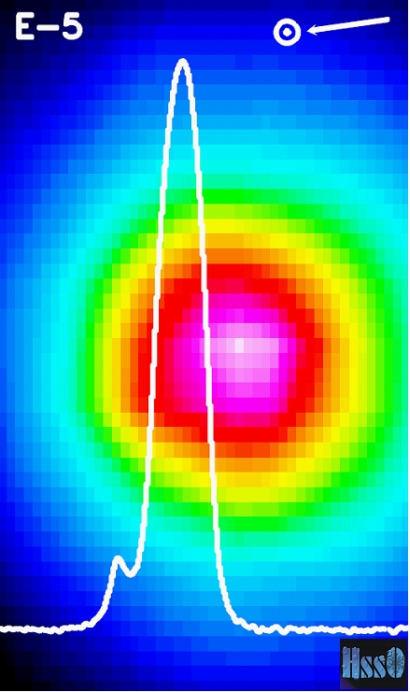 This Herschel/HIFI image and water emission spectrum of Comet 103P/Hartley 2 was taken on 30 October 2010 when the comet was at a distance of 19.5 million km from the Herschel Space Observatory.
The HIFI instrument is able to detect weak spectral lines not previously observed in short-period comets, and to obtain high spatial resolution imaging of water emission from the comet's nucleus. The spectrum portrays the 557 GHz emission from water molecules in the comet. By analyzing the spectrum scientist are able to derive a water production rate of 230 kg per second.
The image is 1.5' by 3' and the Sun symbol and arrow indicate the projected direction towards the Sun.
Note
Herschel is one of several observatories that participated in a global astronomical campaign to observe and study the short period (6.46 years) Comet 103P/Hartley 2 before, during and after a flyby by the NASA EPOXI (Extrasolar Planet Observatory and Deep Impact Extended Investigation) mission on 4 November 2010.
In the period 24 October to 17 November 2010, Herschel used its complement of state-of the-art instruments, covering the range 55-671 μm, to observe the far-infrared and submillimetre spectrum and to image the thermal dust radiation of Comet 103P/Hartley 2.
Last Update: 23 November 2010