News Archive
351 items found page 1 of 18
New mass map of a distant galaxy cluster is the most precise yet [heic1416]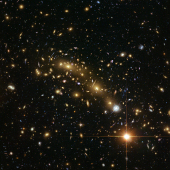 Astronomers using the NASA/ESA Hubble Space Telescope have mapped the mass within a galaxy cluster more precisely than ever before. Created using observations from Hubble's Frontier Fields observing programme, the map shows the amount and distribution of mass within MCS J0416.1-2403, a massive galaxy cluster found to be 160 trillion times the mass of the Sun. The detail in this mass map was made possible thanks to the unprecedented depth of data provided by new Hubble observations, and the cosmic phenomenon known as strong gravitational lensing.
Date: 24 July 2014
Hubble traces the halo of a galaxy more accurately than ever before [heic1415]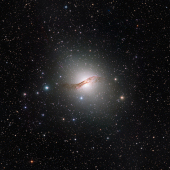 Astronomers using the NASA/ESA Hubble Space Telescope have probed the extreme outskirts of the stunning elliptical galaxy Centaurus A. The galaxy's halo of stars has been found to extend much further from the galaxy's centre than expected and the stars within this halo seem to be surprisingly rich in heavy elements. This is the most remote portion of an elliptical galaxy ever to have been explored.
Date: 21 July 2014
Merging galaxies and droplets of starbirth [heic1414]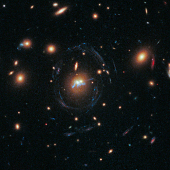 The Universe is filled with objects springing to life, evolving and dying explosive deaths. This new image from the NASA/ESA Hubble Space Telescope captures a snapshot of some of this cosmic movement. Embedded within the egg-shaped blue ring at the centre of the frame are two galaxies. These galaxies have been found to be merging into one and a "chain" of young stellar superclusters are seen winding around the galaxies' nuclei.
Date: 10 July 2014
Swiftly moving gas streamer eclipses supermassive black hole [heic1413]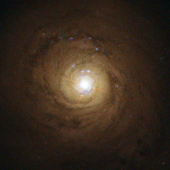 Astronomers have discovered strange and unexpected behaviour around the supermassive black hole at the heart of the galaxy NGC 5548. The international team of researchers detected a clumpy gas stream flowing quickly outwards and blocking 90 percent of the X-rays emitted by the black hole. This activity could provide insights into how supermassive black holes interact with their host galaxies.
Date: 19 June 2014
Small but significant - Astronomers use Hubble to study bursts of star formation in the dwarf galaxies of the early Universe [heic1412]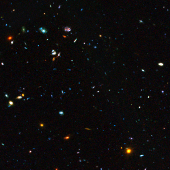 They may only be little, but they pack a star-forming punch: new observations from the NASA/ESA Hubble Space Telescope show that starbursts in dwarf galaxies played a bigger role than expected in the early history of the Universe.
Date: 19 June 2014
Hubble unveils a colourful view of the Universe [heic1411]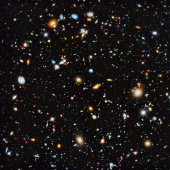 Astronomers using the Hubble Space Telescope have captured the most comprehensive picture ever assembled of the evolving Universe – and one of the most colourful. The study is called the Ultraviolet Coverage of the Hubble Ultra Deep Field (UVUDF) project.
Date: 03 June 2014
The shrinking of Jupiter's Great Red Spot [heic1410]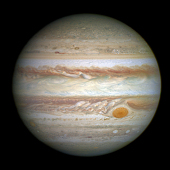 Jupiter's trademark Great Red Spot – a swirling storm feature larger than Earth – is shrinking. This downsizing, which is changing the shape of the spot from an oval into a circle, has been known about since the 1930s, but now these striking new NASA/ESA Hubble Space Telescope images capture the spot at a smaller size than ever before.
Date: 15 May 2014
Hubble astronomers check the prescription of a cosmic lens - First ever gravitationally lensed Type Ia supernovae discovered [heic1409]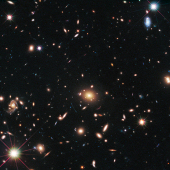 Two teams of astronomers using the NASA/ESA Hubble Space Telescope have discovered three distant exploding stars that have been magnified by the immense gravity of foreground galaxy clusters, which act like "cosmic lenses". These supernovae are the first of their type ever to be observed magnified in this way and they offer astronomers a powerful tool to check the prescription of these massive lenses.
Date: 01 May 2014
A cross-section of the Universe [heic1408]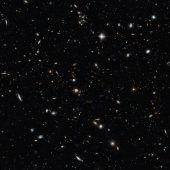 An image of a galaxy cluster taken by the NASA/ESA Hubble Space Telescope gives a remarkable cross-section of the Universe, showing objects at different distances and stages in cosmic history. They range from cosmic near neighbours to objects seen in the early years of the Universe. The 14-hour exposure shows objects around a billion times fainter than can be seen with the naked eye.
Date: 17 April 2014
New artwork unveiled at the Science with the Hubble Space Telescope IV conference [heic1407]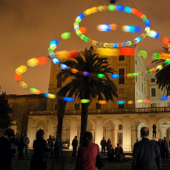 Last week researchers from around the world gathered at the Accademia dei Lincei in Rome for the Science with the Hubble Space Telescope IV conference. The event celebrated the history of Hubble's extraordinary achievements, and looked to the future at what might yet be achieved and how the James Webb Space Telescope will build on our knowledge of the Universe. As part of this celebration artist Tim Otto Roth revealed a new artwork, Heaven's Carousel, inspired by Hubble's work on the accelerating expansion of the Universe.
Date: 25 March 2014
Hubble revisits the Monkey Head Nebula for 24th birthday snap [heic1406]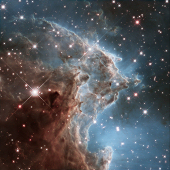 To celebrate its 24th year in orbit, the NASA/ESA Hubble Space Telescope has released a beautiful new image of part of NGC 2174, also known as the Monkey Head Nebula. This colourful region is filled with young stars embedded within bright wisps of cosmic gas and dust.
Date: 17 March 2014
Hubble witnesses an asteroid mysteriously disintegrating [heic1405]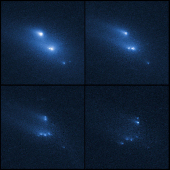 The NASA/ESA Hubble Space Telescope has photographed the never-before-seen break-up of an asteroid, which has fragmented into as many as ten smaller pieces. Although fragile comet nuclei have been seen to fall apart as they approach the Sun, nothing like the breakup of this asteroid, P/2013 R3, has ever been observed before in the asteroid belt.
Date: 06 March 2014
Spiral galaxy spills blood and guts [heic1404]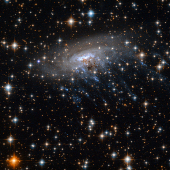 This new Hubble image shows spiral galaxy ESO 137-001, framed against a bright background as it moves through the heart of galaxy cluster Abell 3627. This cluster is violently ripping the spiral's entrails out into space, leaving bright blue streaks as telltale clues to this cosmic crime.
Date: 04 March 2014
A galaxy with two hearts [heic1403]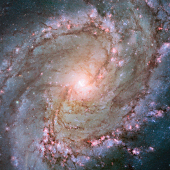 This new Hubble image shows the spiral galaxy Messier 83, otherwise known as the Southern Pinwheel Galaxy. One of the largest and closest barred spirals to us, this galaxy is dramatic and mysterious; it has hosted a large number of supernova explosions, and is thought to have a double nucleus lurking at its core.
Date: 09 January 2014
Unravelling the web of a cosmic creepy-crawly [heic1402]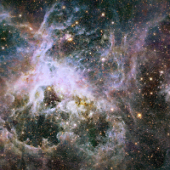 This new Hubble image is the best-ever view of a cosmic creepy-crawly known as the Tarantula Nebula, a region full of star clusters, glowing gas, and dark dust. Astronomers are exploring and mapping this nebula as part of the Hubble Tarantula Treasury Project, in a bid to try to understand its starry anatomy.
Date: 09 January 2014
Hubble images become tactile 3D experience for the blind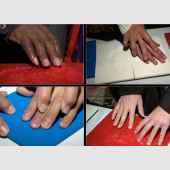 Three-dimensional (3D) printers are transforming the business, medical, and consumer landscape by creating a vast variety of objects, including aeroplane parts, lamps, jewellery, and even artificial human bones.
Date: 07 January 2014
Pandora's magnifying glass - First image from Hubble's Frontier Fields [heic1401]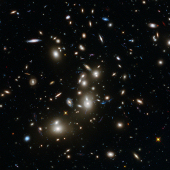 This image of Abell 2744 is the first to come from Hubble's Frontier Fields observing programme, which is using the magnifying power of enormous galaxy clusters to peer deep into the distant Universe. Abell 2744, nicknamed Pandora's Cluster, is thought to have a very violent history, having formed from a cosmic pile-up of multiple galaxy clusters.
Date: 07 January 2014
RS Puppis puts on a spectacular light show [heic1323]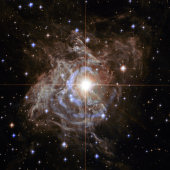 The NASA/ESA Hubble Space Telescope has observed the variable star RS Puppis over a period of five weeks, showing the star growing brighter and dimmer as it pulsates. These pulsations have created a stunning example of a phenomenon known as a light echo, where light appears to reverberate through the murky environment around the star.
Date: 17 December 2013
Hubble discovers water vapour venting from Jupiter's moon Europa [heic1322]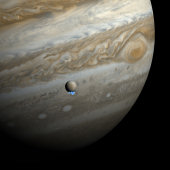 The NASA/ESA Hubble Space Telescope has discovered water vapour erupting from the frigid surface of Jupiter's moon Europa, in one or more localised plumes near its south pole.
Date: 12 December 2013
Hubble views an old and mysterious cluster [heic1321]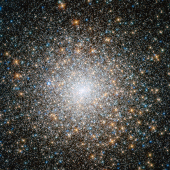 The NASA/ESA Hubble Space Telescope has captured the best ever image of the globular cluster Messier 15, a gathering of very old stars that orbits the centre of the Milky Way. This glittering cluster contains over 100 000 stars, and could also hide a rare type of black hole at its centre.
Date: 14 November 2013
351 items found page 1 of 18