News Archive
354 items found page 3 of 18
Gravitational telescope creates space invader mirage [heic1304]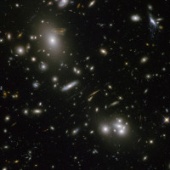 The NASA/ESA Hubble Space Telescope is one of the most powerful available to astronomers, but sometimes it too needs a helping hand. This comes in the form of Einstein's general theory of relativity, which makes galaxy clusters act as natural lenses, amplifying the light coming from very distant galaxies.
Date: 05 March 2013
Hubble captures strobe flashes from a young star [heic1303]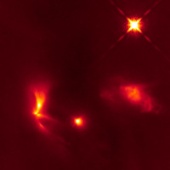 The NASA/ESA Hubble Space Telescope has produced a time-lapse movie of a mysterious protostar that behaves like a flashing light. Every 25.34 days, the object, designated LRLL 54361, unleashes a burst of light which propagates through the surrounding dust and gas. This is only the third time this phenomenon has been observed, and it is the most powerful such beacon seen to date.
Date: 07 February 2013
A spiral galaxy with a secret [heic1302]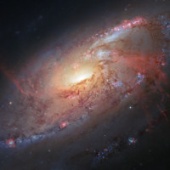 The NASA/ESA Hubble Space Telescope - with a little help from an amateur astronomer - has produced one of the best views yet of nearby spiral galaxy Messier 106. Located a little over 20 million light-years away, practically a neighbour by cosmic standards, Messier 106 is one of the brightest and nearest spiral galaxies to our own.
Date: 05 February 2013
A hidden treasure in the Large Magellanic Cloud [heic1301]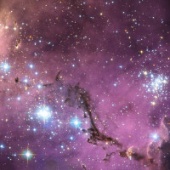 Nearly 200 000 light-years from Earth, the Large Magellanic Cloud, a satellite galaxy of the Milky Way, floats in space, in a long and slow dance around our galaxy. Vast clouds of gas within it slowly collapse to form new stars. In turn, these light up the gas clouds in a riot of colours, visible in this image from the NASA/ESA Hubble Space Telescope.
Date: 17 January 2013
How to look young when you're not - Stars reveal the secret of aging well [heic1221]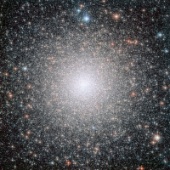 Some people are in great shape at the age of 90, while others are decrepit before they're 50. We know that how fast people age is only loosely linked to how old they actually are - and may have more to do with their lifestyle. A new study with the NASA/ESA Hubble Space Telescope reveals that the same is true of star clusters.
Date: 19 December 2012
A swoosh in space: Merry Christmas from Hubble [heic1220]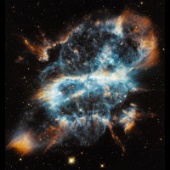 The NASA/ESA Hubble Space Telescope celebrates the holiday season with a striking image of the planetary nebula NGC 5189. The intricate structure of the stellar eruption looks like a giant and brightly coloured ribbon in space.
Date: 18 December 2012
Hubble census finds galaxies at redshifts 9 to 12 [heic1219]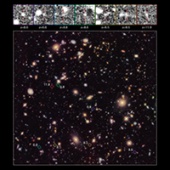 Astronomers using the NASA/ESA Hubble Space Telescope have uncovered seven primitive galaxies from a distant population that formed more than 13 billion years ago. In the process, their observations have put forward a candidate for the record for the most distant galaxy found to date (at redshift 11.9), and have shed new light on the earliest years of cosmic history. The galaxies are seen as they were when the Universe was less than 4 percent of its present age.
Date: 12 December 2012
Hubble sees a galaxy hit a bullseye [heic1218]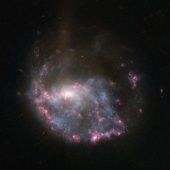 Bright pink nebulae almost completely encircle a spiral galaxy in this NASA/ESA Hubble Space Telescope image of NGC 922. The ring structure and the galaxy's distorted spiral shape result from a smaller galaxy scoring a cosmic bullseye, hitting the centre of NGC 922 some 330 million years ago.
Date: 06 December 2012
Hubble spots candidate for most distant known galaxy [heic1217]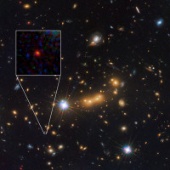 By combining the power of the NASA/ESA Hubble Space Telescope, NASA's Spitzer Space Telescope and one of nature's zoom lenses, astronomers have found what is probably the most distant galaxy yet seen in the Universe. The object offers a peek back into a time when the Universe was only 3 percent of its present age of 13.7 billion years.
Date: 15 November 2012
Monster galaxy may have been stirred up by black-hole mischief [heic1216]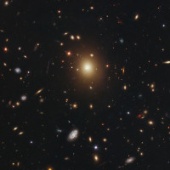 Astronomers using the NASA/ESA Hubble Space Telescope have obtained a remarkable new view of a whopper of an elliptical galaxy, with a core bigger than any seen before. There are two intriguing explanations for the puffed up core, both related to the action of one or more black holes, and the researchers have not yet been able to determine which is correct.
Date: 25 October 2012
Dark matter filament studied in 3D for the first time [heic1215]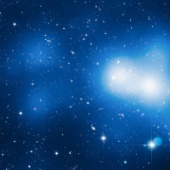 Astronomers using the NASA/ESA Hubble Space Telescope have studied a giant filament of dark matter in 3D for the first time. Extending 60 million light-years from one of the most massive galaxy clusters known, the filament is part of the cosmic web that constitutes the large-scale structure of the Universe, and is a leftover of the very first moments after the Big Bang. If the high mass measured for the filament is representative of the rest of the Universe, then these structures may contain more than half of all the mass in the Universe.
Date: 16 October 2012
Hubble goes to the eXtreme to assemble the deepest ever view of the Universe [heic1214]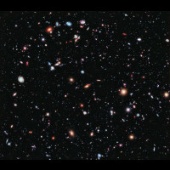 Like photographers assembling a portfolio of their best shots, astronomers have assembled a new, improved portrait of our deepest-ever view of the Universe. Called the eXtreme Deep Field, or XDF, the photo was assembled by combining ten years of NASA/ESA Hubble Space Telescope observations taken of a patch of sky within the original Hubble Ultra Deep Field. The XDF is a small fraction of the angular diameter of the full Moon.
Date: 25 September 2012
A family portrait of galaxies [heic1213]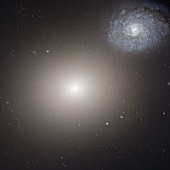 Two very different galaxies feature in this family portrait taken by the NASA/ESA Hubble Space Telescope, together forming a peculiar galaxy pair called Arp 116. The image shows the dramatic differences in size, structure and colour between spiral and elliptical galaxies.
Date: 06 September 2012
Hubble discovers new Pluto moon [heic1212]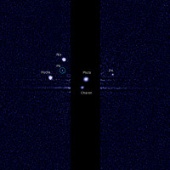 A team of astronomers using the NASA/ESA Hubble Space Telescope has discovered a fifth moon orbiting the icy dwarf planet Pluto.
Date: 11 July 2012
Hubble unmasks ghost galaxies [heic1211]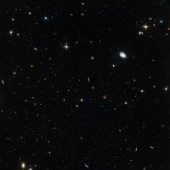 Astronomers have used the NASA/ESA Hubble Space Telescope to study some of the smallest and faintest galaxies in our cosmic neighbourhood. These galaxies are fossils of the early Universe: they have barely changed for 13 billion years. The discovery could help explain the so-called "missing satellite" problem, where only a handful of satellite galaxies have been found around the Milky Way, against the thousands that are predicted by theories.
Date: 10 July 2012
A geyser of hot gas flowing from a star [heic1210]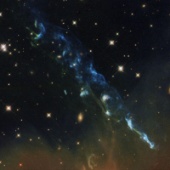 The NASA/ESA Hubble Space Telescope has captured a new image of Herbig-Haro 110, a geyser of hot gas flowing from a newborn star.
Date: 03 July 2012
Dramatic change spotted on a faraway planet [heic1209]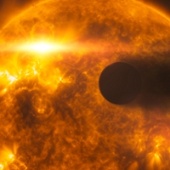 Astronomers using the NASA/ESA Hubble Space Telescope have seen dramatic changes in the upper atmosphere of a faraway planet. Just after a violent flare on its parent star bathed it in intense X-ray radiation, the planet's atmosphere gave off a powerful burst of evaporation. The observations give a tantalising glimpse of the changing climates and weather on planets outside our Solar System.
Date: 28 June 2012
European Hubble archive moves to Spain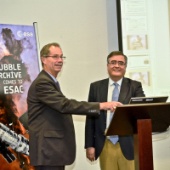 The European science archive for the NASA/ESA Hubble Space Telescope has been transferred to ESA's European Space Astronomy Centre (ESAC) in Villanueva de la Cañada near Madrid, Spain. This guarantees a permanent home for Hubble science data following the closure of the Space Telescope European Coordinating Facility (ST-ECF), located at the headquarters of the European Southern Observatory near Munich, Germany.
Date: 22 June 2012
A trick of perspective - chance alignment mimics a cosmic collision [heic1208]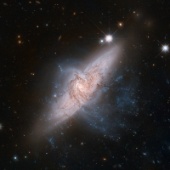 The NASA/ESA Hubble Space Telescope has produced a highly detailed image of a pair of overlapping galaxies called NGC 3314. While the two galaxies look as if they are in the midst of a collision, this is in fact a trick of perspective: the two just happen to appear in the same direction from our vantage point.
Date: 14 June 2012
Hubble observes a dwarf galaxy with a bright nebula [heic1207]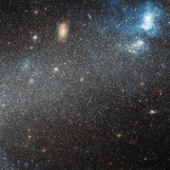 The NASA/ESA Hubble Space Telescope has made detailed observations of the dwarf galaxy NGC 2366. While it lacks the elegant spiral arms of many larger galaxies, NGC 2366 is home to a bright, star-forming nebula and is close enough for astronomers to discern its individual stars.
Date: 10 May 2012
354 items found page 3 of 18