News Archive
353 items found page 4 of 18
Glittering jewels of Messier 9 [heic1205]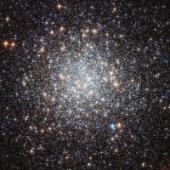 The NASA/ESA Hubble Space Telescope has produced the most detailed image so far of Messier 9, a globular star cluster located close to the centre of the galaxy. This ball of stars is too faint to see with the naked eye, yet Hubble can see over 250 000 individual stars shining in it.
Date: 16 March 2012
Hubble reveals a new class of extrasolar planet [heic1204]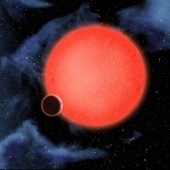 Observations by the NASA/ESA Hubble Space Telescope have come up with a new class of planet, a waterworld enshrouded by a thick, steamy atmosphere. It's smaller than Uranus but larger than Earth.
Date: 21 February 2012
Hubble finds relic of a shredded galaxy [heic1203]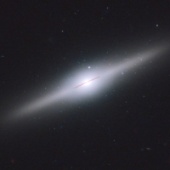 Astronomers using the NASA/ESA Hubble Space Telescope have found a cluster of young blue stars surrounding a mid-sized black hole called HLX-1. The discovery suggests that the black hole formed in the core of a now-disintegrated dwarf galaxy. The findings have important implications for understanding the evolution of supermassive black holes and galaxies.
Date: 15 February 2012
Classic portrait of a barred spiral galaxy [heic1202]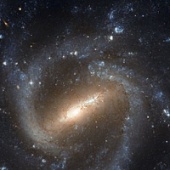 The NASA/ESA Hubble Space Telescope has taken a picture of the barred spiral galaxy NGC 1073, which is found in the constellation of Cetus (The Sea Monster). Our own galaxy, the Milky Way, is a similar barred spiral, and the study of galaxies such as NGC 1073 helps astronomers learn more about our celestial home.
Date: 03 February 2012
Hubble pinpoints furthest protocluster of galaxies ever seen [heic1201]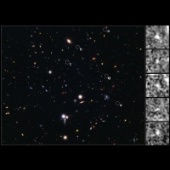 Using the NASA/ESA Hubble Space Telescope, astronomers have uncovered a cluster of galaxies in the initial stages of development, making it the most distant such grouping ever observed in the early Universe.
Date: 10 January 2012
Young star rebels against its parent cloud [heic1118]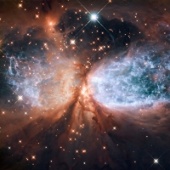 Hubble's Wide Field Camera 3 has captured this image of a giant cloud of hydrogen gas illuminated by a bright young star. The image shows how violent the end stages of the star-formation process can be, with the young object shaking up its stellar nursery.
Date: 15 December 2011
Hubble's 10 000th scientific paper published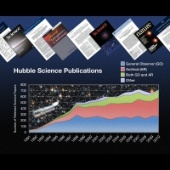 The NASA/ESA Hubble Space Telescope has passed another milestone in its almost 21 years of observations: the publication of the 10 000th refereed scientific paper based on Hubble data.
Date: 06 December 2011
Hubble uncovers tiny galaxies bursting with starbirth in early Universe [heic1117]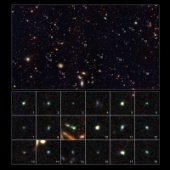 Using its infrared vision to peer nine billion years back in time, the NASA/ESA Hubble Space Telescope has uncovered an extraordinary population of tiny, young galaxies that are brimming with star formation.
Date: 10 November 2011
Hubble directly observes the disc around a black hole [heic 1116]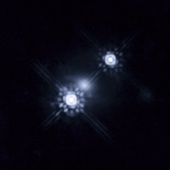 A team of scientists has used the NASA/ESA Hubble Space Telescope to observe a quasar accretion disc - a brightly glowing disc of matter that is slowly being sucked into its galaxy's central black hole. Their study makes use of a novel technique that uses gravitational lensing to give an immense boost to the power of the telescope. The incredible precision of the method has allowed astronomers to directly measure the disc's size and plot the temperature across different parts of the disc.
Date: 04 November 2011
Hubble survey carries out a dark matter census [heic 1115]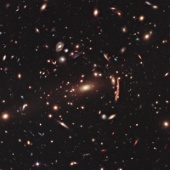 The NASA/ESA Hubble Space Telescope has been used to make an image of galaxy cluster MACS J1206.2-0847. The apparently distorted shapes of distant galaxies in the background is caused by an invisible substance called dark matter, whose gravity bends and distorts their light rays. MACS 1206 has been observed as part of a new survey of galaxy clusters using Hubble.
Date: 13 October 2011
Galaxy caught blowing bubbles [heic1114]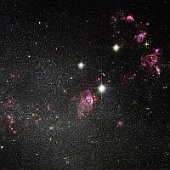 Hubble's famous images of galaxies typically show elegant spirals or soft-edged ellipses. But these neat forms are only representative of large galaxies. Smaller galaxies like the dwarf irregular galaxy Holmberg II come in many shapes and types that are harder to classify. This galaxy's indistinct shape is punctuated by huge glowing bubbles of gas, captured in this image from the NASA/ESA Hubble Space Telescope.
Date: 29 September 2011
Hubble movies provide unprecedented view of supersonic jets from young stars [heic1113]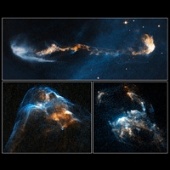 Astronomers have combined two decades of Hubble observations to make unprecedented movies revealing never-before-seen details of the birth pangs of new stars. This sheds new light on how stars like the Sun form.
Date: 31 August 2011
Four unusual views of the Andromeda Galaxy [heic1112]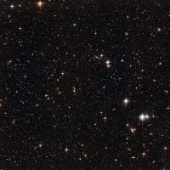 The Andromeda Galaxy is revealed in unprecedented detail in four archive observations from the NASA/ESA Hubble Space Telescope. They show stars and structure in the galaxy's disc, the halo of stars that surrounds it, and a stream of stars left by a companion galaxy as it was torn apart and pulled in by the galaxy's gravitational forces.
Date: 21 July 2011
Pandora's Cluster - A galactic crash investigation [heic1111]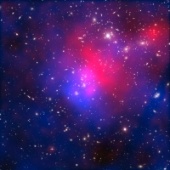 A team of scientists has studied the galaxy cluster Abell 2744, nicknamed Pandora's Cluster. They have pieced together the cluster's complex and violent history using telescopes in space and on the ground, including the Hubble Space Telescope and ESO's Very Large Telescope. Abell 2744 seems to be the result of a simultaneous pile-up of at least four separate galaxy clusters and this complex collision has produced strange effects that have never been seen together before.
Date: 22 June 2011
Spectacular Hubble View of Centaurus A [heic1110]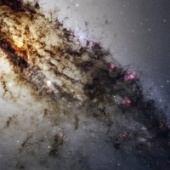 The NASA/ESA Hubble Space Telescope has produced a close-up view of the galaxy Centaurus A. Hubble's out-of-this-world location and world-class Wide Field Camera 3 instrument reveal a dramatic picture of a dynamic galaxy in flux.
Date: 16 June 2011
Galaxy NGC 4214: A star formation laboratory [heic1109]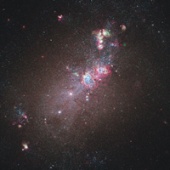 Hubble's newest camera has taken an image of galaxy NGC 4214. This galaxy glows brightly with young stars and gas clouds, and is an ideal laboratory to research star formation and evolution.
Date: 12 May 2011
Two views of a lopsided galaxy [heic1108]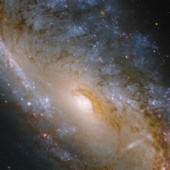 The Meathook Galaxy, or NGC 2442, has a dramatically lopsided shape. One spiral arm is tightly folded in on itself and host to a recent supernova, while the other, dotted with recent star formation, extends far out from the nucleus. The NASA/ESA Hubble Space Telescope and the MPG/ESO 2.2-metre telescope have captured two contrasting views of this asymmetric spiral galaxy.
Date: 04 May 2011
A galactic rose highlights Hubble's 21st anniversary [heic1107]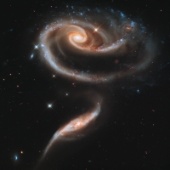 In celebration of the 21st anniversary of the Hubble Space Telescope's deployment into space, astronomers pointed Hubble at an especially photogenic group of interacting galaxies called Arp 273.
Date: 20 April 2011
First galaxies were born much earlier than expected [heic1106]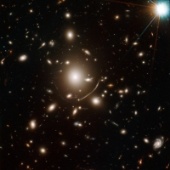 Using the amplifying power of a cosmic gravitational lens, astronomers have discovered a distant galaxy whose stars were born unexpectedly early in cosmic history. This result sheds new light on the formation of the first galaxies, as well as on the early evolution of the Universe.
Date: 12 April 2011
Arachnophobes beware: Hubble snaps close-up of the Tarantula [heic1105]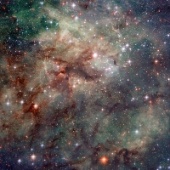 The NASA/ESA Hubble Space Telescope has produced an outstanding image of part of the famous Tarantula Nebula, a vast star-forming cloud of gas and dust in our neighbouring galaxy, the Large Magellanic Cloud. In this picture, we see a close-up of the Tarantula's central region, glowing brightly with ionised gases and young stars.
Date: 15 March 2011
353 items found page 4 of 18