News Archive
354 items found page 5 of 18
Arachnophobes beware: Hubble snaps close-up of the Tarantula [heic1105]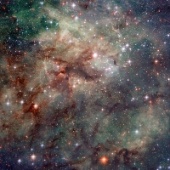 The NASA/ESA Hubble Space Telescope has produced an outstanding image of part of the famous Tarantula Nebula, a vast star-forming cloud of gas and dust in our neighbouring galaxy, the Large Magellanic Cloud. In this picture, we see a close-up of the Tarantula's central region, glowing brightly with ionised gases and young stars.
Date: 15 March 2011
Flocculent spiral NGC 2841 [heic1104]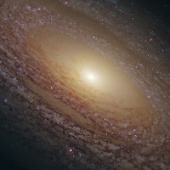 The galaxy NGC 2841 - shown here in this NASA/ESA Hubble Space Telescope image, taken with the space observatory's newest instrument, the Wide Field Camera 3 - currently has a relatively low star formation rate compared to other spirals. It is one of several nearby galaxies that have been specifically chosen for a new study in which a pick 'n' mix of different stellar nursery environments and birth rates are being observed.
Date: 17 February 2011
Hubble finds a new contender for galaxy distance record [heic1103]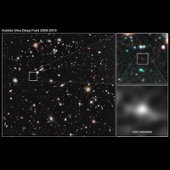 Pushing the Hubble Space Telescope to the limit of its technical ability, an international collaboration of astronomers have found what is likely to be the most distant and ancient galaxy ever seen, whose light has taken 13.2 billion years to reach us (a redshift of around 10).
Date: 26 January 2011
Hubble Zooms in on a Space Oddity [heic1102]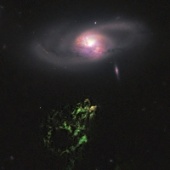 A strange, glowing green cloud of gas that has mystified astronomers since its discovery in 2007 has been studied by Hubble. The cloud of gas is lit up by the bright light of a nearby quasar, and shows signs of ongoing star formation.
Date: 10 January 2011
Identity parade clears cosmic collisions of the suspicion of promoting black hole growth [heic1101]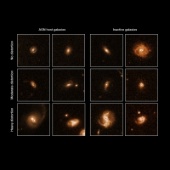 What happens when galaxies crash together? For years, these cosmic collisions have been blamed for triggering violent outbursts at the hearts of galaxies. Now, a remarkable piece of detective work has given a verdict: galactic mergers do not usually whet the appetite of the black holes that power these active galactic nuclei, meaning other, less dramatic phenomena are responsible.
Date: 05 January 2011
Space Telescope European Co-ordinating Facility to close after 26 successful years [heic1019]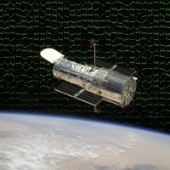 The Space Telescope European Co-ordinating Facility, a unique collaboration between the European Space Agency (ESA) and the European Southern Observatory, will close on 31 December 2010 after 26 years. ESA's continuing partnership with NASA on the Hubble mission ensures that European astronomers will continue to have access to observing time.
Date: 17 December 2010
Hubble spots a celestial bauble [heic1018]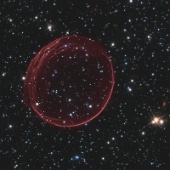 Hubble has spotted a festive bauble of gas in our neighbouring galaxy, the Large Magellanic Cloud. Formed in the aftermath of a supernova explosion that took place four centuries ago, this sphere of gas has been snapped in a series of observations made between 2006 and 2010.
Date: 14 December 2010
Europe maintains its presence on the final frontier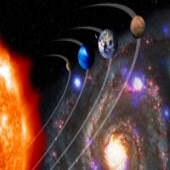 ESA has decided to extend the productive lives of 11 of its operating space science missions. This will enable ESA's world-class science missions to continue returning pioneering results until at least 2014.
Date: 22 November 2010
Hubble data used to look 10 000 years into the future [heic1017]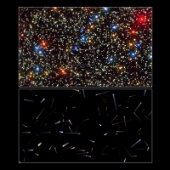 Astronomers are used to looking millions of years into the past. Now scientists have used the NASA/ESA Hubble Space Telescope to look thousands of years into the future. Looking at the heart of Omega Centauri, a globular cluster in the Milky Way, they have calculated how the stars there will move over the next 10 000 years.
Date: 26 October 2010
Hubble finds that a bizarre X-shaped intruder is linked to an unseen asteroid collision [heic1016]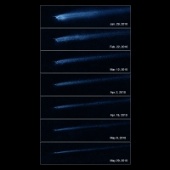 An international team of astronomers has observed what happens after asteroids crash together. Using Hubble to study the aftermath of one such collision over five months, they watched a strange, comet-like debris trail slowly evolve as the collision site orbited the Sun. This research gives clues about how asteroids behave when they collide, and how the fall-out from these impacts contributes to the dust that pervades the Solar System.
Date: 13 October 2010
Hubble and Rosetta unmask nature of recent asteroid wreck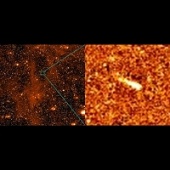 High-resolution images from the Hubble Space Telescope and a rare view obtained, from a unique perspective, by the Rosetta spacecraft provide a comprehensive picture of P/2010 A2, a puzzling body in the asteroid main belt. Although similar in appearance to a comet, this object and its diffuse trail have been exposed as the remnant of an asteroid crash that happened only one and a half years ago. These observations, reported in the 14 October issue of Nature, provide the first direct evidence for a recent collision in the asteroid belt.
Date: 13 October 2010
Breaking waves in the stellar lagoon [heic1015]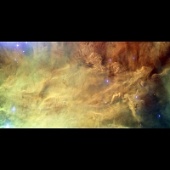 A spectacular new NASA/ESA Hubble Space Telescope image reveals the heart of the Lagoon Nebula. Seen as a massive cloud of glowing dust and gas, bombarded by the energetic radiation of new stars, this placid name hides a dramatic reality.
Date: 22 September 2010
Astronomers take a step towards revealing the Universe's biggest mystery [heic1014]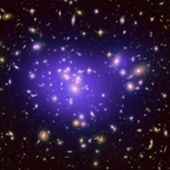 An international team of astronomers using gravitational lensing observations from the NASA/ESA Hubble Space Telescope has taken an important step forward in the quest to solve the riddle of dark energy, a phenomenon which mysteriously appears to power the Universe's accelerating expansion. Their results appear in the 20 August 2010 issue of the journal Science.
Date: 19 August 2010
NGC 4696: a cosmic question mark [heic1013]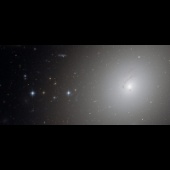 Curling around itself like a question mark, the unusual looking galaxy NGC 4696 itself begs many questions. Why is it such a strange shape? What are the odd, capillary-like filaments that stretch out of it? And what is the role of a large black hole in explaining its decidedly odd appearance?
Date: 12 August 2010
Hubble snaps sharp image of cosmic concoction [heic1012]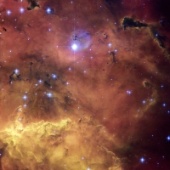 A colourful star-forming region is featured in this stunning new NASA/ESA Hubble Space Telescope image of NGC 2467. Looking like a roiling cauldron of some exotic cosmic brew, huge clouds of gas and dust are sprinkled with bright blue hot young stars.
Date: 13 July 2010
Hubble captures bubbles and baby stars [heic1011]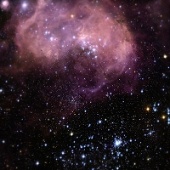 A spectacular new NASA/ESA Hubble Space Telescope image - one of the largest ever released of a star-forming region - highlights N11, part of a complex network of gas clouds and star clusters within our neighbouring galaxy, the Large Magellanic Cloud. This region of energetic star formation is one of the most active in the nearby Universe.
Date: 22 June 2010
Hubble scrutinises site of mysterious flash and missing cloud belt on Jupiter [heic1010]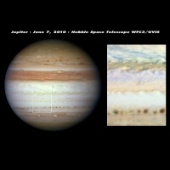 New and detailed observations from the NASA/ESA Hubble Space Telescope have provided insights into two recent events on Jupiter: the mysterious flash of light seen on 3 June and the recent disappearance of the planet's dark Southern Equatorial Belt.
Date: 16 June 2010
Hubble catches stars on the move [heic1009]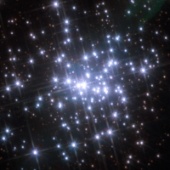 By exploiting the exquisite image quality of the NASA/ESA Hubble Space Telescope and comparing two observations made ten years apart astronomers have, for the first time, managed to measure the tiny motions of several hundred young stars within the central cluster of the star-forming region NGC 3603. The team was surprised to find that the stars are moving in ways that are at odds with the current understanding of how such clusters evolve. The stars in the cluster have not "settled down" as expected.
Date: 02 June 2010
Hubble catches heavyweight runaway star speeding from 30 Doradus [heic1008]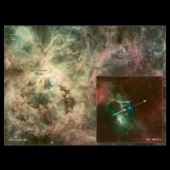 A heavy runaway star is rushing away from a nearby stellar nursery at more than 400 000 kilometres per hour, a speed that would get you to the Moon and back in two hours. The runaway is the most extreme case of a very massive star that has been kicked out of its home by a group of even heftier siblings. Tantalising clues from three observatories, including the NASA/ESA Hubble Space Telescope's newly installed Cosmic Origins Spectrograph (COS), and some old-fashioned detective work, suggest that the star may have travelled about 375 light-years from its suspected home, a giant star cluster called R136.
Date: 11 May 2010
Starry-eyed Hubble celebrates 20 years of awe and discovery [heic1007]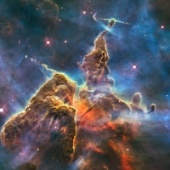 The most prolific space observatory zooms past a milestone of 20 years of operation. On 24 April 1990, the Space Shuttle and crew of STS-31 were launched to deploy the NASA/ESA Hubble Space Telescope into a low-Earth orbit. What followed was one of the most remarkable sagas of the space age.
Date: 23 April 2010
354 items found page 5 of 18