News Archive
354 items found page 6 of 18
Hubble snaps heavyweight of the Leo Triplet [heic1006]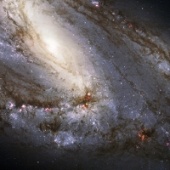 Hubble has snapped a spectacular view of the largest "player" in the Leo Triplet, a galaxy with an unusual anatomy: it displays asymmetric spiral arms and an apparently displaced core. The peculiar anatomy is most likely caused by the gravitational pull of the other two members of the trio.
Date: 08 April 2010
Hubble confirms cosmic acceleration with weak lensing [heic1005]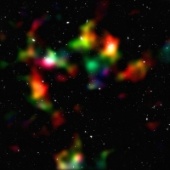 A new study led by European scientists presents the most comprehensive analysis of data from the most ambitious survey ever undertaken by the NASA/ESA Hubble Space Telescope. These researchers have, for the first time ever, used Hubble data to probe the effects of the natural gravitational "weak lenses" in space and characterise the expansion of the Universe.
Date: 25 March 2010
Bully galaxy rules the neighbourhood [heic1004]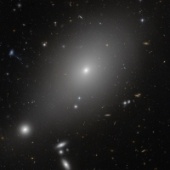 In general, galaxies can be thought of as "social" - hanging out in groups and frequently interacting. However, this recent NASA/ESA Hubble Space Telescope image highlights how some galaxies appear to be hungry loners. These cosmic oddities have set astronomers on the "case of the missing neighbour galaxies".
Date: 04 March 2010
Saturn's aurorae offer stunning double show [heic1003]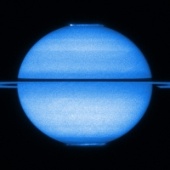 Researchers using the NASA/ESA Hubble Space Telescope recently took advantage of a rare opportunity to record Saturn when its rings are edge-on, resulting in a unique movie featuring both of the giant planet's poles. Saturn is only in this position every 15 years and this favourable orientation has allowed a sustained study of Saturn's almost symmetric northern and southern lights.
Date: 11 February 2010
Forming the present-day spiral galaxies [heic1002]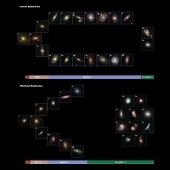 Using data from the NASA/ESA Hubble Space Telescope, astronomers have, for the first time, created a demographic census of galaxy types and shapes from a time before the Earth and the Sun existed, to the present day. The results show that, contrary to contemporary thought, more than half of the present-day spiral galaxies had so-called peculiar shapes only 6000 million years ago, which, if confirmed, highlights the importance of collisions and mergers in the recent past of many galaxies. It also provides clues for the unique status of our own galaxy, the Milky Way.
Date: 04 February 2010
Hubble finds most distant primeval galaxies [heic1001]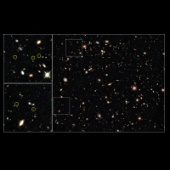 The NASA/ESA Hubble Space Telescope has broken the distance limit for galaxies and uncovered a primordial population of compact and ultra-blue galaxies that have never been seen before. The data from the Hubble's new infrared camera, the Wide Field Camera 3 (WFC3), on the Ultra Deep Field (taken in August 2009) have been analysed by five international teams of astronomers. Some of these early results are being presented by various team members on 6 January 2010, at the 215th meeting of the American Astronomical Society in Washington DC, USA.
Date: 05 January 2010
Vampires and collisions rejuvenate stars [heic0918]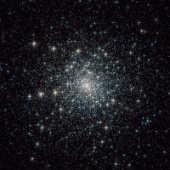 Using the NASA/ESA Hubble Space Telescope, astronomers have uncovered two distinct kinds of "rejuvenated" stars in the globular cluster Messier 30. A new study shows that both stellar collisions and a process sometimes called vampirism are behind this cosmic "face lift". The scientists also uncover evidence that both sorts of blue stragglers were produced during a critical dynamical event (known as "core collapse") that occurred in Messier 30 a few thousand million years ago.
Date: 23 December 2009
Born in beauty: proplyds in the Orion Nebula [heic0917]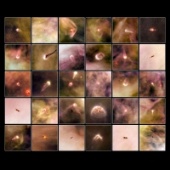 A collection of 30 never-before-released images of embryonic planetary systems in the Orion Nebula are the highlight of the longest single Hubble Space Telescope project ever dedicated to the topic of star and planet formation. Also known as proplyds, or protoplanetary discs, these modest blobs surrounding baby stars are shedding light on the mechanism behind planet formation. Only the NASA/ESA Hubble Space Telescope, with its high resolution and sensitivity, can take such detailed pictures of circumstellar discs at optical wavelengths.
Date: 14 December 2009
Hubble's deepest view of Universe unveils never-before-seen galaxies [heic0916]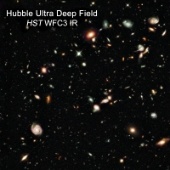 The new Wide Field Camera 3 aboard the NASA/ESA Hubble Space Telescope has taken the deepest image yet of the Universe in near-infrared light. The faintest and reddest objects in the image are likely the oldest galaxies ever identified, having formed between only 600-900 million years after the Big Bang.
Date: 08 December 2009
Blushing dusty nebula [heic0915]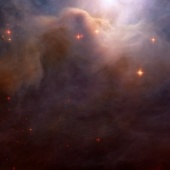 A recent NASA/ESA Hubble Space Telescope image of part of NGC 7023, or the Iris Nebula, highlights a perfect dust laboratory in the sky.
Date: 01 December 2009
Baffling boxy bulge [heic0914]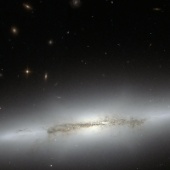 The evolution of bulges in the centres of spiral galaxies puzzles astronomers. A recent NASA/ESA Hubble Space Telescope image of NGC 4710 is part of a survey that has been conducted to learn more about the formation of bulges, which are a substantial component of most spiral galaxies.
Date: 18 November 2009
Opening up a colourful cosmic Jewel Box [heic0913]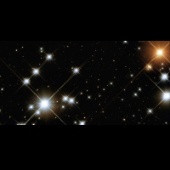 The combination of images taken by three exceptional telescopes: the NASA/ESA Hubble Space Telescope, the ESO Very Large Telescope on Cerro Paranal, the MPG/ESO 2.2-metre telescope at ESO's La Silla observatory has allowed the stunning Jewel Box star cluster to be seen in a whole new light.
Date: 29 October 2009
Sky merger yields sparkling dividends [heic0912]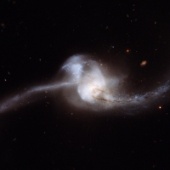 A recent NASA/ESA Hubble Space Telescope image captures what appears to be one very bright and bizarre galaxy, but is actually the result of a pair of spiral galaxies that resemble our own Milky Way smashing together at breakneck speeds. The product of this dramatic collision, called NGC 2623, or Arp 243, is about 250 million light-years away in the constellation of Cancer (the Crab).
Date: 13 October 2009
Mission extensions approved for science missions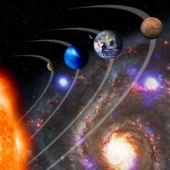 ESA's Science Programme Committee has approved the extension of mission operations for XMM-Newton, INTEGRAL, Venus Express, Mars Express and Cluster, as well as the ESA support to the operations of HST and SOHO, until 31 December 2012. An additional year of operations has been approved for Planck.
Date: 07 October 2009
Stripped down: Hubble highlights two galaxies that are losing it [heic0911]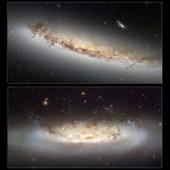 A newly released set of images, taken by the NASA/ESA Hubble Space Telescope before the recent Servicing Mission, highlights the ongoing drama in two galaxies in the Virgo Cluster affected by a process known as "ram pressure stripping", which can result in peculiar-looking galaxies. An extremely hot X-ray emitting gas known as the intra-cluster medium lurks between galaxies within clusters. As galaxies move through this intra-cluster medium, strong winds rip through galaxies distorting their shape and even halting star formation.
Date: 30 September 2009
Rebirth of an icon: Hubble's first images since Servicing Mission 4 [heic0910]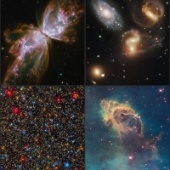 Astronomers today declared the NASA/ESA Hubble Space Telescope a fully rejuvenated observatory ready for a new decade of exploration, with the release of observations from four of its six operating science instruments.
Date: 09 September 2009
Hubble captures rare Jupiter collision [heic0909]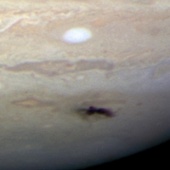 The checkout and calibration of the NASA/ESA Hubble Space Telescope has been interrupted to aim the recently refurbished observatory at a new expanding spot on the giant planet Jupiter. The spot, caused by the impact of a comet or an asteroid, is changing from day to day in the planet's cloud tops.
Date: 24 July 2009
Commissioning Hubble - preparing for science observations
The fifth and final servicing mission for the Hubble Space Telescope may be over but for the ESA Hubble scientists at the Space Telescope Science Institute (STScI) in Baltimore, USA, the end of the servicing mission signalled the start of a period of intense investigation and analysis as the two new, and two repaired, instruments are commissioned and prepared for scientific observations.
Date: 09 June 2009
Historic Hubble Servicing Mission 4 ends with successful landing [heic0908]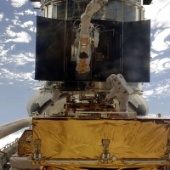 The historic and successful Hubble Servicing Mission 4 concluded with a trouble-free Space Shuttle landing on Sunday. During a series of unprecedented spacewalks, astronauts replaced and repaired a total of four instruments. The Wide Field Camera 3 and Cosmic Origins Spectrograph were installed and the Advanced Camera for Surveys and Space Telescope Imaging Spectrograph were successfully repaired.
Date: 24 May 2009
ESA support team in action for HST servicing mission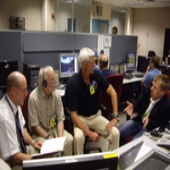 The fifth and final servicing mission to the Hubble Space Telescope (HST) is now underway. Although most eyes will be on the astronauts as they carry out the instrument replacement activities a lot of behind-the-scenes work will be going on in support of these activities. This includes the work of a dedicated ESA engineering support team monitoring the ESA hardware on the HST.
Date: 13 May 2009
354 items found page 6 of 18