News Archive
353 items found page 8 of 18
Galaxies gone wild - A Hubble atlas of interacting galaxies [heic0810]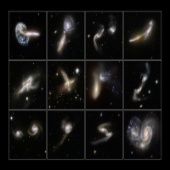 Fifty nine new images of colliding galaxies make up the largest collection of Hubble images ever released together. As this astonishing Hubble atlas of interacting galaxies illustrates, galaxy collisions produce a remarkable variety of intricate structures.
Date: 24 April 2008
Black hole found in omega Centauri [heic0809]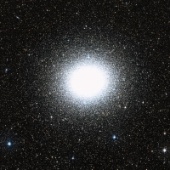 Omega Centauri has been known as an unusual globular cluster for a long time. A new result obtained by the NASA/ESA Hubble Space Telescope and the Gemini Observatory reveals that the explanation behind omega Centauri's peculiarities may be a black hole hidden in its centre. One implication of the discovery is that it is very likely that omega Centauri is not a globular cluster at all, but a dwarf galaxy stripped of its outer stars, as some scientists have suspected for a few years.
Date: 02 April 2008
Exploding star in NGC 2397 [heic0808]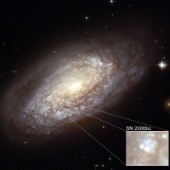 The latest image from the NASA/ESA Hubble Space Telescope reveals a sharp view of the spiral galaxy NGC 2397. This image also shows a rare Hubble view of the early stages of a supernova - SN 2006bc, discovered in March 2006.
Date: 31 March 2008
Hubble finds first organic molecule on extrasolar planet [heic0807]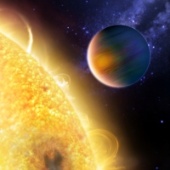 The NASA/ESA Hubble Space Telescope has made the first detection ever of an organic molecule in the atmosphere of a planet orbiting another star. This breakthrough is an important step in eventually identifying signs of life on a planet outside our Solar System.
Date: 19 March 2008
Hubble discovers 67 gravitationally lensed galaxies in the distant Universe [heic0806]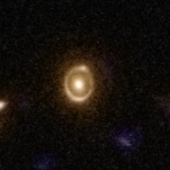 Astronomers using the NASA/ESA Hubble Space Telescope have compiled a large catalogue of galaxy-galaxy lens candidates in the distant Universe. The catalogue contains 67 previously unknown gravitationally lens systems around foreground elliptical and lenticular galaxies. This sample demonstrates the rich diversity of strong gravitational lenses. If this sample is representative, there would be nearly half a million similar gravitational lenses in total over the whole sky.
Date: 19 February 2008
Hubble finds strong contender for galaxy distance record [heic0805]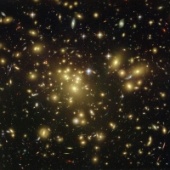 The NASA/ESA Hubble Space Telescope, with a boost from a gravitational lens, has found the strongest evidence so far for a galaxy with a redshift significantly above 7. It is likely to be one of the youngest and brightest galaxies ever seen, in the middle the cosmic dark ages just 700 million years after the Big Bang.
Date: 12 February 2008
Gargantuan galaxy NGC 1132 - a cosmic fossil? [heic0804]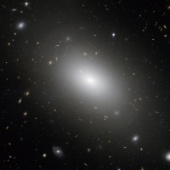 The NASA/ESA Hubble Space Telescope has captured a new image of the galaxy NGC 1132 which is, most likely, a cosmic fossil - the aftermath of an enormous multi-galactic pile-up, where the carnage of collision after collision has built up a brilliant but fuzzy giant elliptical galaxy far outshining typical galaxies.
Date: 06 February 2008
Hubble finds double Einstein ring [heic0803]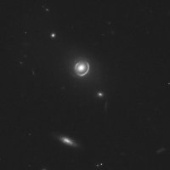 The NASA/ESA Hubble Space Telescope has revealed a never-before-seen optical alignment in space: a pair of glowing rings, one nestled inside the other like a bull's-eye pattern. The double-ring pattern is caused by the bending of light from two distant galaxies that both lie behind a foreground massive galaxy.
Date: 10 January 2008
The violent lives of galaxies: caught in the cosmic matter web [heic0802]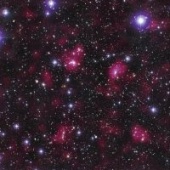 Astronomers are using the NASA/ESA Hubble Space Telescope to dissect one of the largest structures in the Universe as part of a quest to understand the violent lives of galaxies. Hubble is providing indirect evidence of unseen dark matter tugging on galaxies in the crowded, rough-and-tumble environment of a massive supercluster of hundreds of galaxies.
Date: 10 January 2008
Hubble finds that 'blue blobs' in space are orphaned clusters of stars [heic0801]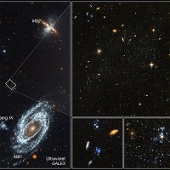 Hubble has revealed that mysterious "blue blobs" in a structure called Arp's Loop between the galaxies M81 and M82 are blue clusters of stars less than 200 million years old with many stars as young as, and even younger than, 10 million years.
Date: 09 January 2008
Hazy red sunset on extrasolar planet [heic0720]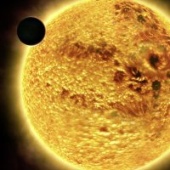 The NASA/ESA Hubble Space Telescope has given astronomers a fascinating new insight into the atmosphere of a planet in orbit around another star. The observations provide evidence of the presence of hazes in the atmosphere of the planet HD 189733b.
Date: 11 December 2007
Hubble captures grand-design spiral galaxy M74 [heic0719]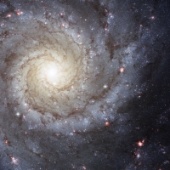 Messier 74, also called NGC 628, is a stunning example of a grand-design spiral galaxy that is viewed by Earth observers nearly face-on. Its perfectly symmetrical spiral arms emanate from the central nucleus and are dotted with clusters of young blue stars.
Date: 29 November 2007
Hubble zooms in on heart of mystery comet [heic0718]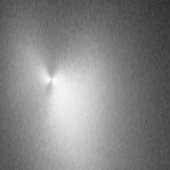 The NASA/ESA Hubble Space Telescope has probed the bright core of Comet 17P/Holmes which, to the delight of sky watchers, mysteriously brightened by nearly a million-fold in a 24-hour period beginning 23 October 2007.
Date: 15 November 2007
Hubble captures the pair of interacting galaxies Arp 87 [heic0717]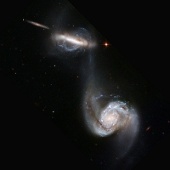 This pair of galaxies, known collectively as Arp 87, is one of hundreds of interacting and merging galaxies known in our nearby Universe. Arp 87 was originally discovered and catalogued by astronomer Halton Arp in the 1970s. Arp's Atlas of Peculiar Galaxies is a compilation of astronomical photographs using the Palomar 200-inch Hale and the 48-inch Samuel Oschin telescopes.
Date: 30 October 2007
Hubble shows 'baby' galaxy is not so young after all [heic0716]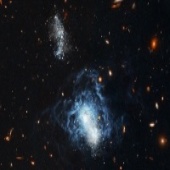 The NASA/ESA Hubble Space Telescope has found out the true nature of a dwarf galaxy that astronomers had for a long time identified as one of the youngest galaxies in the Universe. Astronomers using the NASA/ESA Hubble Space Telescope have made observations of the galaxy I Zwicky 18 which seem to indicate that it is in fact much older and much farther away than previously thought.
Date: 16 October 2007
Extreme star cluster bursts into life in new Hubble image [heic0715]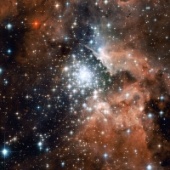 The NASA/ESA Hubble Space Telescope has captured a spectacular image of NGC 3603, a giant nebula hosting one of the most prominent massive young clusters in the Milky Way, thus supplying a prime template for star formation studies.
Date: 02 October 2007
Hubble and Spitzer Space Telescopes find building-block galaxies in early Universe [heic0714]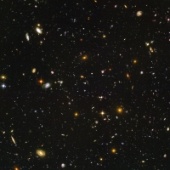 The NASA/ESA Hubble Space Telescope and the NASA Spitzer Space Telescope have joined forces to discover nine of the smallest, faintest, most compact galaxies ever observed in the distant Universe. Blazing with the brilliance of millions of stars, each of the newly discovered galaxies is a hundred to a thousand times smaller than our Milky Way Galaxy.
Date: 06 September 2007
Uncovering the Veil Nebula [heic0712]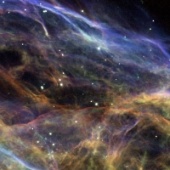 The NASA/ESA Hubble Space Telescope has photographed three sections of the Veil Nebula - the shattered remains of a supernova that exploded some 5000 to 10 000 years ago. The new Hubble images provide beautiful views of the delicate, wispy structure resulting from this cosmic explosion.
Date: 01 August 2007
Stellar fireworks in galaxy NGC 4449 [heic0711]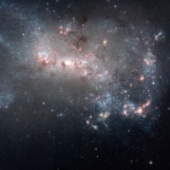 Nearly 12.5 million light-years away in the dwarf galaxy NGC 4449 veritable stellar fireworks is on display - observed in great detail with the Hubble Space Telescope.
Date: 03 July 2007
The Impact of Hubble on European Astronomy - ESLAB 41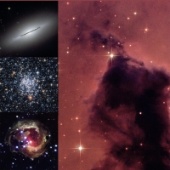 Held at ESTEC from 29 May to 1 June 2007, the 41st ESLAB symposium provided an overview of the Hubble Space Telescope's key contributions to all areas of astronomy and astrophysics. In particular, the impact of the Hubble results on European astronomical research was summarised.
Date: 18 June 2007
353 items found page 8 of 18