News Archive
354 items found page 9 of 18
The Impact of Hubble on European Astronomy - ESLAB 41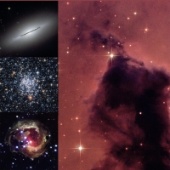 Held at ESTEC from 29 May to 1 June 2007, the 41st ESLAB symposium provided an overview of the Hubble Space Telescope's key contributions to all areas of astronomy and astrophysics. In particular, the impact of the Hubble results on European astronomical research was summarised.
Date: 18 June 2007
Hubble photographs grand spiral galaxy Messier 81 [heic0710]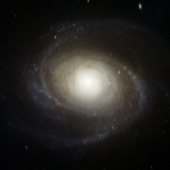 The sharpest image ever taken of the large grand design spiral galaxy Messier 81 is being released today. The image, constructed from a series of images taken with NASA/ESA Hubble Space Telescope, is among the largest ever released. Messier 81 is one of the brightest galaxies in the sky.
Date: 28 May 2007
Hubble finds ring of dark matter [heic0709]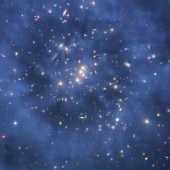 An international team of astronomers using the NASA/ESA Hubble Space Telescope has discovered a ring of dark matter that was formed long ago during a titanic collision between two massive galaxy clusters. It is the first time that a dark matter distribution has been found that differs substantially from the distribution of ordinary matter.
Date: 15 May 2007
Hubble finds multiple stellar generations in a globular cluster [heic0708]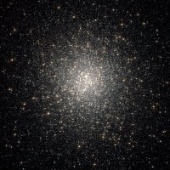 Analysis of Hubble observations of the massive globular cluster NGC 2808 provides evidence that it has three generations of stars that formed early in the cluster's life. This is a major upset for conventional theories as astronomers have long thought that globular star clusters had only a single burst of star formation early in their lives and then settled down into a long, quiet middle age.
Date: 02 May 2007
Hubble's 17th anniversary - extreme star birth in the Carina Nebula [heic0707]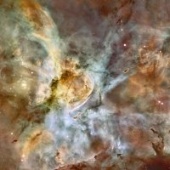 One of the largest panoramic images ever taken with Hubble's cameras has been released to celebrate the 17th anniversary of the launch and deployment of the NASA/ESA Hubble Space Telescope. The image shows a 50 light-year-wide view of the tumultuous central region of the Carina Nebula where a maelstrom of star birth - and death - is taking place.
Date: 24 April 2007
Hubble's view of barred spiral galaxy NGC 1672 [heic0706]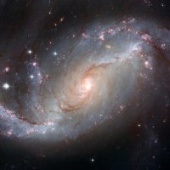 The NASA/ESA Hubble Space Telescope has delivered an unrivalled snapshot of the nearby barred spiral galaxy NGC 1672. This remarkable image provides a high definition view of the galaxy's large bar, its fields of star-forming clouds and dark bands of interstellar dust.
Date: 03 April 2007
Hubble sees 'Comet Galaxy' being ripped apart by galaxy cluster [heic0705]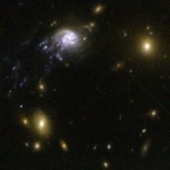 The NASA/ESA Hubble Space Telescope, in collaboration with several other ground- and space-based telescopes, has captured a galaxy being ripped apart by a galaxy cluster's gravitational field and harsh environment. The finding sheds light on the mysterious process by which gas-rich spiral-shaped galaxies might evolve into gas-poor irregular- or elliptical-shaped galaxies over billions of years. The new observations also show one mechanism to form the millions of field stars seen scattered throughout galaxy clusters.
Date: 06 March 2007
The Hubble Space Telescope Celebrates Supernova 1987A's 20th Anniversary [heic0704]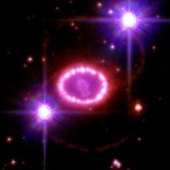 Twenty years ago, astronomers witnessed one of the brightest stellar explosions in more than 400 years. The titanic supernova, SN 1987A, blazed with the power of 100 million suns for several months following its discovery on 23 February 1987.
Date: 23 February 2007
The Colourful Demise of a Sun-like Star [heic0703]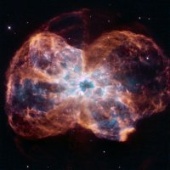 A brand new image taken with Hubble's Wide Field Planetary Camera 2 shows the planetary nebula NGC 2440 - the chaotic structure of the demise of a star.
Date: 13 February 2007
ACS Stops Functioning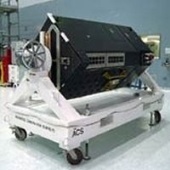 NASA engineers are examining a problem related to the Advanced Camera for Surveys (ACS) aboard the agency's Hubble Space Telescope. On 27 January, the observatory entered a protective safemode condition at 12:34 UT. An initial investigation indicates the camera has stopped functioning, and the input power feed to its Side B electronics package has failed.
Date: 30 January 2007
New stars shed light on the past [heic0702]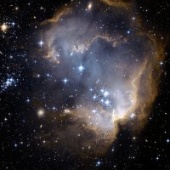 A new image from the Hubble Space Telescope shows N90, one of the star-forming regions in the Small Magellanic Cloud. The rich populations of infant stars found here enable astronomers to examine star forming processes in an environment that is very different from that in our own Milky Way.
Date: 09 January 2007
First 3D Map of the Universe's Dark Matter Scaffolding [heic0701]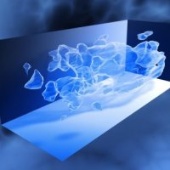 By analysing the COSMOS survey - the largest ever survey undertaken with Hubble - an international team of scientists has assembled one of the most important results in cosmology: a three-dimensional map that offers a first look at the web-like large-scale distribution of dark matter in the Universe. This historic achievement accurately confirms standard theories of structure formation.
Date: 08 January 2007
Hubble Resolves Massive Star System Pismis 24-1 [heic0619]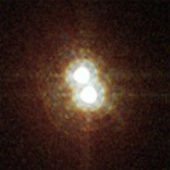 High-resolution observations from Hubble have shed light on the real mass of a star previously believed to be amongst the heaviest known in our Milky Way. Originally, the mass of the star was thought to be an incredible 200-300 solar masses, but turned out to be only 100 solar masses when the star was resolved to be part of a multiple star system.
Date: 12 December 2006
New Hubble Servicing Mission to upgrade instruments [heic0618]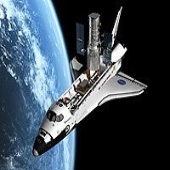 After more than a decade of fascinating discoveries, The Hubble Space Telescope will soon be given the new beginning that it deserves. On Tuesday, 31 October 2006, NASA has decided to approve a Space Shuttle mission to repair and upgrade the observatory, despite new Shuttle safety rules formulated after the Columbia disaster that would normally rule out such a rescue mission.
Date: 02 November 2006
Latest views of the V838 Monocerotis light echo from Hubble [heic 0617]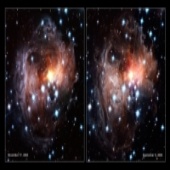 Hubble has returned to the intriguing V838 Monocerotis many times since its initial outburst in 2002 to follow the evolution of its light echo. Two new images provide the most astonishing views of V838 to date.
Date: 26 October 2006
Hubble yields direct proof of stellar sorting in a globular cluster [heic0616]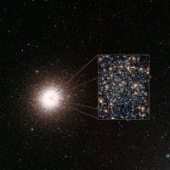 A seven year study with the NASA/ESA Hubble Space Telescope has provided astronomers with the best observational evidence yet that globular clusters sort out stars according to their mass, governed by the gravitational interactions between the stars. Heavier stars slow down and sink to the cluster's core, while lighter stars pick up speed and move across the cluster to its periphery. This process, called mass segregation, has long been suspected for globular star clusters, but has never before been directly seen in action.
Date: 25 October 2006
The Colliding Antennae Galaxies [heic0615]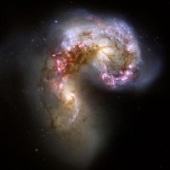 A new Hubble image of the Antennae galaxies is the sharpest yet of this merging pair of galaxies. As the two galaxies smash together, billions of stars are born, mostly in groups and clusters of stars. The brightest and most compact of these are called super star clusters.
Date: 17 October 2006
Flies in a spider's web: Galaxy caught in the making [heic0614]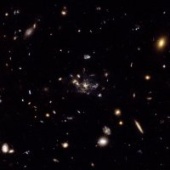 New Hubble images have provided a dramatic glimpse of a large massive galaxy under assembly as smaller galaxies merge. This has commonly been thought to be the way galaxies grew in the young Universe, but now Hubble observations of the radio galaxy MRC 1138-262, nicknamed the "Spiderweb Galaxy", have shown dozens of star-forming satellite galaxies in the actual process of merging.
Date: 12 October 2006
Hubble observations confirm that planets form from disks around stars [heic0613]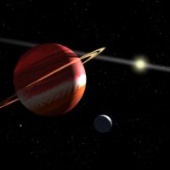 The NASA/ESA Hubble Space Telescope, in collaboration with ground-based observatories, has at last confirmed what philosopher Emmanuel Kant and scientists have long predicted: that planets form from debris disks around stars.
Date: 10 October 2006
Hubble finds 16 candidate extrasolar planets far across our Galaxy [heic0612]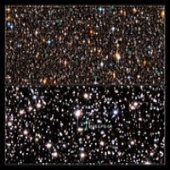 The NASA/ESA Hubble Space Telescope has discovered 16 extrasolar planet candidates that are orbiting a variety of distant stars. In accomplishing this, Hubble looked farther into our Milky Way galaxy than has ever successfully been done before in searching for extrasolar planets. The Hubble observations reach all the way into the central bulge of our galaxy, 26 000 light-years away, or one-quarter the diameter of the Milky Way's spiral disk.
Date: 04 October 2006
354 items found page 9 of 18