News Archive
354 items found page 12 of 18
Hubble and Keck team up to find farthest known galaxy in the Universe [heic0404]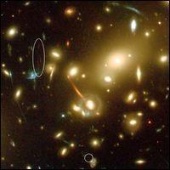 An international team of astronomers may have set a new record in discovering what is the most distant known galaxy in the Universe. Located an estimated 13 billion light-years away, the object is being viewed at a time only 750 million years after the big bang, when the Universe was barely 5 percent of its current age.
Date: 15 February 2004
Supernova blast bonanza in nearby galaxy [heic0402]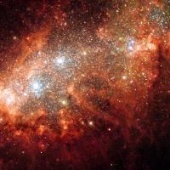 The nearby dwarf galaxy NGC 1569 is a hotbed of vigorous star birth activity which blows huge bubbles and super-bubbles that riddle the main body of the galaxy. The galaxy's vigorous 'star factories' are also manufacturing brilliant blue star clusters. This galaxy had a sudden and relatively recent onset of star birth 25 million years ago, which subsided about the time the very earliest human ancestors appeared on Earth.
Date: 03 February 2004
Oxygen and carbon discovered in exoplanet atmosphere 'blow-off' [heic0403]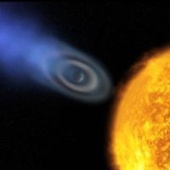 The well-known extrasolar planet HD 209458b, provisionally nicknamed Osiris, has surprised astronomers again. Oxygen and carbon have been found in its atmosphere, evaporating at such an immense rate that the existence of a new class of extrasolar planets - 'the chthonian planets' or 'dead' cores of completely evaporated gas giants - has been proposed.
Date: 02 February 2004
First supernova companion star found [heic0401]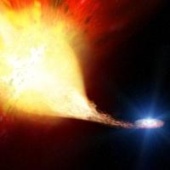 A joint European/University of Hawaii team of astronomers has for the first time observed a stellar 'survivor' to emerge from a double star system involving an exploded supernova. Supernovae are some of the most significant sources of chemical elements in the Universe, and they are at the heart of our understanding of the evolution of galaxies.
Date: 07 January 2004
Record-breaking ancient galaxy clusters [heic0313]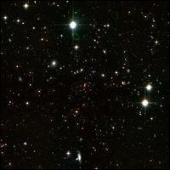 Studies of two distant galaxy clusters using a combination of the largest radio, optical and x-ray telescopes on the ground and in space have independently found that galaxies formed relatively early in the history of the Universe. The two galaxy clusters studied are respectively the most distant proto-cluster ever found and the most massive known galaxy cluster for its epoch.
Date: 31 December 2003
News Release: Mega starbirth cluster is biggest, brightest and hottest ever seen [heic0312]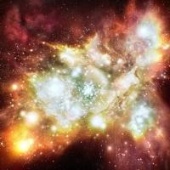 A mysterious arc of light found behind a distant cluster of galaxies has turned out to be the biggest, brightest and hottest star-forming region ever seen in space.
Date: 30 October 2003
Photo Release: Waiting for a supernova [heic0311]
A team of European astronomers is using the NASA/ESA Hubble Space Telescope to look back in time. They have imaged the spiral galaxy NGC 3982 and hundreds of other galaxies in the hope that one of the millions of stars in these images will some day explode as a supernova. They can then look back and pinpoint the exact star that has exploded. Only two such supernova 'mother stars' have ever been identified.
Date: 24 September 2003
News Release: Hubble assists Rosetta comet mission [heic0310]
Results from the NASA/ESA Hubble Space Telescope played a major role in preparing ESA's ambitious Rosetta mission for its new target, comet 67P/Churyumov-Gerasimenko. Hubble has been the critical tool in measuring precisely the size, shape and rotational period of the comet. Information that is essential if Rosetta is to rendezvous with a comet and then drop down a probe, something never before attempted and yet a major step to elucidating solar system origins.
Date: 05 September 2003
Hubble tracks down a galaxy cluster's dark matter [heic0309]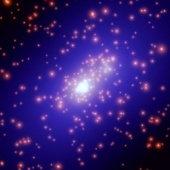 Using the powerful trick of gravitational lensing, a European and American team of astronomers have constructed an extensive 'mass map' of one of the most massive structures in our Universe. They believe that it will lead to a better understanding of how such systems assembled and the key role of dark matter.
Date: 17 July 2003
If Hubble Space Telescope matters to you, let your voice be heard!
Date: 03 July 2003
The mysterious 'Garden-sprinkler' nebula [heic0308]
There are many mysterious objects seen in the night sky which are not really well understood.
Date: 22 May 2003
Eye-catching celestial helix [heic0307]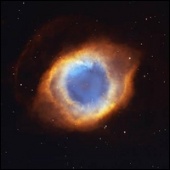 In one of the largest and most detailed celestial images ever, astronomers today unveil the coil-shaped Helix Nebula to celebrate Astronomy Day.
Date: 09 May 2003
Finding the ashes of the first stars [heic0306]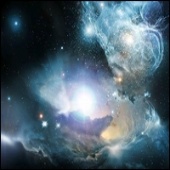 Recent observations with the Hubble Space Telescope suggest that the first stars formed as little as 200 million years after the Big Bang. This is much earlier than previously thought. Astronomers have observed large amounts of iron in the ultraluminous light from very distant, ancient quasars. This iron is the 'ashes' left from supernova explosions in the very first generation of stars.
Date: 30 April 2003
A perfect storm of turbulent gases [heic0305]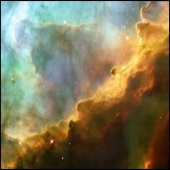 Like the fury of a raging sea, this anniversary image from the NASA/ESA Hubble Space Telescope shows a bubbly ocean of glowing hydrogen, oxygen, and sulphur gas in the extremely massive and luminous molecular nebula Messier 17.
Date: 24 April 2003
Hubble watches light echo from mysterious erupting star [heic0304]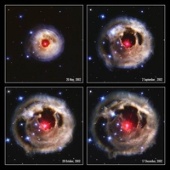 In January 2002, a moderately dim star in the constellation Monoceros, the Unicorn, suddenly became 600 000 times more luminous than our Sun. This made it temporarily the brightest star in our Milky Way. The light from this eruption created a unique phenomenon known as a 'light echo' when it reflected off dust shells around the star.
Date: 26 March 2003
European astronomers observe first evaporating planet [heic0303]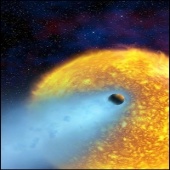 Using the Hubble Space Telescope, for the first time, astronomers have observed the atmosphere of an extrasolar planet evaporating off into space. Much of this planet may eventually disappear, leaving only a dense core. The planet is a type of extrasolar planet known as a 'hot Jupiter'. These giant, gaseous planets orbit their stars very closely, drawn to them like moths to a flame.
Date: 12 March 2003
First evaporating planet excites European astronomers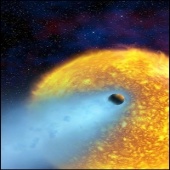 Using the Hubble Space Telescope, for the first time, astronomers have observed the atmosphere of an extrasolar planet boiling off into space. Much of this planet may eventually disappear, leaving only a dense core. The planet is an example of a type of exoplanet known as a 'hot Jupiter'. These giant, gaseous planets orbit their stars very closely, drawn to them like moths to a flame.
Date: 12 March 2003
Hubble resolves a blaze of stars in galaxy's core [heic0302]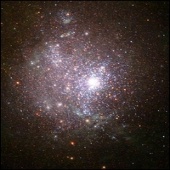 The central region of the small galaxy NGC 1705 blazes with the light of thousands of young and old stars. Astronomers call NGC 1705 a dwarf irregular, that is, a small galaxy lacking regular structure. Knowing how dwarf irregular galaxies evolve tells us a lot about galaxy formation and evolution.
Date: 06 March 2003
The Boomerang Nebula - the coolest place in the Universe? [heic0301]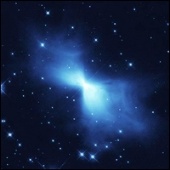 The Boomerang Nebula is a young planetary nebula and the coldest object found in the Universe so far. The NASA/ESA Hubble Space Telescope image illustrates how Hubble's keen vision reveals surprises in celestial objects.
Date: 20 February 2003
First light for Europe's virtual observatory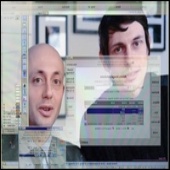 Imagine you are an astronomer with instant, fingertip access to all existing observations of a given object and the opportunity to sift through them at will. In just a few moments, you can have information on all kinds about objects out of catalogues all over the world, including observations taken at different times.
Date: 17 December 2002
354 items found page 12 of 18