News Archive
112 items found page 1 of 6
INTEGRAL catches dead star exploding in a blaze of glory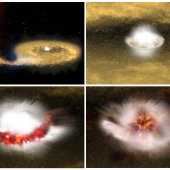 Astronomers using ESA's INTEGRAL gamma-ray observatory have demonstrated beyond doubt that dead stars known as white dwarfs can reignite and explode as supernovae.
Date: 27 August 2014
INTEGRAL Announcement of Opportunity (AO-12)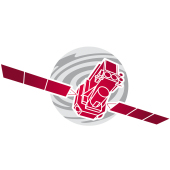 Proposals are solicited for observations with INTEGRAL in response to the Twelfth Announcement of Opportunity, AO-12, issued 24 February 2014. This AO covers the period January 2015 to December 2015 and is open to all proposers.
Date: 24 February 2014
Debris from stellar explosions in the Galaxy's fast lane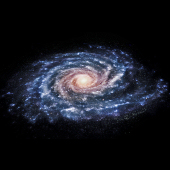 Astronomers looking at the radioactive afterglow of supernovae with ESA's INTEGRAL mission have revealed that the remains of stellar explosions move through the Milky Way much faster, on average, than stars and most of the Galaxy's gas. This stellar debris is most likely ejected by winds and supernova explosions in large groups of massive stars located primarily on the leading edges of the Galaxy's spiral arms.
Date: 19 November 2013
Volatile pulsar reveals millisecond missing link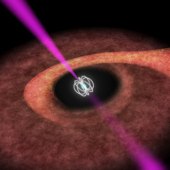 For the first time, astronomers have caught a pulsar in a crucial transitional phase that explains the origin of the mysterious millisecond pulsars. These pulsars spin much faster than expected for their old age, and astronomers believe their rotation receives a boost as they accrete matter in a binary system. The newly found pulsar swings back and forth between accretion-powered X-ray emission and rotation-driven radio emission, bringing conclusive evidence for their 'rejuvenation'. The discovery was made possible by the coordinated efforts of ESA's two missions that scan the high-energy sky: INTEGRAL and XMM-Newton.
Date: 25 September 2013
INTEGRAL Announcement of Opportunity (AO-11 Data Rights)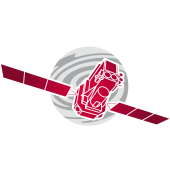 This Announcement of Opportunity solicits proposals for data rights on targets contained within the previously approved AO-11 observing programmes.
Date: 25 September 2013
ESA science missions continue in overtime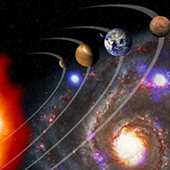 ESA has extended the productive lives of 10 of its operating space science missions. This decision secures funding for ESA's world-class science missions until at least the end of 2014, and provides a framework for planning until end of 2016.
Date: 20 June 2013
Black hole wakes up and has a light snack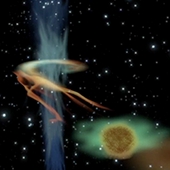 Astronomers have watched as a black hole woke up from a decades-long slumber to feed on a low-mass object - either a brown dwarf or a giant planet - that strayed too close. A similar feeding event, albeit on a gas cloud, will soon happen at the black hole at the centre of our own Milky Way Galaxy.
Date: 02 April 2013
High mass X-ray binaries trace the Milky Way's spiral arms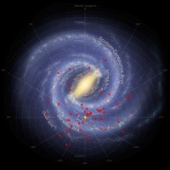 Our Galaxy is littered with pairs of massive stars, many of which contain the remnants of supernova explosions. A new study of these X-ray emitting binary systems, using data from ESA's INTEGRAL space observatory, has made it possible to reconstruct the locations of the Milky Way's spiral arms many millions of years ago.
Date: 04 March 2013
Astronomers develop new method to determine neutron star mass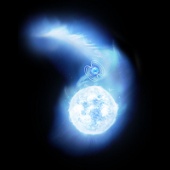 Astronomers have used INTEGRAL and XMM-Newton to look into the neutron star in IGR J17252-3616, a highly obscured X-ray binary system. The data show how the neutron star, which is being fuelled by the stellar wind from its companion, is substantially deflecting the flow of the accreted material. Comparison with numerical simulations provides an estimate of the neutron star's mass, suggesting a new method to determine the mass of these extremely dense, exotic objects.
Date: 09 November 2012
INTEGRAL celebrates a decade of discoveries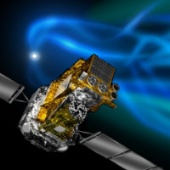 ESA's INTEGRAL mission is celebrating the tenth anniversary of its launch, which took place on 17 October 2002. Over the past decade, the mission has observed the entire sky at hard X-ray and soft gamma-ray energies with unprecedented sensitivity and resolution, shedding new light on several classes of astronomical sources, galactic and extragalactic alike. Highlights of the mission so far have included the study of the emission from electron-positron annihilation across the sky, the discovery of two previously unknown classes of X-ray binaries, the characterisation of the cosmic X-ray background and the first detection of polarisation in gamma-ray sources.
Date: 17 October 2012
INTEGRAL finds titanium in supernova remnant 1987A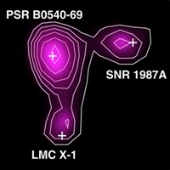 Astronomers using INTEGRAL have detected the first direct signature of titanium-44 in the remnant of the nearby supernova 1987A. The discovery reveals a large amount of this key isotope in the remnant, equivalent to 0.03 per cent the mass of the Sun. This value is close to upper bounds from theoretical predictions and exceeds the amount of titanium-44 observed in Cassiopeia A - the only other supernova remnant where this isotope has been found. The amount of titanium-44 found in SNR 1987A demonstrates that its radioactive decay has been powering the source for the past 22 years.
Date: 17 October 2012
Massive glitch moves magnetar modelling forward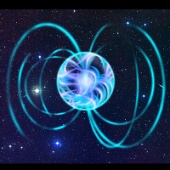 The chance discovery with ESA's INTEGRAL observatory, in 2004, of highly energetic X-rays emanating from a young neutron star with an extremely strong magnetic field, provided scientists with a challenge: to explain how these objects, also known as magnetars, produce such energetic non-thermal radiation. A new, comprehensive study of one particular magnetar, that was observed by several observatories over a period of 27 months, may provide the key to homing in on the processes at play in the extreme environments of these exotic stars.
Date: 12 April 2012
INTEGRAL Announcement of Opportunity (AO-10)
Proposals are solicited for observations with INTEGRAL in response to the Tenth Announcement of Opportunity, AO-10, issued 12 March 2012. This AO covers the period January 2013 to December 2013 and is open to all proposers.
Date: 14 March 2012
INTEGRAL reveals new facets of the Vela pulsar wind nebula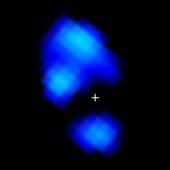 Astronomers studying the Vela pulsar wind nebula with ESA's INTEGRAL observatory have successfully resolved its morphology in the hard X-ray band, for the first time. This pulsar-powered nebula is the most extended individual source yet observed at these energies. The study exploited a special imaging technique to reveal a new component of the source that likely consists of highly energetic electrons that have escaped from the core of the nebula in the last few thousand years.
Date: 25 January 2012
INTEGRAL deciphers diffuse signature of cosmic-ray electrons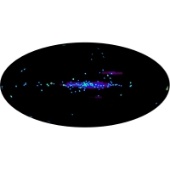 Astronomers exploiting six years worth of data from ESA's INTEGRAL mission have pinned down the individual processes contributing to the high-energy Galactic interstellar emission produced by cosmic-ray electrons. Deciphering each of the different physical mechanisms at play at hard X-ray and soft gamma-ray wavelengths represents a crucial step towards an increasingly detailed picture of the population of high-energy particles permeating the Milky Way.
Date: 21 December 2011
INTEGRAL observations suggest unified model for AGN requires a rethink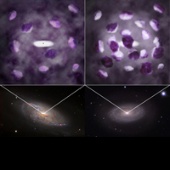 Scrutinising a large sample of Active Galactic Nuclei with INTEGRAL, astronomers have found that, unexpectedly, sources affected by stronger absorption at lower energies show an excess emission in the hard X-ray band when compared to their less obscured counterparts. The excess is likely due to reflection of X-rays off the same dense clouds responsible for absorption. Unaccounted for in the unified paradigm of Active Galactic Nuclei, the finding calls for a rethinking of some of this model's facets. The reflected radiation could also represent the long-sought missing part of the Cosmic X-ray Background.
Date: 02 August 2011
INTEGRAL challenges physics beyond Einstein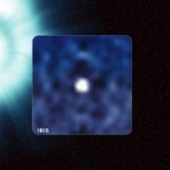 ESA's INTEGRAL gamma-ray observatory has provided results that will dramatically affect the search for physics beyond Einstein. It has shown that any underlying quantum 'graininess' of space must be at much smaller scales than previously predicted.
Date: 30 June 2011
INTEGRAL discovers gamma rays originating from black hole jets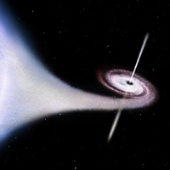 Can the powerful jets originating from the vicinity of black holes emit gamma rays? ESA's INTEGRAL observatory has shown that they can. An extensive study of Cygnus X-1, a binary system that hosts a black hole, has revealed polarized gamma-ray emission from this source, and shown that this high-energy emission originates from the jets that were originally detected in the radio band. This first discovery of polarized gamma rays from the vicinity of a black hole opens a new observational window on these enigmatic objects. The results of this study are published online today in Science Express.
Date: 24 March 2011
INTEGRAL Announcement of Opportunity (AO-9)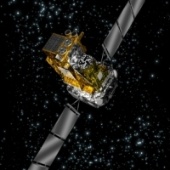 Proposals are solicited for observations with INTEGRAL in response to the Ninth Announcement of Opportunity, AO-9, issued 7 March 2011. This AO covers the period January 2012 to December 2012 and is open to all proposers.
Date: 07 March 2011
The Crab Nebula: standard candle no more?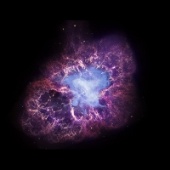 Teaming up with other telescopes monitoring the Crab Nebula, ESA's INTEGRAL observatory has made a significant contribution to demonstrating that this source, previously believed to be a standard candle, might not be so reliable, after all. The small, but measurable dimming of what was until now considered to be one of the brightest and, most importantly, the steadiest source in the high-energy sky calls for a re-examination of how X-ray and gamma-ray observations are calibrated.
Date: 12 January 2011
112 items found page 1 of 6