News Archive
112 items found page 2 of 6
INTEGRAL helps unravel the tumultuous recent history of the solar neighbourhood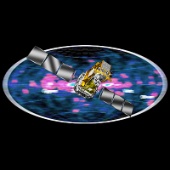 Just like archaeologists, who rely on radioactive carbon to date the organic remains from past epochs, astronomers have exploited the radioactive decay of an isotope of aluminium to estimate the age of stars in the nearby Scorpius-Centaurus association, the closest group of young and massive stars to the Sun. The new observations, performed in gamma rays by ESA's INTEGRAL observatory, provide evidence for recent ejections of matter from massive stars that took place only a few million years ago in our cosmic neighbourhood.
Date: 26 November 2010
Europe maintains its presence on the final frontier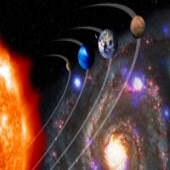 ESA has decided to extend the productive lives of 11 of its operating space science missions. This will enable ESA's world-class science missions to continue returning pioneering results until at least 2014.
Date: 22 November 2010
INTEGRAL AO for Obtaining Data Rights (in AO8 approved programmes)
Proposals are solicited for an INTEGRAL Announcement of Opportunity for obtaining data rights to targets within previously approved AO-8 observing programmes.
Date: 30 August 2010
INTEGRAL completes deepest all-sky survey in hard X-rays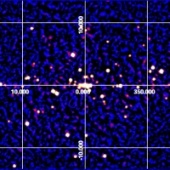 A newly developed image analysis technique has significantly improved the sensitivity limits reached by the IBIS imager on board INTEGRAL, resulting in the deepest survey ever compiled of the entire sky in the energy range between 17 and 60 keV. Pushing the instrument towards its very limits, the novel method discloses a vast number of previously undetected faint sources, galactic and extragalactic alike.
Date: 11 August 2010
New INTEGRAL catalogue expands gamma-ray horizons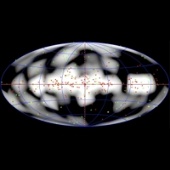 Astronomers have the best idea yet of how the Universe looks in gamma rays after the publication of the fourth INTEGRAL Soft Gamma-Ray Survey Catalogue. The catalogue, which has been constructed from more than 70 million seconds of observing time, now includes significantly more extragalactic sources and is set to orchestrate the future observing programmes of several ground-based and space observatories.
Date: 07 July 2010
INTEGRAL researcher scoops Zeldovich Medal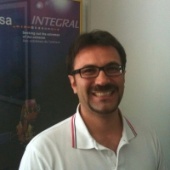 Dr. Vito Sguera, a young, Italian scientist who contributed significantly to the discovery of a new sub-class of X-ray binaries, using ESA's INTEGRAL telescope, has been awarded the 2010 Zeldovich Medal from the Committee on Space Research (COSPAR). He is being recognised for his work on Supergiant Fast X-ray Transients (SFXTs).
Date: 22 June 2010
INTEGRAL Announcement of Opportunity for AO-8 Cycle Observations Proposals
Dear Colleague,

I am very pleased to invite you to respond to the 8th "Announcement of Opportunity" by submitting proposals for observations to be performed with the International Gamma-ray Astrophysics Laboratory (INTEGRAL) satellite.
Date: 15 March 2010
Mission extensions approved for science missions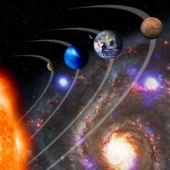 ESA's Science Programme Committee has approved the extension of mission operations for XMM-Newton, INTEGRAL, Venus Express, Mars Express and Cluster, as well as the ESA support to the operations of HST and SOHO, until 31 December 2012. An additional year of operations has been approved for Planck.
Date: 07 October 2009
Galactic positron annihilation: not a signal of dark matter?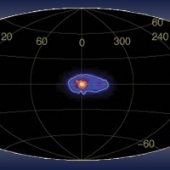 INTEGRAL's all-sky map of the 511 keV line emission has been used to conclude that dark matter is not the origin of galactic positron annihilation, contrary to what had been assumed in past years. In a recent paper published in Physical Review Letters Richard Lingenfelter and colleagues argue that no exotic sources are required to explain the spatial and spectral features observed by INTEGRAL.
Date: 22 July 2009
At last! After 10 years a new Soft Gamma Repeater is observed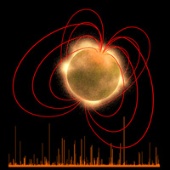 Detailed observations of the first new Soft Gamma Repeater in 10 years strengthen the unified view of the magnetar phenomenon; the INTEGRAL and XMM-Newton target of opportunity programmes played a fundamental role in obtaining these successful observations of SGR 0501+4516. This is reported by Nanda Rea and colleagues in an article in the MNRAS published online on 15 June 2009.
Date: 16 June 2009
INTEGRAL sees variable polarization from GRB041219A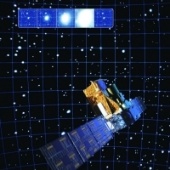 The polarization of gamma-ray photons encodes information about the environment in which they were produced, and as such is an important element in the theoretical understanding of the physics of gamma-ray sources. In an article to appear in the Astrophysical Journal Letters, Diego Götz and colleagues from CEA/SAp Saclay, APC and IAP Paris report the detection of modulated polarization from the strongest Gamma-Ray Burst (GRB) detected by INTEGRAL to date.
Date: 03 April 2009
Magnetar observed during outburst thanks to rapid response of INTEGRAL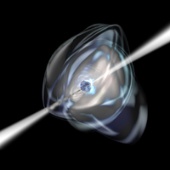 The quick turn-around time of the INTEGRAL operation teams has enabled rare high-energy observations of a magnetar. The observations, which were performed as a Target of Opportunity, followed indications late last week that this magnetar, the Anomalous X-ray Pulsar, 1E 1547.0-5408, had entered outburst mode.
Date: 27 January 2009
First light curve analysis of 20 eclipsing binaries with INTEGRAL's OMC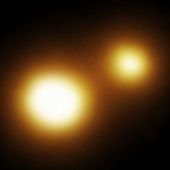 Photometric data gathered by INTEGRAL's Optical Monitoring Camera (OMC) has been used to study selected eclipsing binary stars for which the light curve had hitherto not been analyzed. This recent study by Petr Zasche (Astronomical Institute, Charles University in Prague) provides new key information on the basic properties of these binary systems - properties that were previously not known or only estimated with low precision.
Date: 19 January 2009
INTEGRAL Announcement of Opportunity for AO-7 Cycle Observations Proposals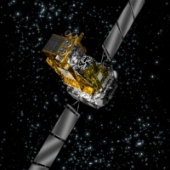 Dear Colleague,
I am very pleased to invite you to respond to the 7th "Announcement of Opportunity" by submitting proposals for observations to be performed with the International Gamma-ray Astrophysics Laboratory (INTEGRAL) satellite.
Date: 12 January 2009
New model promises to unify view of magnetars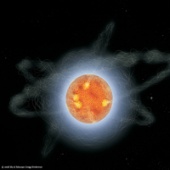 A recent model of the emission from ultra-magnetized neutron stars (magnetars) shows great promise in offering a unified view of the high energy emission from these objects. This is reported by Nanda Rea and colleagues in a recent issue of the Astrophysical Journal. The results are based on the systematic analysis of data collected with XMM-Newton and INTEGRAL.
Date: 14 November 2008
INTEGRAL confirms distinct, low-luminosity population of gamma-ray bursts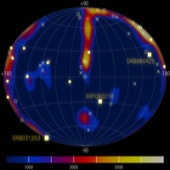 An analysis of the 47 gamma-ray bursts detected by INTEGRAL since its launch reveals a previously unnoticed population of faint gamma-ray bursts associated with the local supergalactic structure.
Date: 13 October 2008
INTEGRAL detects signature of critical cosmic accelerator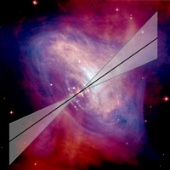 Polarized photons provide an insight into the nature and energies of the particles that radiated them; this in turn gives us a handle on the nature of the acceleration processes at work in cosmic sources. INTEGRAL's detection of polarized gamma-rays from the Crab pulsar, reported by Dean and colleagues in the 29 August issue of Science, has significant implications for many aspects of high-energy accelerators.
Date: 29 August 2008
Caught in the act: Hercules X-1 spins up while INTEGRAL is watching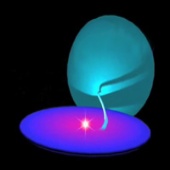 In spite of being one of the longest known and most studied X-ray sources, Hercules X-1 continues to intrigue astronomers. A recent report describing observations conducted with INTEGRAL confirms the picture of a complex emission pattern from this source, and for the first time shows the pulsar accelerating.
Date: 17 June 2008
INTEGRAL Announcement of Opportunity for AO-6 Cycle Observation Proposals and for Obtaining Data Rights to Targets within Previously Approved Key Programmes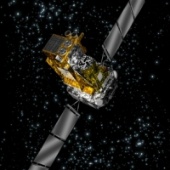 Dear Colleague,

I am very pleased to invite you to respond to the sixth "Announcement of Opportunity" by submitting proposals for observations to be performed with the international Gamma-ray Astrophysics laboratory (INTEGRAL) satellite or for obtaining data rights to targets within the previously approved Key Programmes.
Date: 10 March 2008
Eta Carinae in Hard X-rays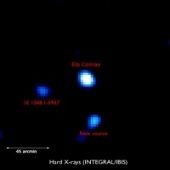 Eta Carinae is a complex binary system, at a distance of around 8000 light years, with a large nebulosity surrounding the central objects. Observations with INTEGRAL have confirmed the nature of hard X-ray emission from the region to be from inverse compton scattered photons accelerated in a region where two stellar winds collide.
Date: 20 February 2008
112 items found page 2 of 6