News Archive
112 items found page 3 of 6
INTEGRAL Mission Extension Approved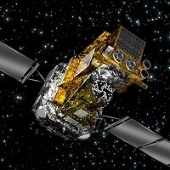 At their 12-13 November meeting, ESA's Science Programme Committee has unanimously approved an extension for the INTEGRAL mission which pushes back the mission end date from 16 December 2010 to 31 December 2012.
Date: 15 November 2007
Five Years of INTEGRAL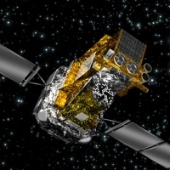 The launch of INTEGRAL five years ago, on 17 October 2002, heralded a new era in gamma-ray observatories. Utilising solid-state detectors and coded mask imaging techniques, INTEGRAL was unlike any previous gamma-ray mission.
Date: 17 October 2007
HESS J1616-508 Likely Powered by Young Pulsar PSR J1617-5055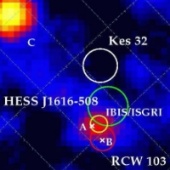 By combining X-ray and gamma ray observations from the INTEGRAL, XMM-Newton, Swift and BeppoSAX satellites, a group of astronomers have identified a very likely source of power for the bright TeV source HESS J1616-508. The data covers the sky around HESS J1616-508 that contains several sources detected at X-ray and gamma ray energies, none of which however were as yet firmly identified as a counterpart for the bright TeV source.
Date: 09 August 2007
INTEGRAL detection of Galactic 60Fe gamma-ray line emission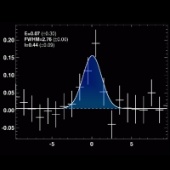 By combining observations made during a period of two and a half years with the SPI instrument onboard INTEGRAL, a team headed by Roland Diehl has obtained the most significant detection to date of the 60Fe isotope in our Galaxy through its gamma-ray line emission.
Date: 25 June 2007
INTEGRAL Announcement of Opportunity for AO-5 Cycle Observation Proposals and for Obtaining Data Rights to Targets within Previously Approved Key Programmes
Dear Colleague, I am very pleased to invite you to respond to the 5th Announcement of Opportunity by submitting proposals for observations to be performed with the International Gamma-ray Astrophysics Laboratory (INTEGRAL) satellite or for obtaining data rights to targets within the previously approved Key Programmes.
Date: 12 March 2007
Two open positions at the ISDC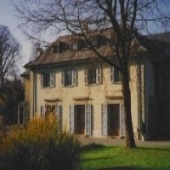 Two positions are open at the ISDC [Versoix, Switzerland] for

High-energy astrophysicist
Post doctoral high-energy astrophysicist

Applications for both positions should be preferably made before 1 November
Date: 23 October 2006
INTEGRAL Announcement of Opportunity for Key Programme Observing Proposals for the AO-5 Cycle of Observations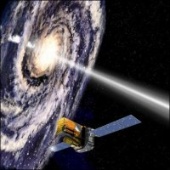 Dear Colleague,

I am pleased to invite you to the first "Announcement of Opportunity for Key Programme Proposals" by submitting key programme proposals for observations to be performed with the International Gamma-ray Astrophysics Laboratory (INTEGRAL) satellite.
Date: 10 October 2006
Gamma Ray Emission from Cassiopeia A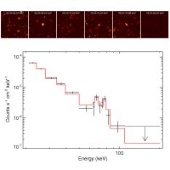 Supernovae and their remnants are the main galactic nucleosynthesis sites. Few radioactive isotopes are accessible to gamma-ray astronomy for probing these stellar explosions. Among them, 44Ti is a key isotope for the investigation of the inner regions of supernovae and their young remnants.
Date: 29 September 2006
Detecting Gamma-ray Bursts outside INTEGRAL's Field of View
Making use of the double detector layer design of the IBIS instrument on-board INTEGRAL, a team of European astronomers have proved it possible to observe powerful gamma-ray bursts even if they fall outside the telescope's field of view.
Date: 19 June 2006
Powerful Emission from Anomalous X-ray Pulsars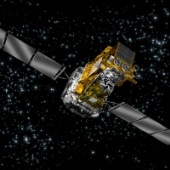 INTEGRAL has detected surprisingly powerful X-ray and gamma ray emission from a special class of neutron star. This discovery makes them the most magnetically active bodies in the Universe.
Date: 17 March 2006
INTEGRAL 4th Announcement of Opportunity
The Director of the Scientific Programme, Prof. David Southwood, has released the 4th Announcement of Opportunity (AO-4) for observing proposals with INTEGRAL.
Date: 17 March 2006
INTEGRAL Mission Extension Approved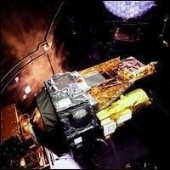 ESA's Science Programme Committee has extended operations of the highly successful astronomical observatory INTEGRAL until 16 December 2010.
Date: 06 December 2005
Highlights from INTEGRAL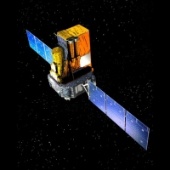 The International Gamma-Ray Astrophysics Laboratory INTEGRAL was launched on 17 October 2002 at 04:41 UTC from Baikonur Cosmodrome (Kazakhstan) and is nearing its milestone of 3 years of science operations.
Date: 07 October 2005
The Galactic Centre Region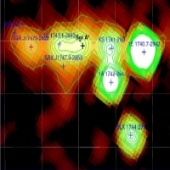 In an article to be published in the Astrophysical Journal, Bélanger et al. present the results of a detailed analysis of approximately 1900 hours of observations of the galactic centre, obtained with Integral since the launch of the spacecraft in October 2002.
Date: 14 September 2005
INTEGRAL in the Journals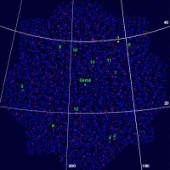 A number of interesting papers have recently been published based on data gathered by INTEGRAL - ESA's gamma-ray observatory. They cover a range of observations covering all the capabilities of the spacecraft.
Date: 16 August 2005
INTEGRAL OMC Catches A GRB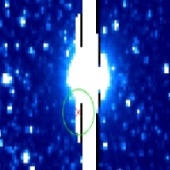 Before June 26 no Gamma-Ray Burst (GRB) had been been observed in the field of view of the Optical Monitoring Camera (OMC) onboard INTEGRAL. Despite over two and half years in orbit this result is not too surprising given the much field of view of the OMC is just 5° by 5° (0.06 % of the whole sky)
Date: 08 July 2005
INTEGRAL Observations of the Galactic Centre Region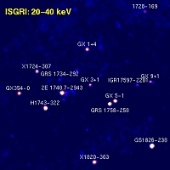 Integral continues to observe the X-ray and gamma-ray emission from the galactic centre region. These observations at the high-energy end of the electromagnetic spectrum contribute to our knowledge of the physical processes at play and the type of objects residing at the centre of our Milky Way.
Date: 25 May 2005
Summary of Internal INTEGRAL Science Workshop
On the initiative of J.-P. Roques and C. Winkler, an Internal INTEGRAL Science Workshop was held at ESTEC from 18 to 21 January. The purpose was not only to present the latest scientific results (after the fifth INTEGRAL workshop in Munich, 2004), but also to provide a forum for discussion on instrument (cross-)calibration, software performance and other issues.
Date: 10 February 2005
INTEGRAL TOO observation of V0332+53 in outburst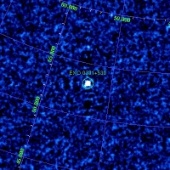 The High-Mass X-ray Binary V 0332+53 (EXO 0331+530), currently undergoing a dramatic outburst, was a Target of Opportunity (TOO) for an INTEGRAL observation on 6-10 January 2005. The source was observed as soon as allowed by visibility constraints on 6 January in staring mode and then in the hexagonal dithering mode for a total of about 110 ksec.
Date: 20 January 2005
Viewing the High-Energy Universe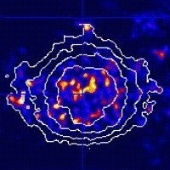 ESA's two high-energy astrophysical observatories have produced new views on some of the extreme events at work in the Universe. INTEGRAL observations of the galactic plane reveal some indications on the distribution of matter and antimatter, while XMM-Newton has observed an X-ray afterglow to a supernova explosion in NGC 2403, just 11 million light years away.
Date: 09 November 2004
112 items found page 3 of 6