News Archive
112 items found page 5 of 6
Danish Space Minister visits INTEGRAL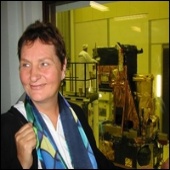 The Dutch morning mist enveloped the Danish flag on 25 September when the country's Minister for Information Technology and Research, Mrs Birte Weiss, arrived at ESA's European Space Research and Technology Centre (ESTEC). The Minister was accompanied by a party of Danish Parliamentarians led by Mrs Lise Haekkerup, Vice Chairperson of the Danish Parliamentary Research Committee. The visit coincided with the formal delivery of the Danish JEM-X instrument to fly on ESA's INTEGRAL mission.
Date: 27 September 2001
Irish astronomers eager to use European gamma-ray space observatory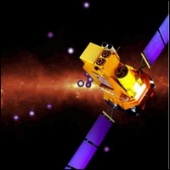 The status of INTEGRAL - the International Gamma-Ray Astrophysics Laboratory of the European Space Agency (ESA) - and the Irish involvement in the mission are being presented at a press conference organised in Dublin on 4 October by the Royal Irish Academy (RIA), Enterprise Ireland and ESA.
Date: 26 September 2001
Whole lot of shakin' goin' on!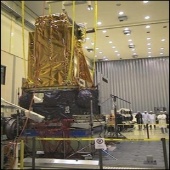 Spacecraft are built to be as sturdy and as light as possible but their ride into space can be a bit rough. To ensure they will survive the launch and function as planned in orbit, all satellites are submitted to strenuous vibration tests before launch.
Date: 19 September 2001
INTEGRAL spacecraft delivered to ESA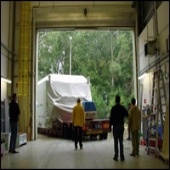 After being assembled by prime contractor Alenia Spazio, INTEGRAL has now been delivered to ESA's ESTEC facility in the Netherlands. Environmental and system tests are now to take place on the gamma-ray observatory in view of a launch in October 2002.
Date: 30 July 2001
INTEGRAL road circus - motorized Hannibal's army on Europe's highways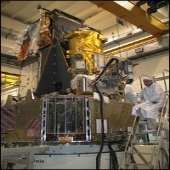 Summer migrations in Europe tend to be southwards. But one caravan, composed of some thirty lorries, has started off in the other direction, from Italy to the Netherlands: ESA's INTEGRAL spacecraft is moving house.
Date: 11 July 2001
JEM-X eager to discover new cosmic 'animals'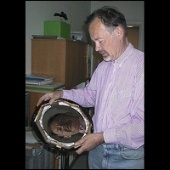 Like many of Copenhagen's inhabitants, Dr Niels Lund cycles to work everyday, a 5 km distance from his home to the Danish Space Research Institute. For the past six years, his thoughts whilst peddling have been set on the successful completion of JEM-X, one of the four science instruments aboard ESA's gamma-ray observatory INTEGRAL.
Date: 03 July 2001
INTEGRAL gives itself more time
ESA's International Gamma-Ray Astrophysics Laboratory INTEGRAL is giving itself more time to be ready for launch. Lift-off on a Russian Proton launcher was previously envisaged in April 2002.
Date: 14 June 2001
Marathon selection process for the INTEGRAL mission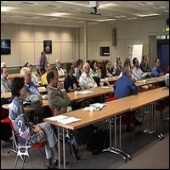 Given the exceptionally high over-subscription to the first INTEGRAL call for observation proposals, the mission's Time Allocation Committee (TAC) faced a daunting task when it met between 14-18 May to start the selection process.
Date: 23 May 2001
INTEGRAL's SPI sees stars after a hefty dose of gamma rays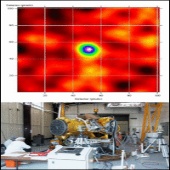 Calibration is a key moment in the life of a space telescope before launch. Those who have designed and built the instrument and the future users must precisely measure its performance before it starts to examine the Universe. Such calibrations can require considerable effort, and the use of unique installations. That has been the case for INTEGRAL's gamma-ray spectrometer SPI, which has just completed its calibration at a test centre belonging to France's Atomic Energy Commission (CEA).
Date: 07 May 2001
Chilly test for INTEGRAL's spectrometer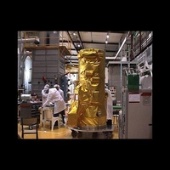 The centre of attention was not a fashion model. But, as in a haute-couture fashion house, it was being dressed for the big day. Nimble fingers cut and trimmed, and dazzling gold-coloured material was delicately pinned and attached.
Date: 15 March 2001
Astronomers scramble to use INTEGRAL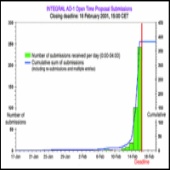 The Call for Proposals to use guest observer time on ESA's forthcoming gamma-ray observatory has resulted in 291 individual proposals. These represent approximately 323 million seconds - more than 10 years - of observing time! This is 19 times greater than all the open time available during the first half of the nominal two-year mission.
Date: 01 March 2001
INTEGRAL project forges ahead despite problems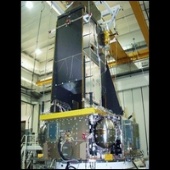 With 460 days before the launch set for April next year, members of the INTEGRAL Science Working Team have met to review all issues of ESA's gamma-ray mission. Integration of the spacecraft is proceeding at Alenia, construction of the Proton rocket has started in Russia and the science teams with instruments still to deliver are doing their utmost to overcome development difficulties and meet the schedule.
Date: 22 January 2001
Integral Announcement of Opportunity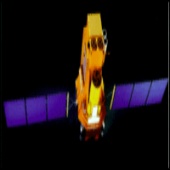 Gamma-ray astronomers and astrophysicists the world over are today being solicited for Guest Observer proposals using ESA's Integral observatory. The European Space Agency officially issued its Announcement of Opportunity (AO-1) on 1st November.
Date: 07 November 2000
Olé! Spain delivers Integral's first science instrument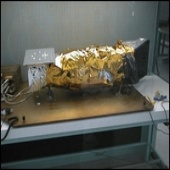 At a formal handover in Madrid on 10 October, ESA's Integral project has taken delivery the flight-model of the gamma-ray observatory's Optical Monitor Camera (OMC) from Spain's Instituto Nacional de Técnica Aerospacial (INTA). In two weeks, prime contractor Alenia will start installing the camera on the spacecraft. Integral's Proton launch is set for April 2002.
Date: 11 October 2000
Integral launch in April 2002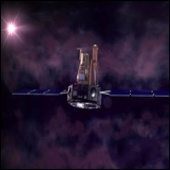 Following a detailed status review of ESAs gamma-ray observatory a new launch date has been selected. A Russian Proton rocket will put Integral into orbit on 22 April 2002.
Date: 19 April 2000
Observing with Integral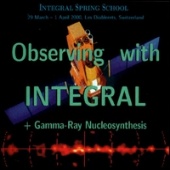 More than 80 astrophysicists from all over the world travelled to the small town of Les Diablerets in the Swiss Alps to learn how to use ESA's Integral satellite, once it is in orbit, to gather powerful gamma-radiation coming from distant objects in the Universe. A gamma-ray telescope is very different from a normal optical telescope. Thus special data analysis is needed to transform the signals measured by the scientific instruments on board Integral to fundamental physical units and images that describe the properties of the radiation entering the telescope
Date: 03 April 2000
Integral ground control system successfully tested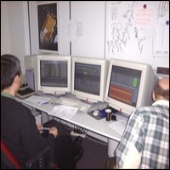 How do you know that a satellite in space does exactly what you want it to do? You can't have a close look at the spacecraft once it has been launched. A thorough and systematic series of tests must therefore be carried out before launch to make sure that the commands will have the desired effect and that the data sent by the satellite are correctly interpreted. This is what experts at the European Space Operations Centre (ESOC) at Darmstadt are now doing with Integral, ESA's gamma-ray observatory.
Date: 22 March 2000
Integral and Rosetta on show in Turin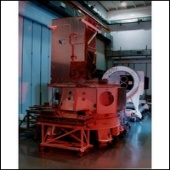 In Turin today the Italian satellite builder Alenia Aerospazio presented two ESA spacecraft that will explore the near and far Universe: Integral, the gamma-ray observatory, will gather the most energetic radiation coming from distant objects. Rosetta, the comet chaser, will bring new insights in the formation of our solar system.
Date: 24 November 1999
Signature of the Launcher Adaptation Contract for Integral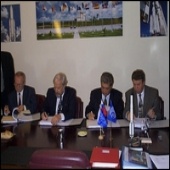 The contract for the Proton Launcher Adaptation for Integral was signed today at the ESA Permanent Mission in Moscow. This followed the successful completion of a lengthy approval process for the Arrangement between ESA and Russia on Cooperation on the Integral Project.
Date: 14 October 1999
Russian launcher for Integral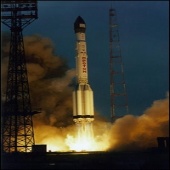 Russian Prime-Minister Vladimir Putin has signed a governmental letter approving an arrangement between the European Space Agency (ESA) and the Russian Space Agency (RSA). According to the arrangement a Proton launcher will put ESA9s Integral, the International Gamma-Ray Astrophysics Laboratory, into orbit. The spacecraft will be launched in 2001 from Baikonur, Kazakhstan.
Date: 24 September 1999
112 items found page 5 of 6