JUICE science objectives at the Jovian atmosphere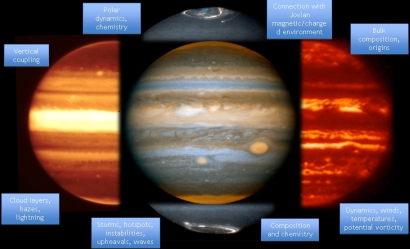 Examples of the science objectives of JUICE.

Each image shows Jupiter's appearance at a range of different wavelengths:
from visible colouration and wind tracking (centre, HST; credit: NASA/ESA/A. Simon-Miller/I. de Pater);
to cloud properties in the near-infrared (left, Gemini/NIRI image; credit: Gemini Observatory/AURA/L.N. Fletcher);
thermal structure and chemistry in the mid-infrared (right, credit: NASA/IRTF/G.S. Orton, 5 µm image), and
auroral properties in the ultraviolet (top and bottom, credit: NASA/ESA/J. Clarke).
Last Update: 16 March 2012