Power Control Unit of FEEP micro-propulsion subsystem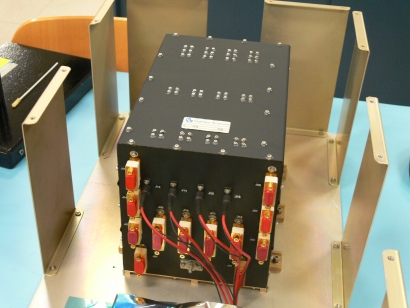 This photo shows a Power Control Unit (PCU) of the Field Emission Electric Propulsion (FEEP) micro-propulsion subsystem. Together with a cluster assembly of four FEEP thrusters (see related images) and a set of 2 neutralizers the PCU forms a micro-propulsion assembly (MPA). Three such MPAs are mounted on the LISA Pathfinder spacecraft, separated by 120° intervals (see related images).
The PCU in each MPA consist of an electronic unit interfacing the spacecraft for power supply and telecommand and telemetry tasks. It provides power and control to the FEEP cluster assembly (FCA) and the neutralizer assembly (NA) of the MPA. The PCU is located inside the spacecraft while the FCA and NA are mounted externally.
Last Update: 14 April 2010