Science Goals
High-time-resolution X-ray observations of compact objects such as galactic and extragalactic neutron stars and black holes are a unique tool to investigate strong-field gravity, measure black hole masses and spins, and to study the equation of state of ultra-dense matter.
Neutron stars and black holes possess the strongest gravitational fields in the Universe. They provide unique opportunities to study a variety of general relativistic effects and hence to investigate gravity in the strong-field regime. This is also an opportunity to measure fundamental parameters of collapsed objects, which is expected to lead to important insights into the physics of matter at supranuclear densities and in supercritical magnetic fields.
LOFT is specifically designed to exploit the diagnostics of the very rapid X-ray flux and spectral variability that characterise the motion of matter at distances very close to black holes and neutron stars.
The neutron star equation of state
Understanding the properties of ultra-dense matter and determining its equation of state (EOS) is one of the most challenging problems in contemporary physics. At densities exceeding that of atomic nuclei, exotic states of matter such as Bose condensates or hyperons may appear; and phase transitions to strange quark matter may take place at still higher densities. Only neutron stars probe these densities in the 'zero' temperature regime relevant to these transitions.
Very 'soft' EOSs set an upper limit for a neutron star mass at 1.4-1.5 solar masses (Mo), whereas 'stiff' EOSs can reach up to 2.4-2.5 Mo before the star's collapse to a black hole becomes unavoidable. In addition to this maximum mass, the relation between the neutron star's mass and radius is a powerful probe of the EOS. The tools devised to constrain the mass and radius are based primarily on accurate time-resolved and high-throughput broadband spectral measurements.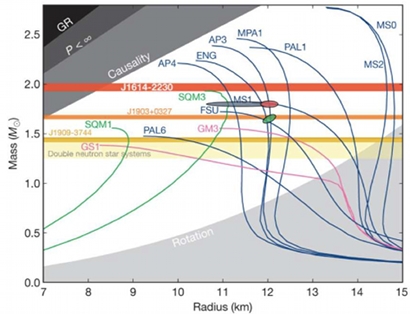 LOFT will measure the masses and radii of accreting millisecond pulsars to an accuracy of 5 per cent by modelling their pulse profiles: surface hot spots produce the pulsations, which are affected by the neutron star's fast spin and strong gravity, through relativistic beaming, time dilation, red- and blue-shifts, light bending and frame dragging. Since the maximum rotation a neutron star can sustain depends on its mass and structure, the fastest spin periods also constrain the neutron star EOS. LOFT will be able to cross-validate these results by flux and spectral modelling of the evolution of a thermonuclear burst of X-rays.
LOFT will search for periodic signals with unprecedented sensitivity. Models indicate that the pulsation amplitude in fast spinning neutron stars in X-ray binaries should be as low as 0.1 per cent, so that the entire effective area of the LOFT/LAD detector is needed to detect these pulsations in a typical 104s observation of a 100 mCrab source.
LOFT will open a new window in the study of neutron star structure through asteroseismology via a new approach that has recently emerged from the discovery of global seismic oscillations (GSOs) from magnetars, in the tens of Hertz to kiloHertz range, during luminous giant flares. The lower frequency GSOs arising from torsional shear oscillations of the crust, in combination with the magnetic field inferred from the magnetar spin-down, tightly constrains the EOS and provides an estimate of the neutron star's crust thickness.
Strong gravitational fields
Compact objects accreting matter in binary systems display variability arising in, and occurring at, the dynamical timescale of their inner accretion flows (in the range of milliseconds). This variability is manifested as Kilohertz Quasi-Periodic Oscillations (QPOs) that can be explained by invoking the fundamental frequencies of the motion of matter in the inner, strong-field gravity-dominated disk regions. To date, various modelling approaches include interpretations of relativistic epicyclic frequencies or relativistic precession.
Very high signal-to-noise LOFT/LAD measurements of the QPOs will discriminate between such interpretations, and probe untested general relativistic effects such as frame dragging, strong-field periastron precession, and the presence of an innermost stable orbit. Crucially, LOFT will measure dynamical timescale phenomena within their coherence time; so far only statistical averages of signals were accessible.
LOFT will allow direct measurements of the black hole masses and spin through timing measurements, which can be compared with other estimates such as masses from optical studies or spin from the Fe K-line profile.
Additional scientific themes
LOFT will additionally be a powerful tool to study the X-ray variability and spectra of a wide range of objects, from accreting pulsars and bursters, to magnetar candidates (Anomalous X-ray Pulsars and Soft Gamma Repeaters), cataclysmic variables, bright Active Galactic Nuclei, X-ray transients and the early afterglows of Gamma Ray Bursts. It will be possible to address a variety of problems in the physics of these objects through these studies. Coordinated optical, near infrared and radio campaigns on specific themes, as well as spin measurements which can aid the Advanced Virgo/Laser Interferometer Gravitational Wave Observatory (LIGO) searches for gravitational wave signals from fast rotating neutron stars, will be valuable aspects of the LOFT programme.
Last Update: 30 September 2011