News Archive
148 items found page 1 of 8
Mars Express heading towards daring flyby of Phobos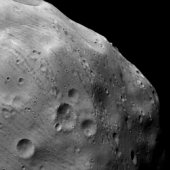 Late this month, ESA's Mars Express will make the closest flyby yet of the Red Planet's largest moon Phobos, skimming past at only 45 km above its surface.
Date: 23 December 2013
A seasonal ozone layer over the Martian south pole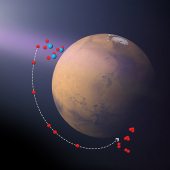 For the past decade, ESA's Mars Express orbiter has been observing atmospheric structure on the Red Planet. Among its discoveries is the presence of three separate ozone layers, each with its own characteristics. A new comparison of spacecraft data with computer models explains how global atmospheric circulation creates a layer of ozone above the planet's southern winter pole.
Date: 29 September 2013
ESA science missions continue in overtime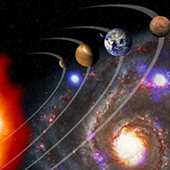 ESA has extended the productive lives of 10 of its operating space science missions. This decision secures funding for ESA's world-class science missions until at least the end of 2014, and provides a framework for planning until end of 2016.
Date: 20 June 2013
Ten years at Mars: new global views plot the Red Planet's history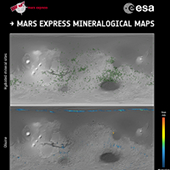 New global maps of Mars released on the 10th anniversary of the launch of ESA's Mars Express trace the history of water and volcanic activity on the Red Planet, and identify sites of special interest for the next generation of Mars explorers.
Date: 03 June 2013
New views of the Martian ionosphere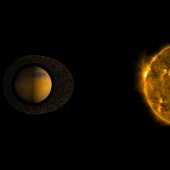 High above the main body of Mars' atmosphere is a region of weakly ionised gas, known as the ionosphere. For the last eight years this poorly understood region has been observed by instruments on board ESA's Mars Express orbiter, and new studies show that the dayside ionosphere is more variable and more complex than previously thought.
Date: 15 November 2012
Where is Deimos?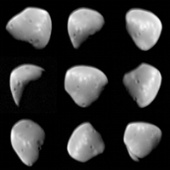 Despite more than a century of observations, the orbit of the Martian moon Deimos is still not known to a high degree of accuracy, but a new study using images taken by ESA's Mars Express orbiter has provided the best orbital model to date.
Date: 24 September 2012
Planetary missions probe giant eruptions in the Sun's corona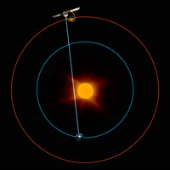 Scientists have probed the corona of the Sun by studying the disturbances that it causes to radio transmission from three of ESA's planetary missions: Mars Express, Venus Express and Rosetta. The measurements were performed on several occasions, when each of the spacecraft was located behind the Sun as viewed from Earth. In particular, five coronal mass ejections were detected with Mars Express in 2004. Analysis of these data has revealed the morphology of these colossal solar eruptions in great detail, complementing the view that can be achieved via direct imaging of the Sun's corona.
Date: 24 July 2012
Craters expose action of groundwater beneath Martian highlands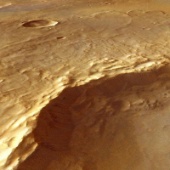 A new study of the ancient, cratered highlands of Mars has detected numerous exposures of minerals that were altered by underground water during the planet's early history. The data indicate that subsurface water persisted for prolonged periods of time during the first billion years of the planet's existence.
Date: 27 June 2012
Mars Express explores the roots of Martian volcanoes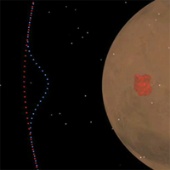 Recent analysis of radio signals sent back by ESA's Mars Express orbiter has enabled a team of Belgian and German scientists to probe deep beneath the surface of Mars. The first targeted, high resolution measurements of Martian gravity provide new insights into the formation of the planet's massive volcanoes.
Date: 26 April 2012
A glow in the Martian night throws light on atmospheric circulation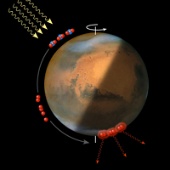 A faint, infrared glow above the winter poles of Mars is giving new insights into seasonal changes in the planet's atmospheric circulation. The tell-tale night emission was first detected in 2004 in observations made by the OMEGA imaging spectrometer on ESA's Mars Express orbiter.
Date: 23 March 2012
Return to full science operations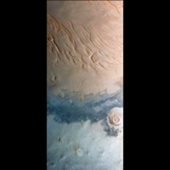 Following a permanent anomaly affecting the onboard solid-state mass memory system on Mars Express, efforts to implement a work-around are almost complete. Full science operations have been resumed and the potential mission lifetime remains unaltered.
Date: 15 February 2012
Mars radar finds possible ocean sediments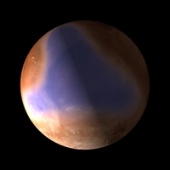 The MARSIS radar instrument on board ESA's Mars Express orbiter has discovered a subsurface blanket of low density material around the north polar cap, supporting theories that the northern lowlands of Mars were once covered by a large body of water.
Date: 06 February 2012
MARSIS completes measurement campaign over Martian North Pole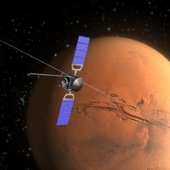 The Mars Advanced Radar for Subsurface and Ionosphere Sounding (MARSIS) instrument on board Mars Express has recently completed a subsurface sounding campaign over the planet's North Pole. The campaign was interrupted by the suspension of science observations several times between August and October due to safe modes and to anomalies in the operation of the spacecraft's Solid-State Mass Memory (SSMM) system. As MARSIS best observes in the dark, which for the North Pole only occurs every few years, it was among the first instruments to resume observations once a partial work-around for the problems had been implemented.
Date: 14 December 2011
Mars Express observations temporarily suspended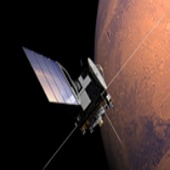 Anomalies in the operation of the solid-state mass memory system on board Mars Express have caused science observations to be temporarily halted. A technical work-around is being investigated that will enable the resumption of a number of observations and should evolve into a long-term solution.
Date: 31 October 2011
ESA orbiter discovers water supersaturation in the Martian atmosphere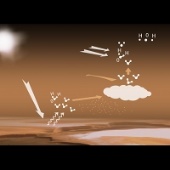 New analysis of data sent back by the SPICAM spectrometer on board ESA's Mars Express spacecraft has revealed for the first time that the planet's atmosphere is supersaturated with water vapour. This surprising discovery has major implications for understanding the Martian water cycle and the historical evolution of the atmosphere.
Date: 29 September 2011
Europe maintains its presence on the final frontier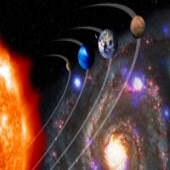 ESA has decided to extend the productive lives of 11 of its operating space science missions. This will enable ESA's world-class science missions to continue returning pioneering results until at least 2014.
Date: 22 November 2010
Impacts reveal minerals from warm, wet Mars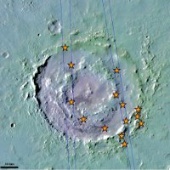 An international team, led by European scientists, has found new evidence confirming that conditions favourable to life once existed all over Mars. Detailed studies of hydrated minerals found inside impact craters show that liquid water was widespread not only in the southern highlands, but also beneath the planet's northern plains.
Date: 24 June 2010
Phobos flyby images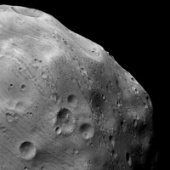 Images from the recent flyby of Phobos, on 7 March 2010, are released today. The images show Mars' rocky moon in exquisite detail, with a resolution of just 4.4 metres per pixel. They show the proposed landing sites for the forthcoming Phobos-Grunt mission.
Date: 15 March 2010
Mars Express to make closest ever approach to Phobos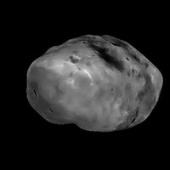 On 3 March 2010 Mars Express will make its closest ever approach to Phobos, the larger of the two Martian moons. During a series of flybys, spanning six weeks, all seven instruments onboard Mars Express will be utilised to study Phobos. The close approach provides a first opportunity to perform a unique gravity experiment that may reveal the distribution of mass within this intriguing moon.
Date: 24 February 2010
Two windows on ozone: extending our view of the Martian atmosphere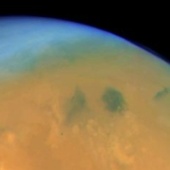 New measurements of ozone in the atmosphere of Mars are being obtained in a coordinated observation campaign with Mars Express and a Hawaiian-based telescope. The combined observation set covers a longer time period and broader range of regions on Mars than previous campaigns, thereby improving the ability to verify and refine detailed models of the Martian atmosphere.
Date: 16 February 2010
148 items found page 1 of 8