News Archive
148 items found page 5 of 8
Europe to identify underground water on Mars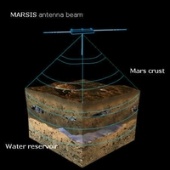 Geologists poring over the latest images from Mars keep on turning up new and tantalising evidence that water once flowed freely on the planet's surface - and may still flow from time to time. If their interpretation is right, underground aquifers or ice layers should be commonplace on the planet. Yet no spacecraft flown so far has been capable of identifying them.
Date: 27 August 2001
Mars Express passes milestone with flying colours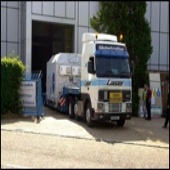 As space engineers and scientists met last month for a final review of the Mars Express spacecraft design, the spacecraft itself was taking shape at the premises of Alenia, Torino, Italy. "Normally, we would have the critical design review (CDR) after tests of the spacecraft structural model (SM tests) have been completed. But because of the tight schedule for Mars Express, most of the review had to be completed early. We've done all the reviewing we can. A few items have to wait until after the SM tests," says Rudi Schmidt, Mars Express Project Manager.
Date: 10 August 2001
2nd Announcement of Opportunity for the Mars Express mission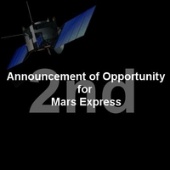 The European Space Agency solicits the participation of the scientific community in the Mars Express Orbiter and Lander Programme to further increase the scientific return of the selected investigations and of the mission as a whole, through this Announcement of Opportunity (AO).
Date: 23 June 2001
Mars Express team returns from reconnaissance mission to Baikonur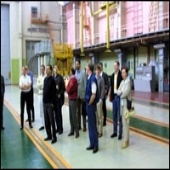 Members of the Mars Express project and industrial teams travelled to the steppes of Kazakhstan last month to inspect the Baikonur cosmodrome where Mars Express will be launched on board a Soyuz-Fregat rocket in June 2003.
Date: 20 June 2001
Mars Express to investigate Phobos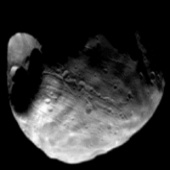 Phobos, the tiny innermost moon of Mars, is to come under unprecedented scrutiny after Europe's mission to Mars goes into orbit around the Red Planet late in 2003. Mars Express is due to pass within 3000 km of the 22 km diameter moon a few hundred times during its two-year nominal mission lifetime.
Date: 07 June 2001
Life, the universe and everything discussed in Frascati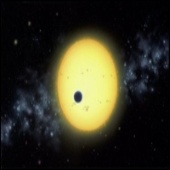 Three important lines of discovery have been fuelling the growing belief that we are not, after all, alone in the universe. Many organic molecules have been discovered in space, suggesting that the building blocks of life are widespread; planets have been found orbiting other stars, raising the possibility that some may harbour life; and living organisms have been found alive and well in habitats on Earth so hostile that survival on Mars, or even other Solar System bodies, seems quite feasible.
Date: 28 May 2001
Call for ideas for the re-use of the MARS EXPRESS Platform - update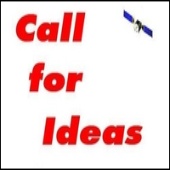 Updated: A list of submitted proposals for the re-use of the Mars Express platform has been added.

27-Mar-2001 A briefing to interested parties on the Call for Ideas for the re-use of the Mars Express platform took place at ESA Headquarters, Paris, on 23 March 2001.
Date: 22 May 2001
First European Workshop on Exo/Astrobiology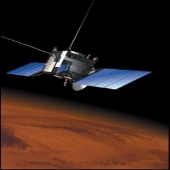 From 21 to 23 May, the first European Workshop on Exo/Astrobiology will be taking place at ESA/ESRIN, the European Space Agency establishment in Italy (Frascati, near Rome). The workshop is being organised jointly by the European Exobiology Network and the European Space Agency.
Date: 16 May 2001
ESA's solar system explorers come alive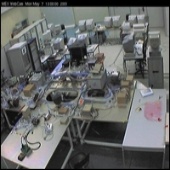 Two pioneering ESA spacecraft, Mars Express and Rosetta, are currently being assembled and tested in preparation for launch in 2003. Now, for the first time, the painstaking progress towards the completion of these technological marvels can be observed daily on computer screens around the world.
Date: 08 May 2001
Europe goes to Mars - preparations are well under way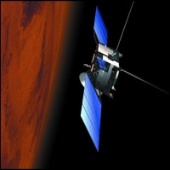 If you live in Europe, there's almost certainly a research institute or industrial company near you that is contributing materials or expertise to Mars Express, Europe's first mission to the Red Planet. Under the umbrella of the European Space Agency, at least 25 companies from 15 European countries are building hardware or software for the spacecraft, or otherwise contributing their expertise; and more than 200 scientists from research institutes in all ESA member states and beyond are contributing towards the scientific payload. "The Mars Express project is providing about 1000 jobs throughout Europe," estimates Rudi Schmidt, Mars Express Project Manager at ESTEC, the European Space Agency's technical centre in the Netherlands.
Date: 06 April 2001
Mars keeps turning up surprises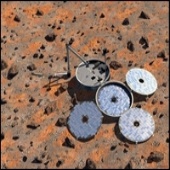 It was standing room only for the "Water and life on Mars" session at the European Geophysical Society's General Assembly in Nice last week. "This shows that the life issue is by no means dead. This was a very lively session," commented Agustin Chicarro, Project Scientist for ESA's Mars Express mission.
Date: 05 April 2001
ESA's solar system missions to get star billing in Nice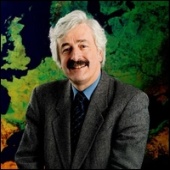 Geophysicists attending next week's General Assembly of the European Geophysical Society in Nice won't just be discussing the latest scientific research about the Earth. They will also be turning their attention to other bodies within our solar system and the missions Europe is sending to explore them.
Date: 20 March 2001
Mars Express completes its first journey - from Zurich to Stevenage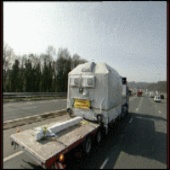 If youre travelling on Europe's roads this year, you may spot a very large vehicle (5m long and 3.5m wide), bearing the Mars Express logo. It will be making slow progress and will be accompanied by a police escort. Inside the clean, air-conditioned environment will be the Mars Express spacecraft in transit between industrial contractors in Switzerland, the UK, Italy or France.
Date: 14 March 2001
Call for ideas for the re-use of the MARS EXPRESS platform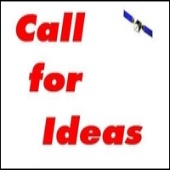 To be launched in 2005

Note that the briefing for the Call for Ideas for the re-use of the Mars Express platform will take place on 23 March 2001, in Paris Headquarters, room Cinema, from 13h00 to 15h00.
The search for more efficiency is a constant concern of the Science Directorate since the initiation of the Horizon 2000 programme. As shown to ESA's SSAC and SPC, a number of scientific missions have led to considerable savings achieved by adopting new management procedures, exploiting cheaper industrial costs (especially the re-using platforms or subsystems developed for the other missions), and accessing cheaper launchers.
Date: 10 March 2001
Mars Express forges collaboration with Japanese Mars mission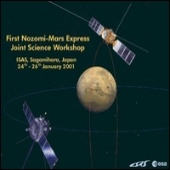 International collaboration between Europe and Japan took a step forward last month when scientists building instruments for ESA's Mars Express mission travelled to Japan for a meeting with their counterparts on Nozomi, the Japanese Institute of Space and Astronautical Science's (ISAS) mission to Mars.
Date: 26 February 2001
Build a 'Mars City'!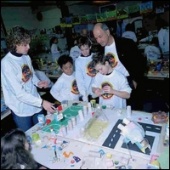 Report of 'Mars City' Competition opening event in Brielle, 2nd of February.

Ex-astronaut Wubbo Ockels arrived at his old primary school in Brielle, Holland, in a school milk truck with the very first 'Mars City' competition package last Friday.
Date: 09 February 2001
Build a 'Mars City'!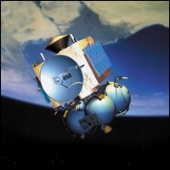 Wubbo Ockels invites junior school children to take part in the ESA 'Mars City' competition.
Date: 01 February 2001
Mars Express takes shape - and on time, too!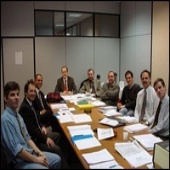 The spacecraft ESA will send to Mars in 2003 is now well and truly under construction. Last week, engineers at Contraves, Zurich, Switzerland were celebrating the readiness of the Mars Express flight structure to undergo tests to ensure that it meets its design requirements. "The tests are starting on time. If you look at our planning from the beginning of the programme, we're keeping to the schedule. It's extremely pleasing," says Don McCoy who is responsible for assembly, integration and verification for Mars Express at ESTEC.
Date: 31 January 2001
View the Beagle 2 landing site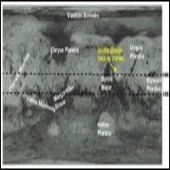 Date: 31 January 2001
Rosetta's Christmas present to Mars Express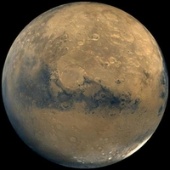 On 25 December 2003, ESA's Mars Express orbiter will arrive in orbit around the Red Planet after releasing a small lander named Beagle 2 onto its rust-coloured, dusty deserts. This wonderful Christmas present for planetary scientists would not have been possible without major contributions from another ESA project - the Rosetta comet chaser.
Date: 25 December 2000
148 items found page 5 of 8