News Archive
131 items found page 2 of 7
Rosetta's observations during the third Earth swingby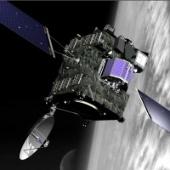 Rosetta's third Earth swingby on 13 November 2009 provides an important opportunity to obtain calibration measurements for the science instruments and to perform science observations of both the Earth and the Moon from a unique vantage point.
Date: 10 November 2009
Rosetta's third Earth swingby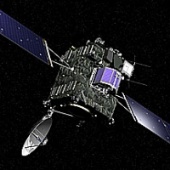 On 13 November 2009 Rosetta will swing by Earth and pass within 2500 km of Earth's surface. The manoeuvre is the fourth and last in a series of gravity assists and will provide the spacecraft with the required orbital boost to set course for the mission's final destination: comet 67P/Churyumov-Gerasimenko.
Date: 30 October 2009
Rosetta's gravitational microlensing programme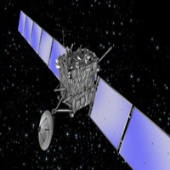 In the four weeks since the Rosetta spacecraft flew by asteroid Steins the OSIRIS Narrow Angle Camera has periodically observed the Galactic Bulge in a programme to detect gravitational microlensing events. When combined with simultaneous observations taken with ground-based telescopes this OSIRIS observing programme will provide a unique measure of the mass distribution of disk brown dwarfs.
Date: 09 October 2008
First Rosetta/OSIRIS images of asteroid Steins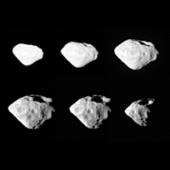 Images of asteroid Steins, taken by the OSIRIS Wide Angle Camera during the fly-by, were presented at a press conference on 6 September.
Date: 06 September 2008
Rosetta's scientific instruments ready for close encounter with Steins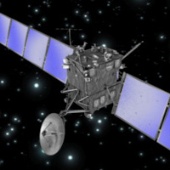 As the Rosetta spacecraft closes in on asteroid Steins the science instruments are prepared for this extraordinary opportunity to study a rare, E-type asteroid. Final orbit trajectory corrections have been performed and the spacecraft is now on track for a closest approach at 20:58 CEST at a distance of 800±2 km.
Date: 05 September 2008
Rosetta fly-by of asteroid Steins: press conference (first results & images)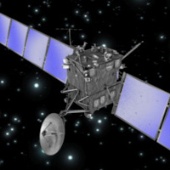 First results and images from Rosetta's fly-by of asteroid Steins will be presented at a press conference, which will be webcast live, on Saturday 6 September starting at 12:00 CEST.
Date: 04 September 2008
Optical navigation campaign off to a good start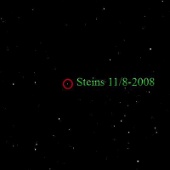 Rosetta's on-board cameras have successfully started to visually track asteroid Steins in an optical navigation campaign. The images have been used to calculate the asteroid's location and to optimise Rosetta's trajectory for the upcoming fly-by of the asteroid on 5 September 2008.
Date: 19 August 2008
Rosetta fine-tunes its approach to asteroid Steins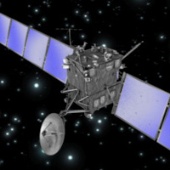 On 4 August Rosetta starts to use its cameras to visually track asteroid Steins. These observations will be used to refine the trajectory of the spacecraft relative to Steins and to adjust it, if necessary, to achieve the desired fly-by conditions: 800 km distance at closest approach on 5 September at 18:37 UTC and zero phase angle reached prior to closest approach.
Date: 04 August 2008
Preparations underway for Rosetta flyby of asteroid Steins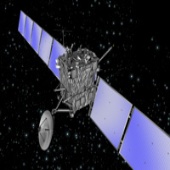 On 5 September 2008 the Rosetta spacecraft will make its closest approach to asteroid Steins. Preparations are underway to ready the spacecraft for this important scientific milestone.
Date: 08 July 2008
Successful Second Earth Swing-by for Rosetta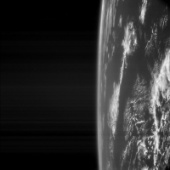 Rosetta's Earth swing-by last evening has been performed successfully and after passing to within 5295 km above the Earth the spacecraft is now heading out again on its new course with respect to the Sun.
Date: 14 November 2007
Rosetta Second Earth Swing-by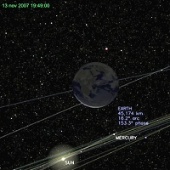 In the evening of 13 November, at 20:57 UTC, the Rosetta spacecraft returns to Earth for a second time after its launch in March 2004. The spacecraft will perform its second Earth swing-by which is part of a series of gravity assists required to put the spacecraft on an intercept course with comet 67P/Churyumov-Gerasimenko.
Date: 12 November 2007
Successful Mars Swingby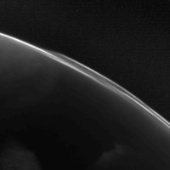 At 02:57 UT 25 February, mission controllers at ESOC, ESA's Space Operations Centre in Germany, confirmed Rosetta's successful swingby of Mars.
Date: 25 February 2007
Rosetta Mars Swing-by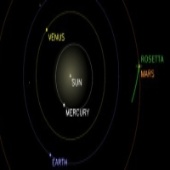 The Rosetta swing-by of Mars is the second of four gravity assist manoeuvres that are required to place Rosetta on course for its final destination: comet 67P/Churyumov-Gerasimenko. The closest approach of the swing-by will take place at 01:54 UT, 25 February 2007, when the spacecraft will pass 250 km above the surface of Mars.
Date: 23 February 2007
Two asteroid fly-bys for Rosetta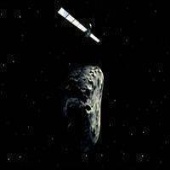 ESA PR 15-2004. Today the Rosetta Science Working Team has made the final selection of the asteroids that Rosetta will observe at close quarters during its journey to Comet 67P/Churyumov-Gerasimenko. Steins and Lutetia lie in the asteroid belt between the orbits of Mars and Jupiter.
Date: 11 March 2004
Rosetta lander named Philae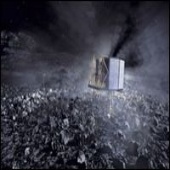 With just 21 days to the launch of the European Space Agency's Rosetta comet mission, the spacecraft's lander has been named "Philae". Rosetta embarks on a 10-year journey to Comet 67P/Churyumov-Gerasimenko from Kourou, French Guiana, on 26 February.
Philae is the island in the river Nile on which an obelisk was found that had a bilingual inscription including the names of Cleopatra and Ptolemy in Egyptian hieroglyphs. This provided the French historian Jean-François Champollion with the final clues that enabled him to decipher the hieroglyphs of the Rosetta Stone and unlock the secrets of the civilisation of ancient Egypt.
Date: 05 February 2004
Rosetta Ready to Explore A Comet's Realm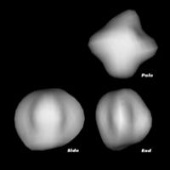 ESA's comet chaser will soon be heading towards a new target, known as 67P/Churyumov-Gerasimenko, but the mission team is confident that a rich scientific bonanza awaits when Rosetta arrives at its destination in the summer of 2014.
Date: 12 January 2004
Rosetta Ready to Land on a Larger Comet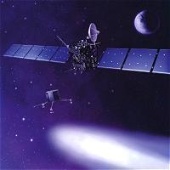 With the launch of ESA's comet chaser scheduled for February 2004, the Rosetta team has been racing to meet a new challenge - a change of target.
Date: 28 October 2003
ESA confirms Rosetta's new target but identifies financial challenge for the mission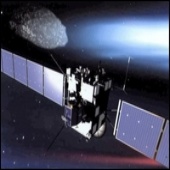 Following an intensive campaign of technical and scientific investigations, the ESA Science Programme Committee has confirmed that its comet-chasing mission Rosetta will now set its sights on Comet Churyumov-Gerasimenko. However, the putative February 2004 launch date cannot be fixed until the ESA Council has found a solution to the lack of cash in its Science Programme immediate budget.
Date: 02 June 2003
New destination for Rosetta, Europe's comet chaser
Comet-chasing mission Rosetta will now set its sights on Comet Churyumov-Gerasimenko. During its meeting on 13-14th May 2003, ESA's Science Programme Committee decided Rosetta's new mission baseline. The spacecraft will be launched in February 2004 from Kourou, French Guiana, using an Ariane-5 G+ launcher. The rendezvous with the new target comet is expected in November 2014.
Date: 28 May 2003
Looking for life of any shape or form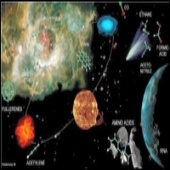 On 25 April 25 1953, James D. Watson and Francis H. Crick published an historic paper in Nature that would change the fate of modern science. They proposed that DNA, the molecule of complex life forms, had the shape of a double helix. Today, scientists from all areas are working together to answer the ultimate question: can life (in any shape or form) exist anywhere else in the Universe?
Date: 01 May 2003
131 items found page 2 of 7