S-Cam 2
The STJ Detector Array
This page has been archived and is no longer updated.
The S-Cam 2 detector array was read-out by means of 36 Charge Sensitive Preamplifiers, one for each pixel, and a related shaping stage, all taking place at room temperature. The amplitude and risetime of the detected pulse corresponded to the total collected charge and to the decay time of the signal respectively. Noise is assessed by measuring the FWHM of the peak distribution generated by an electronic pulser.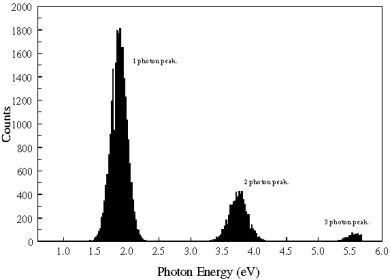 The integrated system test conducted prior to shipment to the William Herschel Telescope confirmed good reproducability of the electrical characteristics of the array, and also demonstrated that it was possible to operate all pixels at the same bias voltage (about 200 microvolts, typically) and with uniform responsivity. The typical pixel-to-pixel responsivity variations were at the 5 % level. As shown below, three pixels had substantially higher subgap currents than the rest of the array. The cause of this non-uniformity is not fully understood, but is suspected to be due to the IR background as seen by the individual detectors, rather than any intrinsic array defect. The larger FWHM obviously leads to a lower S/N and thus worse resolving power. Fortunately the pixels in the center of the array, where the stellar image was likely to fall, were well-behaved.
Last Update: 06 September 2013