S-Cam 2
Results: Crab Pulsar
This page has been archived and is no longer updated.
The first test campaign with S-Cam 1 took place in Jan-Feb 1999. Although observing conditions were poor, the basic viability of the instrument was demonstrated, paving the way for three more runs which have since taken place with S-Cam 2. In particular, the unique timing and energy resolving capabilities of the instrument were demonstrated by observing the Crab pulsar (see below):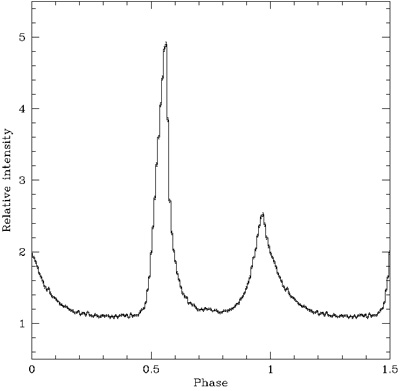 S-Cam 2 went to the mountain in Dec 1999, April 2000 and September/October 2000, with only small technical changes made between the three runs. In all instances the observing conditions were satisfactory. The three campaigns focussed on astronomical exploitation of the camera, rather than on engineering aspects, and a choice of observing targets was made with particular care to utilise the instrument's unique capabilities. Among the objects looked at in all three runs, for instance, were a number of cataclysic variable (CV) stars. CV's are binary stars containing a white dwarf and a normal star, and are typified by short orbital periods and rich temporal and spectroscopic behavior. Eclipsing CV's are particularly interesting since the rapid colour changes seen during the ingress and egress of the eclipse is dependent on the geometry of the various components in the binary - stars, accretion streams, hotspots etc. S-Cam 2's rapid time variability and moderate energy resolution is ideally suited to studying these phenomena.
Last Update: 06 September 2013