Giotto: comet chaser
Comet treasure: raw materials for life
Comets are intriguing objects because they are very primitive, leftover building blocks from the birth of the planets. Although they rarely strike the Earth today, impacts were once much more frequent, and probably played a significant role in our planet's evolution. Most of the water in Earth's oceans may have come from comets.
A unique opportunity to learn their secrets came in 1986 with the near-suicidal flight of ESA's Giotto spacecraft to the unexplored nucleus of Halley's Comet. A stream of discoveries followed.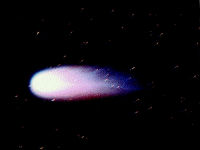 Giotto confirmed that the comet had formed 4.5 billion years ago from ices condensing onto grains of interstellar dust. Since then, it has remained almost unaltered in the cold, outer regions of the Solar System.
As expected, 80 percent of the comet gas was water vapour, with another 10 percent carbon monoxide. The only other significant constituents were carbon dioxide and polymerised formaldehyde, a non-biological organic compound made from hydrogen, oxygen and carbon.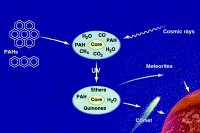 Analysis of Comet Halley's dust particles provided some surprising results. Tiny grains, no larger than specks of cigarette smoke, were found to be much more abundant than expected. Unlike most space dust, it was not stony but organic. Carbon was found to be a major constituent of the dust.
Many particles were similar in composition to a rare, primitive type of meteorite known as a carbonaceous chondrite. Even more surprising was the discovery of so-called CHON particles, rich in carbon, hydrogen, oxygen and nitrogen. Intriguingly, these elements are essential for life as we know it. Dust from comets could have fertilised the Earth, by supplying materials from which nucleic acids and proteins could form.
Did life on Earth start with the help of comets? If so, it almost certainly began in a similar way somewhere else. Giotto's discoveries intensified the interest in exobiology - the search for life beyond the Earth - and the question of whether or not we are alone in the Universe.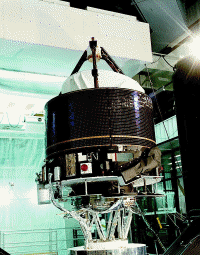 As Giotto and Halley's Comet closed at around 250 000 km/h, the ESA spacecraft suffered a peppering which left only three instruments fully functional, with five more degraded but operational. Nevertheless, it was decided to despatch Giotto on an unprecedented second comet encounter.
"Giotto discovered a magnetic cavity around Halley's Comet, something which has never been seen before or since," said Fritz Neubauer of the University of Cologne, Germany. "It was worth flying so close to the nucleus, even though it threatened the spacecraft, just to find a region where the magnetic field was essentially zero."
| | |
| --- | --- |
| | How a small comet makes huge waves |
Last Update: 23 May 2003