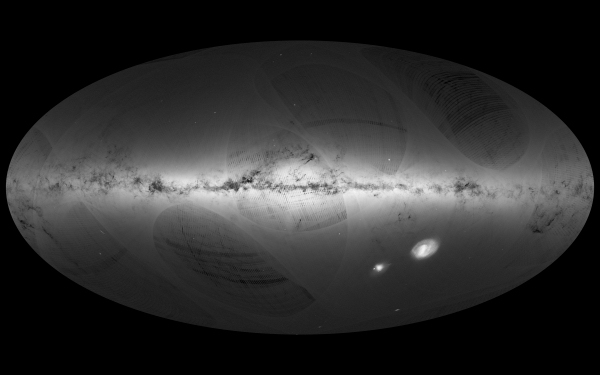 Gaia's first sky map. Credit: ESA/Gaia/DPAC. Acknowledgement: A. Moitinho & M. Barros (CENTRA – University of Lisbon), on behalf of DPAC.
Date
Gaia's first data release was published on 14 September 2016
Contents
Positions and Gaia 'G' magnitudes for 1.1 billion stars using only Gaia data;
Positions, parallaxes (distances) and proper motions for more than 2 million stars using the Tycho-Gaia Astrometric Solution (TGAS);
Light curves and characteristics for about 3000 variable stars;
Positions and G magnitudes for more than 2000 quasars - extragalactic sources used to define the celestial reference frame.
Access
All the data are available from the ESA Gaia Archive:
and from the main partner data centres:
Centre de Données astronomiques de Strasbourg (CDS): http://cds.unistra.fr/gaia
ASI Science Data Center (ASDC): http://gaiaportal.asdc.asi.it
Astronomisches Rechen-Institut (ARI): http://gaia.ari.uni-heidelberg.de
Leibniz-Institut für Astrophysik Potsdam (AIP): http://gaia.aip.de