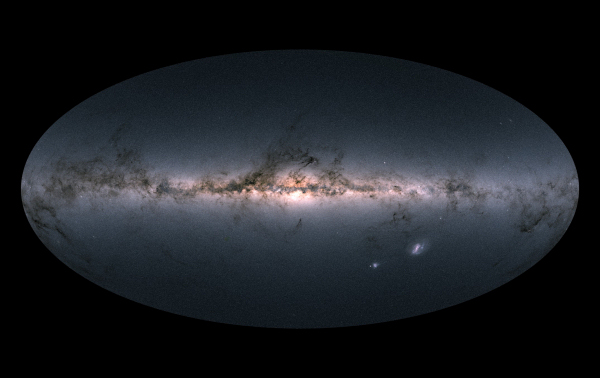 Gaia's sky in colour. Credit: ESA/Gaia/DPAC.
Date
Gaia's second data release was published on 25 April 2018
Data time span
22 months of observations
Contents
Celestial positions and Gaia 'G' magnitudes for nearly 1.7 billion stars;
Parallaxes (distance indicators), proper motions and BP/RP (blue/red photometer) colours for more than 1.3 billion stars;
Radial velocities for more than seven million stars;
Astrophysical parameters such as surface temperature (161 million stars), extinction and reddening (a measure of the amount of dust along the line of sight to a star; 87 million stars), radius and luminosity (76 million stars);
Light curves and classification for about 0.5 million variable stars;
Positions and epoch of observation of 14 099 known Solar System objects – mainly asteroids – based on more than 1.5 million observations;
Positions and 'G' magnitudes for more than 0.5 million quasars – which allows the celestial reference frame to be fully defined for the first time using optical observations of extragalactic sources.
Access
All data are available from the ESA Gaia Archive, which also provides visualisation tools, pre-computed cross-matches with other large catalogues, as well as comprehensive documentation to explore the data sets:
Data can also be accessed from the partner data centres:
Centre de Données astronomiques de Strasbourg (CDS): http://cdsweb.u-strasbg.fr/gaia
ASI Space Science Data Center (SSDC): http://gaiaportal.asdc.asi.it
Astronomisches Rechen-Institut (ARI): http://gaia.ari.uni-heidelberg.de
Leibniz-Institut für Astrophysik Potsdam (AIP): http://gaia.aip.de