News archive
127 items found page 4 of 7
Cassini confirms liquid surface on Titan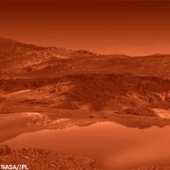 Observations with the VIMS instrument on Cassini have identified the presence of liquid ethane in one of the large lake-like features observed on Saturn's moon, Titan. These results are reported by R. Brown and colleagues in the 31 July issue of Nature.
Date: 31 July 2008
Titan Flyby - 31 July 2008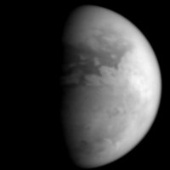 Just over two months after its last visit, Cassini once again approaches Titan for the mission's forty-sixth targeted encounter with the large moon: T45. This is the first Titan encounter in Cassini's Equinox Mission. The closest approach to Titan occurs on Thursday, 31 July, at 02:13:11 UT at an altitude of 1613 kilometres above the surface and at a speed of 6.3 kilometres per second. The latitude at closest approach is 43.3° S and the encounter occurs on orbit number 78.
Date: 30 July 2008
ICEUM10/LEAG/SRR Cape Canaveral 2008
Date: 30 July 2008
CoRoT exoplanet stands out from the crowd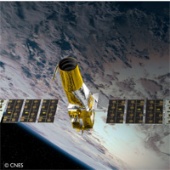 Analysis of data from the CoRoT spacecraft along with complementary ground-based observations reveal CoRoT-Exo-4b to be a gas-giant planet whose parent star appears to rotate in sync with the planet's orbit. This object is also of interest as it occupies a previously empty region of the mass-period parameter space for transiting exoplanets.
Date: 28 July 2008
Lenses galore - Hubble finds large sample of very distant galaxies [heic0814]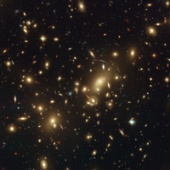 New Hubble Space Telescope observations of six spectacular galaxy clusters acting as gravitational lenses have given significant insights into the early stages of the Universe. Scientists have found the largest sample of very distant galaxies seen to date: ten promising candidates thought to lie at a distance of 13 billion light-years (a redshift of ~ 7.5).
Date: 24 July 2008
XMM-Newton discovery of nova V598 Pup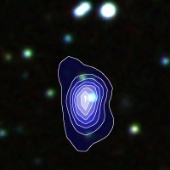 On 9 October 2007 XMM-Newton discovered a new bright X-ray source as it slewed across the sky. Follow-up optical observations from ground identified the counterpart to be a nova, V598 Pup.
Date: 18 July 2008
Venus Express to fly closer to Venus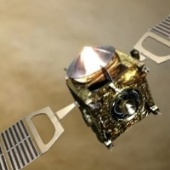 A series of orbit control manoeuvres (OCMs) is underway to alter the orbit of the Venus Express spacecraft, with the goal of reducing the pericentre altitude to 185 km. These manoeuvres, which began on 13 July, provide new opportunities for scientific observations of regions which have not been probed by the spacecraft so far.
Date: 15 July 2008
Preparations underway for Rosetta flyby of asteroid Steins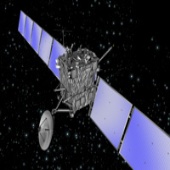 On 5 September 2008 the Rosetta spacecraft will make its closest approach to asteroid Steins. Preparations are underway to ready the spacecraft for this important scientific milestone.
Date: 08 July 2008
Start of the Cassini Equinox Mission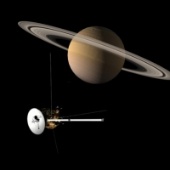 June 30 marks the end of the four-year primary mission for the Cassini spacecraft and the start of the extended mission.
Date: 30 June 2008
Beamed radio emission from Earth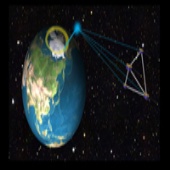 A recent study reveals how the most powerful emission of terrestrial origin, the Auroral Kilometric Radiation (AKR), is beamed into space. This result was obtained using data collected by the four satellites of the Cluster mission. These new data were found to be inconsistent with two leading AKR beaming theories developed 30 years ago, but support a more recent one. The result has important implications for radio studies of planetary magnetospheres, including radio searches for exo-planets.
Date: 27 June 2008
XMM-Newton unveils the double pulsar in X-rays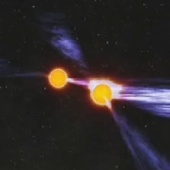 XMM-Newton observations of the unique double pulsar system PSR J0737-3039 have confirmed pulsed X-ray emission from one component and, for the first time, provided strong evidence for X-ray emission from the second pulsar. The XMM-Newton data show that this unusual system displays complex X-ray behaviour.
Date: 23 June 2008
Caught in the act: Hercules X-1 spins up while INTEGRAL is watching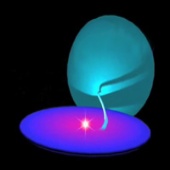 In spite of being one of the longest known and most studied X-ray sources, Hercules X-1 continues to intrigue astronomers. A recent report describing observations conducted with INTEGRAL confirms the picture of a complex emission pattern from this source, and for the first time shows the pulsar accelerating.
Date: 17 June 2008
Ulysses mission to conclude in July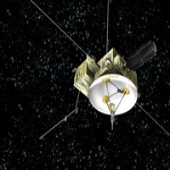 After more than 17 years of operation, the joint ESA/NASA mission Ulysses will officially conclude in July this year. The remarkable achievements of this mission were recalled at a press conference held at ESA Headquarters in Paris on 12 June.
Date: 12 June 2008
Hubble's sweeping view of the Coma Galaxy Cluster [heic0813]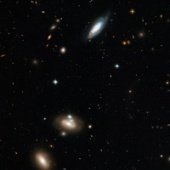 The NASA/ESA Hubble Space Telescope captures the magnificent starry population of the Coma Cluster of Galaxies, one of the densest known galaxy collections in the Universe.
Date: 10 June 2008
Forgotten source sheds light on missing supernovae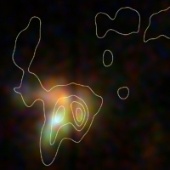 Analysis of XMM-Newton data of G350.1-0.3, together with a critical re-assessment of archival data, reveals this bright galactic radio source to be a young and bright supernova remnant (SNR). A likely associated compact object is also identified.
Date: 09 June 2008
Reconnection - Triggered by Whistlers?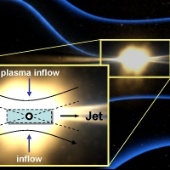 Some of the most explosive phenomena in the Universe are due to a physical process known as magnetic reconnection. Fundamental aspects of this process are still not fully understood but new advances, using Cluster data, have recently been reported by a team led by scientists from the Chinese Academy of Sciences.
Date: 09 June 2008
ESA Bulletin 134: The Next Decade with XMM-Newton - Its Scientific Impact and Challenges for the Next 10 Years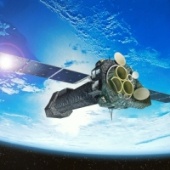 The May 2008 issue of the ESA Bulletin features an article on "The Next Decade with XMM-Newton - Its Scientific Impact and Challenges for the Next 10 Years".
Date: 06 June 2008
Titan Flyby - 28 May 2008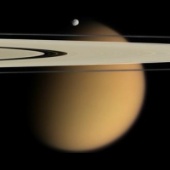 Wednesday, 28 May, Cassini returns to Titan for the mission's forty-fifth targeted encounter with Saturn's largest moon: Titan-44. The closest approach occurs at 08:24:32 UTC, at an altitude of 1400 kilometres above the surface and at a speed of 6.3 kilometres per second. The latitude at closest approach is 12.4° N and the encounter occurs on orbit number 69.
Date: 27 May 2008
Call for White Papers for Exo-Planet Roadmap Advisory Team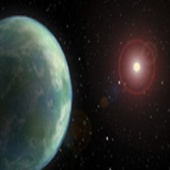 ESA has convened an expert body, the Exo-Planet Roadmap Advisory Team, with a mandate to recommend to the agency a roadmap leading to the long term goal of detecting biomarkers in Earth-like exo-planets in the habitable zone, and imaging such planets. The EPR-AT will consult with the broad scientific community in order to solicit input for their report to ESA. The Call for White Papers, issued today, is the first step in this consultation process.

The deadline for receipt of the White Papers has passed.
Date: 26 May 2008
Call for Payload Study Consortia for Cosmic Vision M-class Missions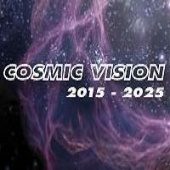 ESA has issued a "Call for Declarations of Interest in Science Instrumentation" for the M-class Cosmic Vision mission, Euclid. Prospective Principal Investigators are invited to submit proposals outlining the composition of nationally funded consortia to carry out assessment level studies. Responses are due by 16:00 CEST on 11 July 2008.
Date: 23 May 2008
127 items found page 4 of 7