News archive
15 items found page 1 of 1
INTEGRAL detects signature of critical cosmic accelerator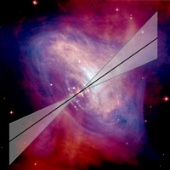 Polarized photons provide an insight into the nature and energies of the particles that radiated them; this in turn gives us a handle on the nature of the acceleration processes at work in cosmic sources. INTEGRAL's detection of polarized gamma-rays from the Crab pulsar, reported by Dean and colleagues in the 29 August issue of Science, has significant implications for many aspects of high-energy accelerators.
Date: 29 August 2008
Clash of clusters provides new dark matter clue [heic0818]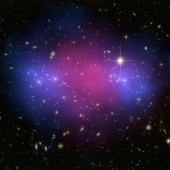 A powerful collision between galaxy clusters has been captured by the NASA/ESA Hubble Space Telescope and NASA's Chandra X-ray Observatory. This clash of clusters provides striking evidence for dark matter and insight into its properties.
Date: 27 August 2008
Cluster examines Earth-escaping ions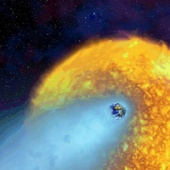 Oxygen ions are constantly escaping from the Earth's upper atmosphere through the magnetic polar caps. This has long been observed but the underlying mechanism has eluded scientists - until now. A recent study reports the first experimental assessment of a physical mechanism that makes a significant contribution to the acceleration of oxygen ions towards the centre of the terrestrial magnetic tail, along magnetic field lines. This assessment was made possible as a result of several years of data collected by the European Space Agency's Cluster mission.
Date: 27 August 2008
XMM-Newton Announcement of Opportunity (AO8)
Proposals are solicited for observations with XMM-Newton in response to the Eighth Announcement of Opportunity, AO-8, issued today. This AO covers the period May 2009 to April 2010 and is open to all proposers.
The deadline for receipt of proposals has passed.
Date: 26 August 2008
Discovery of the most massive cluster of galaxies known in the distant Universe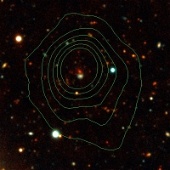 XMM-Newton has discovered a rare, very massive cluster of galaxies at a distance of about 7700 million light years (or z~1). The object, designated 2XMM J083026+524133, was discovered during a systematic analysis of the 2XMM X-ray source catalogue. In a paper, to appear in Astronomy & Astrophysics, Georg Lamer and colleagues present the discovery and analysis of this exceptional cluster of galaxies.
Date: 25 August 2008
LISA Pathfinder modules at ESTEC for system testing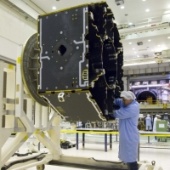 The science and propulsion modules of LISA Pathfinder have arrived at ESTEC for a series of system tests. These are devised to validate the spacecraft design parameters and to record the response of the LISA Pathfinder hardware to the launch environment by measuring acceleration loads on the spacecraft. The test campaign will continue until the end of 2008.
Date: 20 August 2008
Hubble sees magnetic monster in active galaxy [heic0817]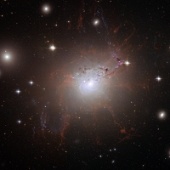 The Hubble Space Telescope has found the answer to a long-standing puzzle by resolving giant but delicate filaments shaped by a strong magnetic field around the active galaxy NGC 1275. It is the most striking example of the influence of these immense tentacles of extragalactic magnetic fields, say researchers.
Date: 20 August 2008
ESA Bulletin 135: Exploring Venus - Answering the Big Questions with Venus Express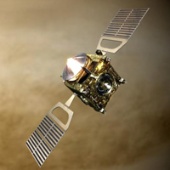 The August 2008 issue of ESA's flagship magazine, the ESA Bulletin, features an article presenting some of the most important science results from Venus Express - results which could answer some of the greatest mysteries about our nearest planetary neighbour.
Date: 19 August 2008
Optical navigation campaign off to a good start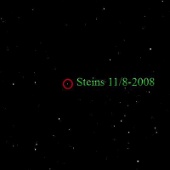 Rosetta's on-board cameras have successfully started to visually track asteroid Steins in an optical navigation campaign. The images have been used to calculate the asteroid's location and to optimise Rosetta's trajectory for the upcoming fly-by of the asteroid on 5 September 2008.
Date: 19 August 2008
Hubble unveils colourful star birth region on its 100 000th orbit milestone [heic0816]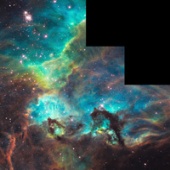 In commemoration of the ESA/NASA Hubble Space Telescope completing its 100 000th orbit around the Earth in its 18th year of exploration and discovery, scientists have aimed Hubble to take a snapshot of a dazzling region of celestial birth and renewal.
Date: 11 August 2008
Electron trapping within reconnection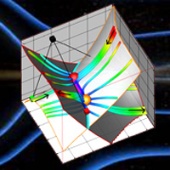 A 3-dimensional (3-D) "magnetic snapshot" of the heart of a magnetic reconnection region has been obtained in-situ by the four satellites of the ESA Cluster mission, at one-third of the distance to the Moon from Earth. The snapshot, constructed using a new analysis method, reveals for the first time a 3-D magnetic structure known as a magnetic null pair where two reconnection sites, or nulls, are magnetically linked. The rare occurrence of one of the Cluster satellites passing by one null of the pair has uncovered a new phenomenon where the electrons are temporarily trapped around that null. The electron trapping may ultimately lead to the formation of energetic electron beams, a well-known but poorly understood consequence of reconnection.
Date: 11 August 2008
Enceladus Fly-by - 11 August 2008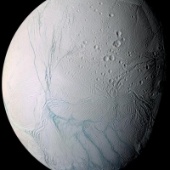 On Monday, 11 August 2008, Cassini will visit Enceladus and obtain the highest resolution images to date of the moon's enigmatic south polar region. The closest approach occurs at 21:06:19 UTC at an altitude of just 54 kilometres above the moon's surface and at a relative speed of 17.7 kilometres per second. The latitude at closest approach is 28° S, the longitude is 98° W.
Date: 08 August 2008
Globular clusters tell tale of star formation in nearby galaxy metropolis [heic0815]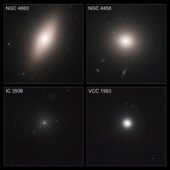 The ESA/NASA Hubble Space Telescope has identified thousands of ancient globular clusters in the Virgo cluster of galaxies, many of them more than 5000 million years old. These discoveries improve our understanding of the life and evolution of cannibal galaxies.
Date: 05 August 2008
Rosetta fine-tunes its approach to asteroid Steins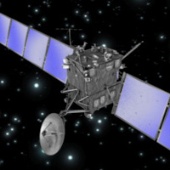 On 4 August Rosetta starts to use its cameras to visually track asteroid Steins. These observations will be used to refine the trajectory of the spacecraft relative to Steins and to adjust it, if necessary, to achieve the desired fly-by conditions: 800 km distance at closest approach on 5 September at 18:37 UTC and zero phase angle reached prior to closest approach.
Date: 04 August 2008
Announcing the International X-ray Observatory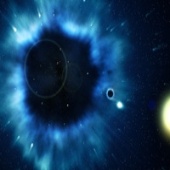 At a bilateral ESA-NASA meeting held on 15-16 July, 2008, David Southwood, the ESA Director for the Science and Robotic Exploration Program, and Ed Weiler, the NASA Associate Administrator of the Science Mission Directorate, endorsed a plan to establish an International X-ray Observatory (IXO) study.
Date: 01 August 2008
15 items found page 1 of 1