News archive
5 items found page 1 of 1
INTEGRAL deciphers diffuse signature of cosmic-ray electrons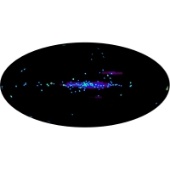 Astronomers exploiting six years worth of data from ESA's INTEGRAL mission have pinned down the individual processes contributing to the high-energy Galactic interstellar emission produced by cosmic-ray electrons. Deciphering each of the different physical mechanisms at play at hard X-ray and soft gamma-ray wavelengths represents a crucial step towards an increasingly detailed picture of the population of high-energy particles permeating the Milky Way.
Date: 21 December 2011
Strangely slow pulsar discovered nestled in young supernova remnant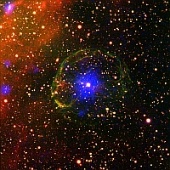 Astronomers have discovered a very slowly rotating X-ray pulsar still embedded in the remnant of the supernova that created it. This unusual object was detected on the outskirts of the Small Magellanic Cloud, a satellite galaxy of the Milky Way, using data from a number of telescopes, including ESA's XMM-Newton. A puzzling mismatch between the fairly young age of the supernova remnant and the slow rotation of the pulsar, which would normally indicate a much older object, raises interesting questions about the origin and evolution of pulsars.
Date: 20 December 2011
Young star rebels against its parent cloud [heic1118]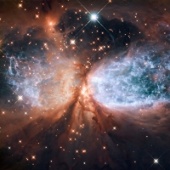 Hubble's Wide Field Camera 3 has captured this image of a giant cloud of hydrogen gas illuminated by a bright young star. The image shows how violent the end stages of the star-formation process can be, with the young object shaking up its stellar nursery.
Date: 15 December 2011
MARSIS completes measurement campaign over Martian North Pole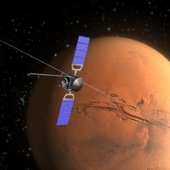 The Mars Advanced Radar for Subsurface and Ionosphere Sounding (MARSIS) instrument on board Mars Express has recently completed a subsurface sounding campaign over the planet's North Pole. The campaign was interrupted by the suspension of science observations several times between August and October due to safe modes and to anomalies in the operation of the spacecraft's Solid-State Mass Memory (SSMM) system. As MARSIS best observes in the dark, which for the North Pole only occurs every few years, it was among the first instruments to resume observations once a partial work-around for the problems had been implemented.
Date: 14 December 2011
Hubble's 10 000th scientific paper published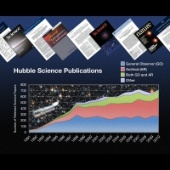 The NASA/ESA Hubble Space Telescope has passed another milestone in its almost 21 years of observations: the publication of the 10 000th refereed scientific paper based on Hubble data.
Date: 06 December 2011
5 items found page 1 of 1