Science Results Archive
127 items found page 6 of 7
Evidence for a Subsurface Ocean on Titan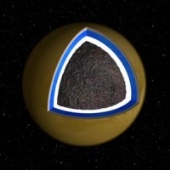 Based on Cassini radar observations of Titan's surface the moon's spin rate is now confirmed to be both non-synchronous and changing with time, providing evidence for the existence of a subsurface ocean.
Date: 25 March 2008
Titan Flyby - 25 March 2008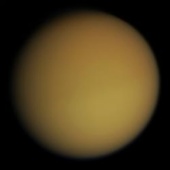 Today, Tuesday 25 March, Cassini returns to Titan for the mission's forty-third targeted encounter: Titan-42. The closest approach occurs at 14:27:48 UT, at an altitude of 1000 kilometres above the surface and at a speed of 6.3 kilometres per second. The latitude at closest approach is 27° S and the encounter occurs on orbit number 62.
Date: 25 March 2008
Characterisation of SNR 0509-67.5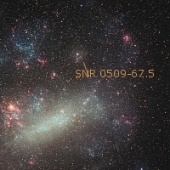 Optical observations by Rest et al. of light echoes from the supernova (SN) explosion that created the supernova remnant SNR 0509-67.5 have allowed for the determination of the SN's subtype and age, some 400 years after the event. This conclusive determination of SN subtype so long after the explosion of the parent star is confirmed by results from analyses of X-ray observations by Badenes et al. that use Chandra and XMM-Newton spectra of the SNR's shocked ejecta material.
Date: 20 March 2008
JWST Sunshield Preliminary Design Review Complete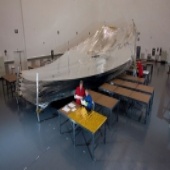 The tennis court-sized sunshield built by Northrop Grumman for the James Webb Space Telescope has completed its preliminary design review (PDR) at the company's Space Technology facility.
Date: 20 March 2008
Hubble finds first organic molecule on extrasolar planet [heic0807]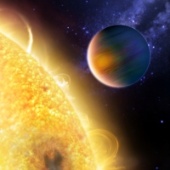 The NASA/ESA Hubble Space Telescope has made the first detection ever of an organic molecule in the atmosphere of a planet orbiting another star. This breakthrough is an important step in eventually identifying signs of life on a planet outside our Solar System.
Date: 19 March 2008
X-ray observations of Postoutburst Nova V5116 Sagittarii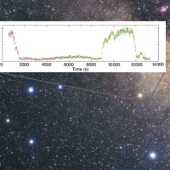 In a recent paper, Gloria Sala et al. present the X-ray light curve and broadband spectrum of nova V5116 Sagittarii (V5116 Sgr) as observed by XMM-Newton 609 days after the nova was first observed at optical wavelengths.
Date: 14 March 2008
Enceladus Flyby - 12 March 2008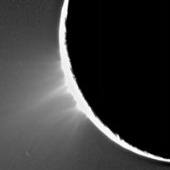 On 12 March 2008, Cassini visits Enceladus for the first time since the discovery of active geysers on this icy moon, two and a half years ago. The closest approach occurs at 19:06:12 UT at an altitude of just 52 kilometres above the surface and at a speed of 14.4 kilometres per second. This makes it Cassini's closest approach ever of Enceladus or any other Saturnian moon. The flyby occurs in orbit 61 of the mission.
Date: 12 March 2008
Marco Polo Workshop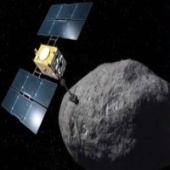 5 & 6 June 2008
Salle Miramar, La Croisette, Cannes, France
Croisette Beach Hotel
13, rue du Canada, 06400 Cannes, France
Date: 11 March 2008
INTEGRAL Announcement of Opportunity for AO-6 Cycle Observation Proposals and for Obtaining Data Rights to Targets within Previously Approved Key Programmes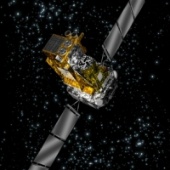 Dear Colleague,

I am very pleased to invite you to respond to the sixth "Announcement of Opportunity" by submitting proposals for observations to be performed with the international Gamma-ray Astrophysics laboratory (INTEGRAL) satellite or for obtaining data rights to targets within the previously approved Key Programmes.
Date: 10 March 2008
Solitons found in the magnetopause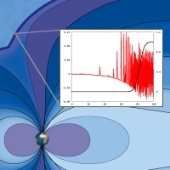 First observed in the waters of a Scottish canal in 1834, solitary waves or solitons, have nowadays applications across various fields of physics, including optical fibres to enable ultra-fast internet. However, fundamental questions on this phenomenon remain open. In a recent article published in Physical Review Letters, the spontaneous formation of zonal mode solitary waves at the border of the Earth's magnetosphere, the magnetopause, is reported and explained. Although different types of solitons have been observed in space previously (see references), this paper reports, for the first time, a direct comparison of multi-spacecraft observations and matched numerical modelling of zonal flow solitons, unambiguously showing that these structures penetrate down the plasma density gradient in the magnetospheric border.
Date: 07 March 2008
Green light awaited for Europe's Mars mission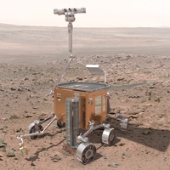 The cornerstone of ESA's Aurora exploration programme is ExoMars, a mission to deliver Europe's first planetary rover to the Red Planet. After more than a year of studying various mission concepts, the ExoMars team is preparing to move on to the detailed design of the ExoMars spacecraft and rover.
Date: 05 March 2008
Ulysses mission coming to a natural end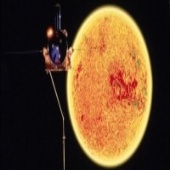 Ulysses, the mission to study the Sun's poles and the influence of our star on surrounding space is coming to an end. After more than 17 years in space - almost four times its expected lifetime - the mission is finally succumbing to its harsh environment and is likely to finish sometime in the next month or two.
Date: 22 February 2008
Amazing Miniaturized 'SIDECAR' Drives Webb Telescope's Signal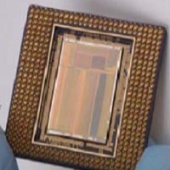 Many technologies have become so advanced that they've been miniaturized to take up less space and weigh less. That's what happened to detector controls and data conversion electronics on the James Webb Space Telescope being built by Northrop Grumman. The electronics will convert analogue signals to digital signals and provide better images to Earth.
Date: 20 February 2008
Eta Carinae in Hard X-rays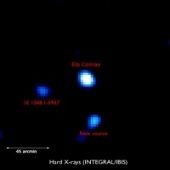 Eta Carinae is a complex binary system, at a distance of around 8000 light years, with a large nebulosity surrounding the central objects. Observations with INTEGRAL have confirmed the nature of hard X-ray emission from the region to be from inverse compton scattered photons accelerated in a region where two stellar winds collide.
Date: 20 February 2008
Hubble discovers 67 gravitationally lensed galaxies in the distant Universe [heic0806]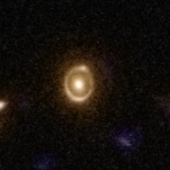 Astronomers using the NASA/ESA Hubble Space Telescope have compiled a large catalogue of galaxy-galaxy lens candidates in the distant Universe. The catalogue contains 67 previously unknown gravitationally lens systems around foreground elliptical and lenticular galaxies. This sample demonstrates the rich diversity of strong gravitational lenses. If this sample is representative, there would be nearly half a million similar gravitational lenses in total over the whole sky.
Date: 19 February 2008
Hubble finds strong contender for galaxy distance record [heic0805]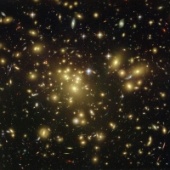 The NASA/ESA Hubble Space Telescope, with a boost from a gravitational lens, has found the strongest evidence so far for a galaxy with a redshift significantly above 7. It is likely to be one of the youngest and brightest galaxies ever seen, in the middle the cosmic dark ages just 700 million years after the Big Bang.
Date: 12 February 2008
TandEM (Titan and Enceladus Mission) Workshop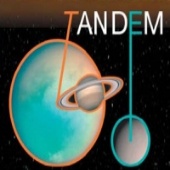 17-19 March 2008

Chateau de Meudon
5 Place Janssen 92195 MEUDON Cedex, France
Date: 07 February 2008
HRSC High-level Data Products Available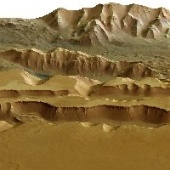 Tuesday, 5 February, saw the release of the first set of high-resolution Digital Terrain Models (DTM) and ortho-images of Mars in the Planetary Science Archive derived from HRSC data.
Date: 06 February 2008
Gargantuan galaxy NGC 1132 - a cosmic fossil? [heic0804]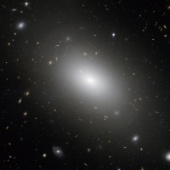 The NASA/ESA Hubble Space Telescope has captured a new image of the galaxy NGC 1132 which is, most likely, a cosmic fossil - the aftermath of an enormous multi-galactic pile-up, where the carnage of collision after collision has built up a brilliant but fuzzy giant elliptical galaxy far outshining typical galaxies.
Date: 06 February 2008
Cluster result impacts future missions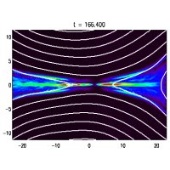 Magnetic reconnection is a universal process able to drive explosive phenomena such as solar flares. At the heart of this process is a small zone called the electron diffusion region, where reconnection is thought to be triggered. In a recent article, scientists report the first observational evidence for the overall size of this region and find that it is 300 times larger than previously thought. This means that future missions will have a much better chance of detecting and resolving this region than previously estimated, profoundly impacting mission design and scientific operations.
Date: 23 January 2008
127 items found page 6 of 7