Science Results Archive
10 items found page 1 of 1
Novel observing mode on XMM-Newton opens new perspectives on galaxy clusters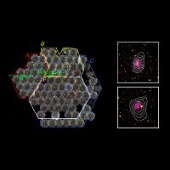 Surveying the sky, XMM-Newton has discovered two massive galaxy clusters, confirming a previous detection obtained through observations of the Sunyaev-Zel'dovich effect, the 'shadow' they cast on the Cosmic Microwave Background. The discovery, made possible thanks to a novel mosaic observing mode recently introduced on ESA's X-ray observatory, opens a new window to study the Universe's largest bound structures in a multi-wavelength approach.
Date: 31 May 2010
Herschel Announcement of Opportunity for Open Time (OT1) observations
The first in-flight Announcement of Opportunity (AO) for Open Time (OT1) observations with the Herschel Space Observatory has been issued. The OT1 call solicits proposals from the worldwide astronomical community and offers 6592 hours of Herschel observing time. The deadline for proposal submissions is: 22 July 2010 at 12:00 UT.
Date: 21 May 2010
ESA International Research Fellow awarded gold medal by the Russian Academy of Sciences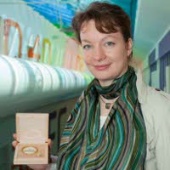 Dr. Maria Gritsevich, an International Research Fellow in the Research & Scientific Support Department of ESA at ESTEC in the Netherlands, has received a gold medal from the Russian Academy of Sciences. The medal, granted to the best young scientist of the past year in the field of Problems of mechanical engineering, mechanics and control processes, recognises the extensive work accomplished by Gritsevich during her PhD studies at the Lomonosov Moscow State University.
Date: 20 May 2010
Scientists discuss progress in next generation X-ray observatory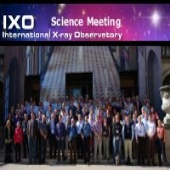 Despite their travel arrangements being thrown into chaos by the eruption of the Eyjafjallajökull volcano in Iceland, nearly 200 participants from around the world came together recently at the Cité Universitaire in Paris, for the Second International X-ray Observatory (IXO) Science Meeting. This was a timely opportunity to review the progress that has been made on IXO in a number of areas.
Date: 18 May 2010
X-ray discovery points to location of missing matter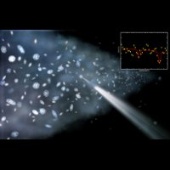 Using observations with ESA's XMM-Newton and NASA's Chandra X-ray Observatory, astronomers have announced a robust detection of a vast reservoir of intergalactic gas about 400 million light years from Earth. This discovery is the strongest evidence yet that the 'missing matter' in the nearby Universe is located in an enormous web of hot, diffuse gas.
Date: 11 May 2010
Hubble catches heavyweight runaway star speeding from 30 Doradus [heic1008]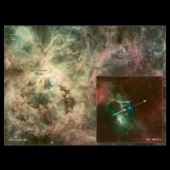 A heavy runaway star is rushing away from a nearby stellar nursery at more than 400 000 kilometres per hour, a speed that would get you to the Moon and back in two hours. The runaway is the most extreme case of a very massive star that has been kicked out of its home by a group of even heftier siblings. Tantalising clues from three observatories, including the NASA/ESA Hubble Space Telescope's newly installed Cosmic Origins Spectrograph (COS), and some old-fashioned detective work, suggest that the star may have travelled about 375 light-years from its suspected home, a giant star cluster called R136.
Date: 11 May 2010
Herschel unveils rare massive stars in the act of forming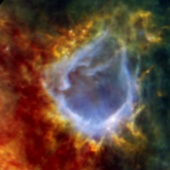 New images from ESA's Herschel space observatory reveal high-mass protostars around two ionised regions in our Galaxy. The detection of these rare stars in an early phase of evolution is key to understanding the mysterious formation of massive stars.
Date: 06 May 2010
Herschel reveals galaxies in the GOODS fields in a brand new light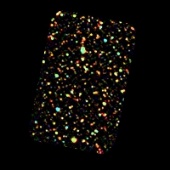 The discovery of a previously unresolved population of galaxies in the GOODS fields and the first measurements of properties of galaxies in the almost unexplored far-infrared domain are among the first exciting scientific results achieved by Herschel's PACS and SPIRE instruments. These findings confirm the extraordinary capabilities of ESA's new infrared space observatory to investigate the formation and evolution of galaxies.
Date: 06 May 2010
Herschel's HIFI follows the trail of cosmic water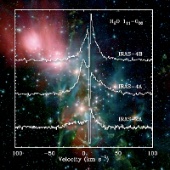 Herschel's HIFI instrument was especially designed to follow the water trail in the Universe over a wide range of scales, from the Solar System out to extragalactic sources. Early results, presented this week at the Herschel First Results Symposium, demonstrate how HIFI uses water to probe the physical and chemical conditions in different regions of the cosmos.
Date: 06 May 2010
James Webb Space Telescope passes key mission design review milestone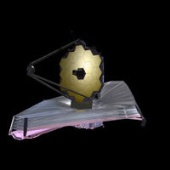 The James Webb Space Telescope has passed its most significant mission milestone to date, the Mission Critical Design Review. This signifies that the integrated observatory will meet all science and engineering requirements for its mission.
Date: 03 May 2010
10 items found page 1 of 1