Science Results Archive
88 items found page 4 of 5
ESA scientists honoured by the European Geosciences Union in Vienna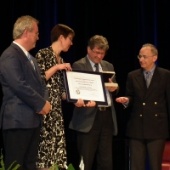 Yesterday afternoon ESA scientists Jean-Pierre Lebreton and Dmitriy V. Titov were honoured by the European Geosciences Union (EGU). At a ceremony in Vienna, the two were respectively presented with the Jean Dominique Cassini Award and the David Bates Award.
Date: 07 April 2011
INTEGRAL discovers gamma rays originating from black hole jets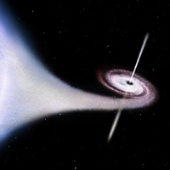 Can the powerful jets originating from the vicinity of black holes emit gamma rays? ESA's INTEGRAL observatory has shown that they can. An extensive study of Cygnus X-1, a binary system that hosts a black hole, has revealed polarized gamma-ray emission from this source, and shown that this high-energy emission originates from the jets that were originally detected in the radio band. This first discovery of polarized gamma rays from the vicinity of a black hole opens a new observational window on these enigmatic objects. The results of this study are published online today in Science Express.
Date: 24 March 2011
Arachnophobes beware: Hubble snaps close-up of the Tarantula [heic1105]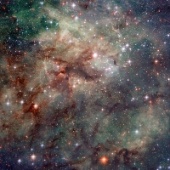 The NASA/ESA Hubble Space Telescope has produced an outstanding image of part of the famous Tarantula Nebula, a vast star-forming cloud of gas and dust in our neighbouring galaxy, the Large Magellanic Cloud. In this picture, we see a close-up of the Tarantula's central region, glowing brightly with ionised gases and young stars.
Date: 15 March 2011
ESA remembers the night of the comet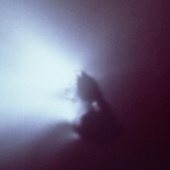 Twenty-five years ago, ESA made its mark in deep space. A small spacecraft swept to within 600 km of Halley's comet. The Giotto probe was nearly destroyed by the encounter but what it saw changed our picture of comets forever.
Date: 11 March 2011
First release of calibrated LYRA data from PROBA2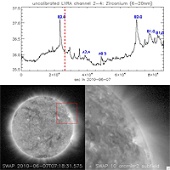 The first calibrated measurements of solar irradiance made by the LYRA instrument on ESA's second PROBA (PRoject for On-Board Autonomy) satellite are now available to the scientific community. Future access to near-real-time data from both of the primary instruments on PROBA2, SWAP and LYRA, is expected to provide new opportunities to study solar activity and space weather.
Date: 10 March 2011
An old galaxy cluster discovered in the young Universe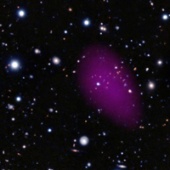 Astronomers working with data from several observatories, including ESA's XMM-Newton, have discovered the most distant, mature galaxy cluster yet. The cluster is seen as it was when the Universe was only about a quarter of its current age. In contrast to other structures observed in the young Universe, this object is already in its prime, as is evident from its diffuse X-ray emission and evolved population of galaxies. This shows that fully-grown galaxy clusters were already in place this early in cosmic history.
Date: 09 March 2011
INTEGRAL Announcement of Opportunity (AO-9)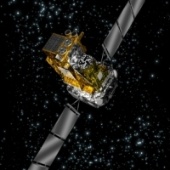 Proposals are solicited for observations with INTEGRAL in response to the Ninth Announcement of Opportunity, AO-9, issued 7 March 2011. This AO covers the period January 2012 to December 2012 and is open to all proposers.
Date: 07 March 2011
Call for Letters of Interest to participate in the preparatory activities for the Gaia archive access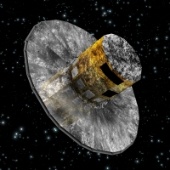 NOTE - The deadline for submissions has passed

Dear Colleagues, ESA hereby invites groups in Member States, wishing to participate in the preparatory activities for the Gaia archive access working group, to submit a Letter of Interest to ESA outlining their area of expertise and potential contribution.
Date: 01 March 2011
Four candidates selected for the next medium-class mission in ESA's Cosmic Vision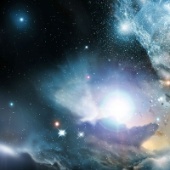 Looking ahead to the next decade of scientific exploration, ESA has today (25 February) selected four candidates for a medium-class mission that will launch in the period 2020-22. The candidates cover very different areas of scientific research, ranging from investigations of black holes and general relativity to near-Earth asteroid sample return and studies of planets orbiting distant stars.
Date: 25 February 2011
Flocculent spiral NGC 2841 [heic1104]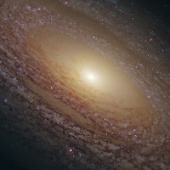 The galaxy NGC 2841 - shown here in this NASA/ESA Hubble Space Telescope image, taken with the space observatory's newest instrument, the Wide Field Camera 3 - currently has a relatively low star formation rate compared to other spirals. It is one of several nearby galaxies that have been specifically chosen for a new study in which a pick 'n' mix of different stellar nursery environments and birth rates are being observed.
Date: 17 February 2011
Herschel quantifies the dark matter threshold for starburst galaxies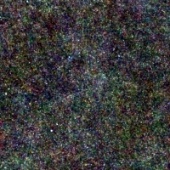 How much dark matter is needed to trigger a starburst in the cosmic cribs where galaxies are born? A new study, based on data from ESA's Herschel Space Observatory, has revealed that dark matter halos with a mass larger than 300 billion times the Sun's are particularly efficient at igniting massive starbursts, as they house the most active star-forming galaxies in the Universe. Astronomers have discovered this key threshold by measuring small fluctuations in the Cosmic Infrared Background, the integrated diffuse emission produced by the dust from every galaxy that ever existed. These fluctuations trace the distribution of otherwise mostly unresolved star-forming galaxies and of the dark matter halos that enshroud them. These results are reported in the 24 February 2011 issue of Nature and are published online today.
Date: 16 February 2011
First results of Cluster's auroral acceleration campaign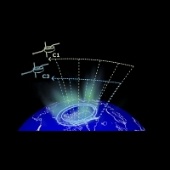 Auroras, more commonly known as the northern and southern lights, are one of the most beautiful and awe-inspiring natural phenomena. New insights into the processes that generate Earth's auroras (and those of other planets) are now being provided by a flotilla of ESA satellites, known as the Cluster mission, as they sweep through the region of space where these colourful curtains of light are created. As they fly in formation above the planet's poles, the Cluster spacecraft are gathering the first multi-point observations of auroral nurseries.
Date: 01 February 2011
Hubble finds a new contender for galaxy distance record [heic1103]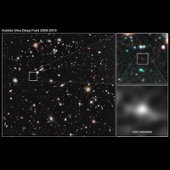 Pushing the Hubble Space Telescope to the limit of its technical ability, an international collaboration of astronomers have found what is likely to be the most distant and ancient galaxy ever seen, whose light has taken 13.2 billion years to reach us (a redshift of around 10).
Date: 26 January 2011
Europa Jupiter System Mission: Presentations from fourth instrument workshop now available
The fourth instrument workshop for the Europa Jupiter System Mission (EJSM), a candidate L-class mission in ESA's Cosmic Vision science plan, was held on 26-29 July 2010 at the Sheraton Universal Hotel in Universal City, California, USA.
Date: 24 January 2011
ISSI Call for Proposals 2011 for International Teams in Space Science (incl. Geosciences)
Announcement
The International Space Science Institute (ISSI) in Bern, Switzerland, invites proposals for establishing International Teams to conduct on its premises research activities in Space Sciences, based on the interdisciplinary analysis and evaluation of data from spacecraft and possible integration with ground data and theoretical models. For the purpose of this Call, Space Sciences include the Solar and Heliospheric Physics, Solar-Terrestrial Sciences, Space Plasma and Magnetospheric Physics, Planetary Sciences, Astrobiology, Cosmology, Astrophysics, Fundamental Physics, and Earth Sciences.
Date: 18 January 2011
ESA's Mercury mapper feels the heat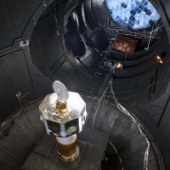 Key components of the ESA-led Mercury mapper BepiColombo have been tested in a specially upgraded European space simulator. ESA's Large Space Simulator is now the most powerful in the world and the only facility capable of reproducing Mercury's hellish environment for a full-scale spacecraft.
Date: 18 January 2011
The Crab Nebula: standard candle no more?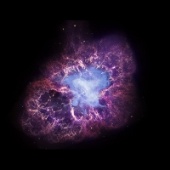 Teaming up with other telescopes monitoring the Crab Nebula, ESA's INTEGRAL observatory has made a significant contribution to demonstrating that this source, previously believed to be a standard candle, might not be so reliable, after all. The small, but measurable dimming of what was until now considered to be one of the brightest and, most importantly, the steadiest source in the high-energy sky calls for a re-examination of how X-ray and gamma-ray observations are calibrated.
Date: 12 January 2011
Planck sees new, mysterious components in Milky Way and Magellanic Clouds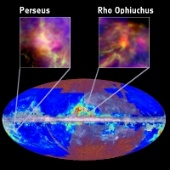 Thanks to its broad spectral coverage and very high sensitivity, Planck is peering deep into the interstellar medium of the Milky Way and discovering new components and physical mechanisms taking place therein. The results emerging from Planck's first all-sky survey include strong evidence for the presence of extremely rapidly spinning dust grains, an excess emission explained in terms of a previously poorly quantified 'dark gas' and the characterisation of an excess emission arising from the interstellar medium that permeates the Small Magellanic Cloud, a nearby galaxy orbiting our own Milky Way. These are amongst the highlights presented by the Planck Collaboration at a conference held from 10 to 14 January 2011 in Paris, France.
Date: 11 January 2011
Planck's first science results and the release of an extensive compact source catalogue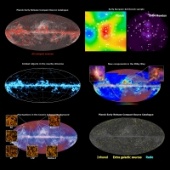 The Planck Collaboration presents the first science results to emerge from the mission, covering compact and diffuse foreground emission sources, at a conference held from 10 to 14 January 2011 in Paris, France. These results are accompanied by the release of the first Planck product to be publicly distributed: the Early Release Compact Source Catalogue, a highly robust compilation of compact sources detected in each of the telescope's nine channels. Eagerly awaited by the scientific community, the catalogue contents span a wide variety of astronomical sources, and also includes a sample of galaxy clusters detected through the Sunyaev-Zel'dovich effect and a list of cold molecular cloud cores distributed throughout the Milky Way.
Date: 11 January 2011
Planck's successful hunt probes galaxy clusters on very broad mass range
The first all-sky survey of galaxy clusters detected via the Sunyaev-Zel'dovich effect is amongst the highlights presented by the Planck Collaboration at a conference held from 10 to 14 January 2011 in Paris, France. The survey, which has benefited from a fruitful collaboration with ESA's XMM-Newton observatory, probes a wide range of cluster masses and other properties, which is unprecedented for a Sunyaev-Zel'dovich sample. Along with the first results enabled by the survey, the Early Sunyaev-Zel'dovich Cluster sample is being publicly released, providing the community with a robust data set for further studies and follow-up observations of galaxy clusters.
Date: 11 January 2011
88 items found page 4 of 5