News Archive
58 items found page 1 of 3
ESA shares SMART-1 legacy with the world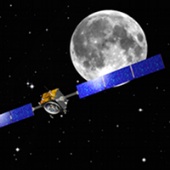 The complete archive of data sets from ESA's 3-year SMART-1 mission to the Moon has been released to the scientific community. Contained within the archive are 3D maps of the lunar poles along with detailed spectroscopic measurements of the lunar surface. Researchers can utilise this information, and cross-reference it with the wider Planetary Science Archive, to further investigate the formation and evolution of our nearest neighbour in space.
Date: 21 September 2010
SMART-1 images of new target site of upcoming LCROSS impact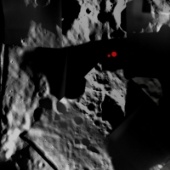 ESA's SMART-1 team has released new images of the proposed impact site of NASA's Lunar Crater Observation and Sensing Satellite (LCROSS), after the LCROSS team announced a new target last week. LCROSS will search for water ice on the Moon by making two impacts into the Cabeus crater at the lunar South Pole. The impacts are scheduled for 11:31 and 11:35 am UT on 9 October 2009.
Date: 08 October 2009
From SMART-1 to LRO/LCROSS: precursors for lunar exploration
On the occasion of the launch of the two NASA missions LRO and LCROSS (due on Thursday 18 June, 21:12 GMT), we have asked some questions to Bernard H. Foing (BHF), ESA project scientist for SMART-1 and Executive director for the International Lunar Exploration Working Group (ILEWG).
Date: 17 June 2009
SMART-1 latest maps for Kaguya's lunar impact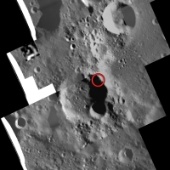 Japan's lunar orbiter Kaguya yesterday concluded its successful scientific mission with a controlled impact on the lunar surface. The impact occurred at 18:25 UT on the Moon's near side, close to the limb, at lunar coordinates ~80.4°E and ~65.5°S. The location and time made the impact visible from Earth's southern hemisphere, and one early result has already been reported from the AAT telescope in Australia.
Date: 11 June 2009
SMART-1 Impact Flash and Debris: Crash Scene Investigation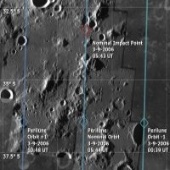 The SMART-1 observation campaign latest results bring new evidences on SMART-1 impact: timing, location, detection of flash and ejecta, and a firework.
Date: 07 September 2006
SMART-1 Mission Review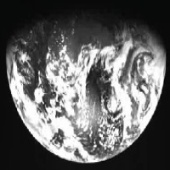 In a press conference, held at ESOC on 4 September, the key success of the SMART-1 mission from an operational, technical and scientific perspective were presented. In addition results from the last few days and weeks of observations were presented.
Date: 04 September 2006
Impact landing ends SMART-1 mission to the Moon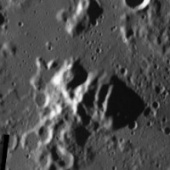 ESA PR 31-2006: At 05h42m21.759s UT, 3 September 2006, a small flash illuminated the surface of the Moon as the European Space Agency's SMART-1 spacecraft impacted onto the lunar soil, in the Lake of Excellence region. The planned impact concluded a successful mission that, in addition to testing innovative space technology, had been conducting a thorough scientific exploration of the Moon for about a year and a half.
Date: 03 September 2006
Mission Update - 1510 UT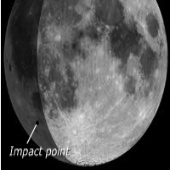 The SMART-1 mission has ended with a controlled impact with the lunar surface. Impact occurred at 05:42.21.759 UT. Approximate impact coordinates are 34.4 S, 46.2 W on the edge of Lacus Excellentiae.
Date: 03 September 2006
Impact Schedule: 01 September 2006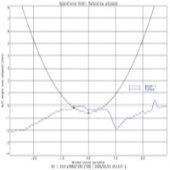 Revised impact predictions have been generated based on the SMART-1 orbit determination from 1 September 2006.
Date: 01 September 2006
SMART-1 Impact Site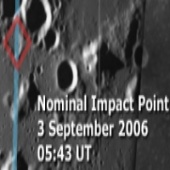 This mosaic of images, obtained by the Advanced Moon Imaging Experiment (AMIE) on board ESA's SMART-1 spacecraft, shows the predicted lunar impact site for the mission.
Date: 31 August 2006
Last Chance to Observe Sunlit SMART-1 Impact Site before Impact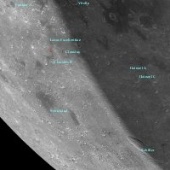 With the Moon now in its last crescent phase, visible after midnight and before sunset, the next nights offer the last chance to make ground-based observations of the SMART-1 impact site in sunlight.
Date: 18 August 2006
SMART-1: Call for Ground Based Observations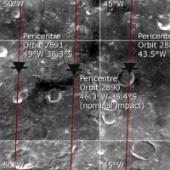 For latest impact calculation click here Like most of its lunar predecessors, SMART-1 will conclude its scientific mission to the Moon through a controlled impact on the lunar surface. This is scheduled to take place on 3 September 2006 at 05:41 UT in the Lacus Excellentiae region.
Date: 16 August 2006
SMART-1 Mission Overview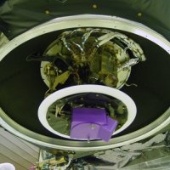 The SMART-1 mission will end on 3 September 2006 when the spacecraft will make a controlled impact with the lunar surface. SMART-1's journey consisted of several phases, an overview of which is given in a new set of dedicated pages.
Date: 04 August 2006
Detection of Calcium on the Moon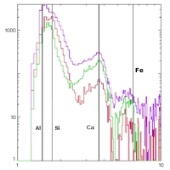 During the Lunar commissioning phase, SMART-1's payload already produced interesting science results. Taking advantage of a solar flare, the D-CIXS instrument detected the calcium element on the lunar surface from its X-ray fluoresence.
Date: 08 June 2005
SMART-1 Search for Lunar Peaks of Eternal Light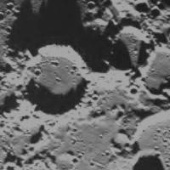 SMART-1 has started to monitor the illumination of the lunar poles since the beginning of 2005, even before arriving at its final science orbit in March. The Moon's rotational axis is only 1.5° inclined to the ecliptic plane. This orientation allows for areas to exist at the bottom of near-polar craters that do not see direct sunlight and where ice might potentially be trapped. On the other hand, at higher elevations on the rim of polar craters, there are areas that see the Sun for more than half of the time. The popular astronomer and writer Camille Flammarion proposed in 1879 that there might be peaks of eternal light at the poles - "pics de lumiere eternelle".
Date: 14 April 2005
SMART-1 Mission Extension Approved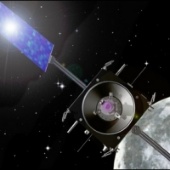 On 10 February 2005 the ESA Science Programme Committee endorsed unanimously the proposed one-year extension of SMART-1, pushing back the mission end date from August 2005 to August 2006.
Date: 15 February 2005
SMART-1 Enters Lunar Orbit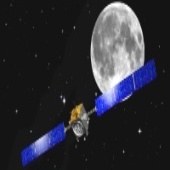 At 17:48 UT, 15 November 2004 the SMART-1 spacecraft encountered its first perilune. After 332 orbits around the Earth the ion drive was fired at 05:24 UT, 15 November, to bring the spacecraft into lunar orbit.
Date: 16 November 2004
SMART-1 ion engine fired successfully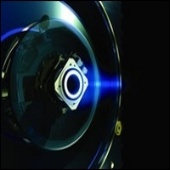 SMART-1's revolutionary propulsion system was successfully fired at 12:25 UT on 30 September, 2003, in orbit around the Earth.
Date: 01 October 2003
SMART-1 status 40 hours after launch
At about 40 hours of Mission Elapsed Time (starting from Launch), the commissioning of the SMART-1 spacecraft is proceeding nominally.
Date: 29 September 2003
Press Release PR 60-2003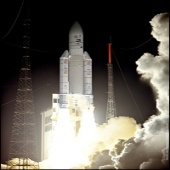 SMART-1 leaves Earth on a long journey to the Moon
Date: 28 September 2003
58 items found page 1 of 3