Crater de Gasparis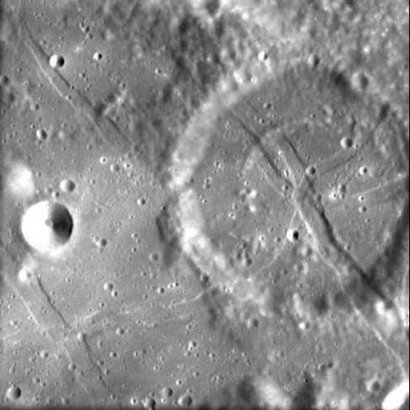 de Gasparis is a small to medium sized crater 30 km in diamater located on the western flank of Mare Humorum. The rim of the crater is worn and eroded. The interior has, at some point, been flooded by lava and sits around 0.8 km below the surrounding surface.

The crater is intersected by a number of rimae including, running from top-left to lower-right of the crater, a part of the 93 km long Rimae de Gasparis. Due to the consistent depth of the rimae it evidently formed after the crater and is possibly associated with the tectonic activity which saw the infilling of the crater.

The crater is named after the Italian astronomer Annibale de Gasparis (1819-1892, director of the observatory in Naples, Italy and discoverer of 9 asteroids. Along with the crater and rimae, asteroid 4279 is also named in his honour.

The image represents raw data and no flat field or other corrections have been applied.
| | |
| --- | --- |
| Parameter | Value |
| Date | 14 Jan 2006 |
| Time | 07:05:07 UTC |
| Distance | 1090 km |
| Longitude | 51.2° W |
| Latitude | 26.0° S |
| Resolution | 100 m/pixel |
Last Update: 28 August 2006