Venus Express Launch Dress Rehearsal
07 November 2005 15:11
After completion of the pre-launch sequence yesterday, Sunday 6 November 2005, the spacecraft has been left switched-ON over night and its health status was constantly being monitored by two shifts of baby-sitting teams.
Hand-over of the spacecraft to the countdown team for the launch dress rehearsal took place at 09:00 (03:00UTC) on Monday, 7 November 2005.
The simulated lift-off time was set to 18:34 (12:34UTC), and the spacecraft preparation activities commenced right away with the confirmation of the spacecraft configuration as achieved during yesterday's pre-launch sequence. After this check the final countdown sequence, or launch sequence, was started and the spacecraft was fully configured for launch, but still fed by ground power, at around 12:30 (06:30UTC). In parallel with the spacecraft configuration, preparations of the Fregat upper stage and the network countdown at ESOC were also progressing according to the nominal timeline.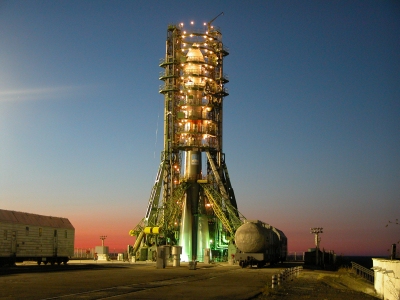 Up until approximately 17:30 (11:30UTC), 1 hour from simulated liftoff, spacecraft activities were confined to performing routine telemetry checks in order to reconfirm the correct status of the spacecraft. The fuelling of the launcher, which normally takes place in this time slot, was not carried out as part of this dress rehearsal. With the virtual launcher fuelling being completed spacecraft activities resumed, and eventually the switch to onboard power was confirmed at 18:24 (12:24UTC), just 10 minutes prior to the simulated launch time.

The simulated launch time of 18:34 (12:34UTC) was reached with the spacecraft fully ready for lift-off with all systems running on onboard power.

The rehearsal at this point continued with a simulated launch abort in which the team practiced the scenario of a late abort of the sequence, called for by either the launcher or the spacecraft, in which case the spacecraft has to be returned to external power supply and brought back into a safe configuration before a further attempt for launch can be started.

After completion of all activities the countdown team handed over control of Venus Express to the baby-sitting team, who will take care of the spacecraft until the start of the final countdown activities.




Last Update: 08 November 2005