News Archive
197 items found page 1 of 10
XMM-Newton Announcement of Opportunity (AO-14)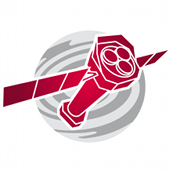 Proposals are solicited for observations with XMM-Newton in response to the fourteenth Announcement of Opportunity, AO-14, issued 26 August 2014. This AO covers the period May 2015 to April 2016 and is open to proposers from all over the world.
Date: 26 August 2014
Bizarre nearby blast mimics Universe's most ancient stars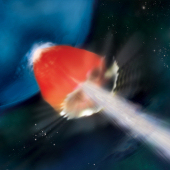 ESA's XMM-Newton observatory has helped to uncover how the Universe's first stars ended their lives in giant explosions.
Date: 11 July 2014
Award for European scientist who solved a magnetic mystery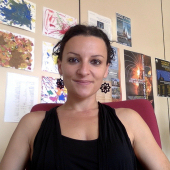 The Committee on Space Research (COSPAR) and the Russian Academy of Sciences have nominated Nanda Rea, an assistant professor at the Institute of Space Sciences (CSIC-IEEC) in Barcelona and the Anton Pannekoek Institute (API) at the University of Amsterdam, for a prestigious Zeldovich Medal.
Date: 26 June 2014
Puzzling X-rays point to dark matter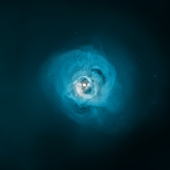 Astronomers using ESA and NASA high-energy observatories have discovered a tantalising clue that hints at an elusive ingredient of our Universe: dark matter.
Date: 24 June 2014
Cosmic collision in the Bullet Group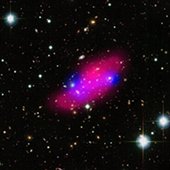 Galaxies are not as isolated as they at first glance may seem; on a cosmic scale they congregate in clumps along with dark matter and hot gas. The colourful blob in this new composite image, based on data from several telescopes including ESA's XMM-Newton, is the group of galaxies known as the Bullet Group. Its components appear to be clearly separated, with the hot gas partitioned from the rest of the mass within the group. This is the smallest object ever found to show such an effect, which was caused by a merger in the group's past.
Date: 06 June 2014
Pulsating X-rays allow XMM-Newton to unmask a mysterious star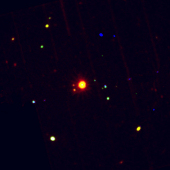 XMM-Newton has revealed a unique star. It is a celestial chimera with the body of a normal massive star yet the magnetic field of a dead, stellar dwarf. This makes it a singular object among the billions of known stars.
Date: 03 June 2014
Venus Express gets ready to take the plunge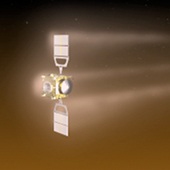 After eight years in orbit, ESA's Venus Express has completed routine science observations and is preparing for a daring plunge into the planet's hostile atmosphere.
Date: 16 May 2014
Unique pair of hidden black holes discovered by XMM-Newton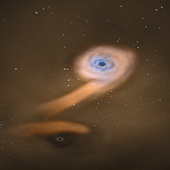 A pair of supermassive black holes in orbit around one another have been spotted by XMM-Newton. This is the first time such a pair have been seen in an ordinary galaxy. They were discovered because they ripped apart a star when the space observatory happened to be looking in their direction.
Date: 22 April 2014
Black hole boasts heavyweight jets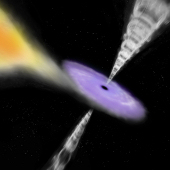 Astronomers studying a black hole in our Galaxy with ESA's XMM-Newton observatory have made a surprising discovery about the cocktail of particles that are ejected from its surroundings.
Date: 13 November 2013
Volatile pulsar reveals millisecond missing link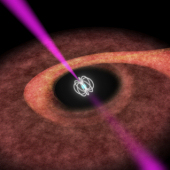 For the first time, astronomers have caught a pulsar in a crucial transitional phase that explains the origin of the mysterious millisecond pulsars. These pulsars spin much faster than expected for their old age, and astronomers believe their rotation receives a boost as they accrete matter in a binary system. The newly found pulsar swings back and forth between accretion-powered X-ray emission and rotation-driven radio emission, bringing conclusive evidence for their 'rejuvenation'. The discovery was made possible by the coordinated efforts of ESA's two missions that scan the high-energy sky: INTEGRAL and XMM-Newton.
Date: 25 September 2013
XMM-Newton Announcement of Opportunity (AO-13)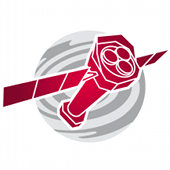 Proposals are solicited for observations with XMM-Newton in response to the thirteenth Announcement of Opportunity, AO-13, issued 27 August 2013. This AO covers the period May 2014 to April 2015 and is open to proposers from all over the world.
Date: 27 August 2013
Weakling magnetar reveals hidden strength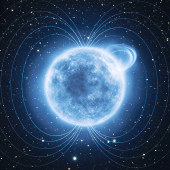 Astronomers using ESA's XMM-Newton have measured the magnetic field in a small surface feature of a magnetar - a highly magnetised pulsar - for the first time. Until now, only the dipolar magnetic field of magnetars had been measured. With a new technique, the astronomers have now revealed a strong, localised surface magnetic field in the magnetar that had the lowest measured dipolar field. The discovery yields conclusive proof that magnetars conceal some of the strongest magnetic fields in the Universe.
Date: 14 August 2013
Latest XMM-Newton catalogue offers new X-ray vision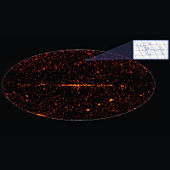 The release of a new catalogue from the XMM-Newton space telescope provides an unprecedented cosmic X-ray library for the exploration of the extreme Universe. The third XMM-Newton Serendipitous Source Catalogue (3XMM-DR4) contains more than half a million sources, all of which are provided to a better quality than ever before. Improved data processing means that source identification is more reliable, and fainter objects are detected.
Date: 23 July 2013
ESA science missions continue in overtime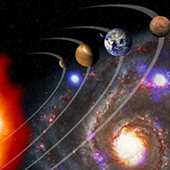 ESA has extended the productive lives of 10 of its operating space science missions. This decision secures funding for ESA's world-class science missions until at least the end of 2014, and provides a framework for planning until end of 2016.
Date: 20 June 2013
Black hole-star pair orbiting at dizzying speed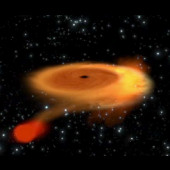 ESA's XMM-Newton space telescope has helped to identify a star and a black hole that orbit each other at the dizzying rate of once every 2.4 hours, smashing the previous record by nearly an hour.
Date: 19 March 2013
Speedy black hole holds galaxy's history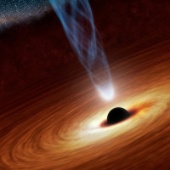 A rapidly rotating supermassive black hole has been found in the heart of a spiral galaxy by ESA's XMM-Newton and NASA's NuSTAR space observatories, opening a new window into how galaxies grow.
Date: 27 February 2013
Massive stellar winds are made of tiny pieces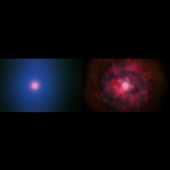 ESA's XMM-Newton space observatory has completed the most detailed study ever of the fierce wind from a giant star, showing for the first time that it is not a uniform breeze but is fragmented into hundreds of thousands of pieces.
Date: 05 February 2013
Baffling pulsar leaves astronomers in the dark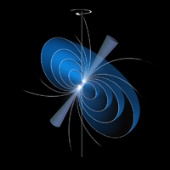 New observations of a highly variable pulsar using ESA's XMM-Newton are perplexing astronomers. Monitoring this pulsar simultaneously in X-rays and radio waves, astronomers have revealed that this source, whose radio emission is known to 'switch on and off' periodically, exhibits the same behaviour, but in reverse, when observed at X-ray wavelengths. It is the first time that a switching X-ray emission has been detected from a pulsar, and the properties of this emission are unexpectedly puzzling. As no current model is able to explain this switching behaviour, which occurs within only a few seconds, these observations have reopened the debate about the physical mechanisms powering the emission from pulsars.
Date: 24 January 2013
Greedy black hole discovered in Andromeda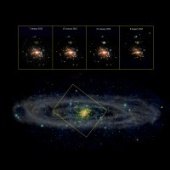 Studying the Andromeda galaxy with ESA's XMM-Newton X-ray space observatory, astronomers have discovered a new bright X-ray source that hosts a stellar-mass black hole accreting mass at a very high rate. The source's location in an external galaxy allowed the astronomers to probe the emission both from the black hole's accretion disc, at X-ray wavelengths, and from its jets, in radio waves. These observations revealed, for the first time in an extragalactic stellar-mass black hole, the link between the source's X-ray brightening and the ejection of radio-bright material from the vicinity of the black hole into the jets, indicating an accretion rate close to the black hole's Eddington limit, or even above it.
Date: 12 December 2012
Astronomers develop new method to determine neutron star mass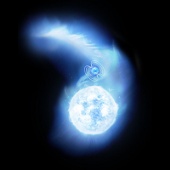 Astronomers have used INTEGRAL and XMM-Newton to look into the neutron star in IGR J17252-3616, a highly obscured X-ray binary system. The data show how the neutron star, which is being fuelled by the stellar wind from its companion, is substantially deflecting the flow of the accreted material. Comparison with numerical simulations provides an estimate of the neutron star's mass, suggesting a new method to determine the mass of these extremely dense, exotic objects.
Date: 09 November 2012
197 items found page 1 of 10