debug
debug
debug
debug
loading ...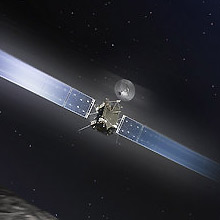 LOADING LINK
LOADING TITLE

loading data ...

loading ...


MORE INFO
Where is Rosetta today?
debug
debug
Loading...


loading ...
loading ...


Reset View
Show Full Paths
Show Milestones

Where is Rosetta? An interactive 3D visualisation of Rosetta's journey to comet 67P/Churyumov-Gerasimenko


Use the mouse buttons or keys, combined with the mouse movement to explore the tool:

This visualisation tool has been developed by Science Office / TECField for the ESA Directorate of Science (

sci.esa.int

).

Contact us at:

esa.science@esa.int

Full credits can be found at this

link

.

Milky Way background image by

Nick Risinger

.

This interactive 3D visualisation is supported only by WebGL compatible browsers and graphics cards. Further information is available here:

http://get.webgl.org

Where is Rosetta?

Loading...