Instruments
JEM-X
Principal Investigator
Søren Brandt
DSRI
Copenhagen
Denmark
The Joint European X-Ray Monitor (JEM-X) is one of four instruments on ESA's INTEGRAL mission. It plays a crucial role in the detection and identification of the gamma-ray sources. JEM-X makes observations simultaneously with the main gamma-ray instruments and provides images in the 3 - 35 keV prime energy band with an angular resolution of 3 arcmin. It consists of two identical instruments and, like IBIS and SPI, uses the coded-mask technique for imaging. Two coded masks are located 3.2 metres above the detection plane.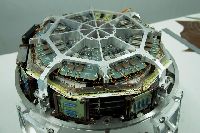 The detector, an imaging micro strip gas counter, consists of two identical high pressure gas chambers filled with a mixture of xenon and methane at a pressure of 1.5 bar, that is 1.5 times the normal atmospheric pressure at sea level. When an incoming X-ray hits the xenon gas it knocks off an electron which is accelerated by the electric field in the detector and knocks off even more electrons. The electrons cascade onto one of the wires in the detector. By measuring the size of the electric charge on the wire scientists can determine the energy of the initial X-ray. JEM-X contains crossed wires so scientists can also determine the location of the electron cascade representing the incoming photon. The total detection area of JEM-X is 1000 square centimetres.
JEM-X has been built by a number of collaborating scientific institutes in Denmark (DSRI Lyngby), Finland (Metorex Espoo, U Helsinki), Spain (U Valencia, INTA Madrid), Italy (IAS Frascati, U Ferrara, IFCAI Palermo, ITESRE Bologna), USA (NASA/GSFC Greenbelt), Sweden (Observatory Stockholm), United Kingdom (U Cambridge), Poland (Copernicus Center Warsaw, Space Research Center Warsaw), Russia (IKI Moscow).
Table Showing Predicted Performance
Parameter

Value

Energy range
3 - 35 keV
Detector area
2 units, 500 cm2 each
Spectral resolution
1.3 keV @ 10 keV
Field of view
4.8° fully coded
7.5° half response
13.2° zero response
Angular resolution
3 arcmin FWHM
Point Source Location Accuracy
1' (90% confidence, 15σ isolated source)

Narrow-line sensitivity
- 3σ in 105 s, @ 6 keV
- 3σ in 105 s, @ 20 keV


1.64 x 10-4 phs-1cm-2
1.30 x 10-4 phs-1cm-2
Continuum sensitivity
- 3σ in 105 s, @ 6 keV
- 3σ in 105 s, @ 30 keV

1.2 x 10-4 phs-1cm-2keV-1
1.0 x 10-4 phs-1cm-2keV-1
Timing accuracy (3σ )
122 µs (relative)
1 ms (absolute)
Typical Source Location (10σ source)
< 30"
Resources (following EID-A allocation)
Mass
65 kg
Power (sun/eclipse)
50/0 W
Data rate (solar maximum)
7.0 kbit/s
Date rate (solar minimum)
7.0 kbit/s
Last Update: 06 September 2011