CDF Study Report: Comet Interceptor
Publication date: 11 December 2019
Page: 1-476
Year: 2019

Copyright: ESA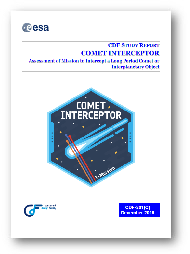 Document reference: CDF-201(C)
In July 2018, ESA issued to the science community a Call for a Fast (F) mission opportunity in ESA's Science Programme. After a two-phase review process the Comet Interceptor mission was selected in June 2019 for going into the study phase, starting with a Concurrent Design Facility (CDF) mission assessment study.
The Comet Interceptor spacecraft will be launched in 2028 towards the Sun-Earth second Lagrange point, L2, on-board an Ariane 6.2 as co-passenger to the Ariel mission. The mission aims to intercept in a fly-by scenario a Long Period Comet (LPC), with Dynamically New Comets (DNCs) representing the highest priority type of LPC, or an interstellar body passing through our Solar System. The mission includes three elements, one main spacecraft (ESA) and two probes (one ESA and one JAXA) carried as payloads until the fly-by, at which point they are released to gather multi-point observations of the comet and its coma.
This second Comet Interceptor study carries on from the first Comet Interceptor study performed in the ESA CDF in early 2019. The second study was carried out by an interdisciplinary team of experts from ESA with the participation of JAXA and the mission proposer team in six sessions and two extra delta sessions, between October and December 2019.
Link to publication
Last Update: Nov 19, 2020 12:02:23 PM