Jupiter mission contract ceremony
9 December 2015
ESA and Airbus Defence & Space today marked the signing of the contract for building JUICE, the JUpiter ICy moons Explorer.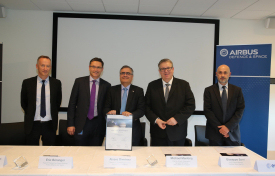 Jupiter mission contract ceremony. Credit: Airbus Defence and Space/D Marques/2015
The mission was selected in May 2012 as the first Large-class mission within ESA's Cosmic Vision 2015–25 programme, and is planned for launch in 2022 to arrive at the giant planet in 2030.
For three and a half years, JUICE will sweep around Jupiter, exploring its turbulent atmosphere, enormous magnetosphere and tenuous set of dark rings, as well as studying the icy moons Ganymede, Europa and Callisto. It will eventually go into orbit around Ganymede, a first in Solar System exploration.
All three of these planet-sized satellites are thought to have oceans of liquid water beneath their icy crusts and should provide clues on the potential for such moons to offer habitable environments.
Airbus Defence & Space SAS in France was announced as the prime contractor in July when ESA approved the €350 million contract.
The contract covers the design, development, integration, test, launch campaign and in-space commissioning of the spacecraft. The Ariane 5 launch is not included and will be procured later from Arianespace.
The 10 state-of-the-art instruments were approved by ESA in February 2013 and are being developed by teams spanning 16 European countries, the USA and Japan, under national funding.
The spacecraft will be assembled at Airbus Defence and Space GmbH in Friedrichshafen, Germany.
For more information, please contact:
Markus Bauer
ESA Science and Robotic Exploration Communication Officer
Tel: +31 71 565 6799
Mob: +31 61 594 3 954
Email: Markus.Bauer

esa.int
Giuseppe Sarri
ESA's JUICE Project Manager
Email: Giuseppe.Sarri

esa.int
Olivier Witasse
ESA's JUICE Project Scientist
Email: olivier.witasse

esa.int
Last Update: 1 September 2019