Call for Media: LISA Pathfinder launch
23 November 2015
LISA Pathfinder, ESA's technology demonstrator for detecting gravitational-waves, is set for launch on 2 December at 04:15 GMT (05:15 CET) on a Vega rocket from Europe's Spaceport in Kourou, French Guiana. Media representatives can follow the launch online and attend the event in ESA's operations centre, ESOC, in Darmstadt, Germany.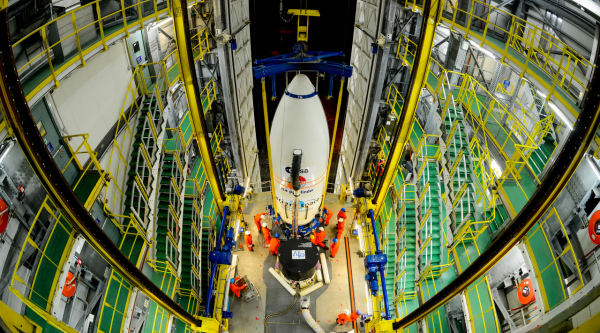 Hoisting LISA Pathfinder in upper composite to the top of the mobile gantry.
Credit: ESA–Manuel Pedoussaut, 2015
LISA Pathfinder will help to open up a completely new observational window into the gravitational Universe, by testing new technologies needed to measure gravitational waves in space. Predicted by Albert Einstein, these waves are ripples in the curvature of spacetime produced by massive celestial events, such as the merging of black holes.
Detecting gravitational waves would also be an additional confirmation of General Relativity, and greatly enhance our knowledge of the most powerful phenomena in the Universe.
Launch event in Europe
Media are invited to join scientists, mission operators and engineers from the LISA Pathfinder team at a briefing in ESOC starting at 05:30 GMT (06:30 CET). The briefing will include the spacecraft's separation from Vega, as well as the acquisition of the signal that confirms arrival in low orbit.
Following a series of six orbit-raising manoeuvres within two weeks of launch, the spacecraft will journey for six weeks to its operating orbit around the Sun–Earth L1 Lagrange point, some 1.5 million km from Earth in a sunward direction.
Programme outline at ESOC
(all times in CET, event will be held in the Press Centre, building H)
06:30
Doors to ESOC open
06:45
Start of press briefing

"Introduction to LISA Pathfinder, launcher separation and acquisition of signal"
Paolo Ferri, Head of ESA Operations, and Arvind Parmar, Head of ESA Scientific Support Office
07:00
Spacecraft separation from launcher expected
07:02
Acquisition of signal expected.

Continuation of the press briefing

"The journey to L1"
Florian Renk, LISA Pathfinder Mission Analyst, ESA

"Why do we need to investigate the Gravitational Universe?"
Oliver Jennrich, LISA Pathfinder Deputy Mission Scientist, ESA

"How will LISA Pathfinder test the technology to measure gravitational waves?"
William Weber, LISA Pathfinder scientist, University of Trento

"What will LISA Pathfinder do in the coming months?"
Martin Hewitson, LISA Pathfinder scientist, Max Planck Institute for Gravitational Physics (Albert Einstein Institute)

"Industrial and technological challenges of LISA Pathfinder"
Eckhard Settelmeyer, Director Earth Observation, Navigation and Science, Airbus DS
08:00
Question and Answer session
08:10
Individual interviews with programme speakers; joint breakfast for media and speakers
09:00
End of event
For accreditation, media can register at: esoc.communication

esa.int
Please register by 27 November.
How to get to ESOC: http://www.esa.int/About_Us/ESOC/Getting_to_ESOC
Follow online
Webstreaming
ESA will cover the launch live on www.esa.int from 03:50 GMT (04:50 CET) and the Press briefing from 05:45 GMT (06:45 CET).
Subscribe to http://livestream.com/ESA/
ESA TV
In cooperation with Arianespace, ESA TV will provide broadcasters with live satellite relay of the launch. Several stories have also been prepared on the mission and its technology:
LISA Pathfinder mission overview (13 November)
LISA Pathfinder preparation (23 September and 4 August)
Details at: http://www.esa.int/esatv/Television
More videos at: http://www.esa.int/esatv/Missions/LISA_Pathfinder
Social media
For live updates throughout the launch period, follow @esaoperations, @ESA_LPF and @ESA. The official hashtag is #LISAPathfinder.
A Flickr album is available at: https://flic.kr/s/aHskiSpEJq
Images
The latest high-resolution images can be found at:
ESA's Multimedia Gallery: http://www.esa.int/spaceinimages/Missions/LISA_Pathfinder
ESA's Photo Library for Professionals: http://www.esa-photolibrary.com
Media image queries can be directed to spaceinimages

esa.int
For further information, please contact:
ESA Media Relations Office
Tel: +33 1 53 69 72 99
Email: media

esa.int
 
Last Update: 1 September 2019