PRODEX welcomes new Participating States
1 May 2013
The Netherlands, Poland, and Romania have all become Participating States in PRODEX. The declarations were signed on 21 November, 2012, following the ESA Council at Ministerial Level, opening the door for all three countries to become involved in projects through the PRODEX office.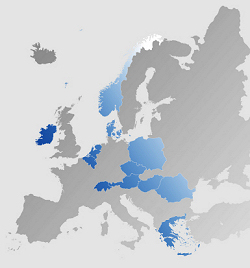 PRODEX Participating States
PRODEX officials have already had the opportunity to meet representatives from the Romanian Space Agency, ROSA. Early in 2013, Michel Lazerges, head of the PRODEX office, and Véronique Dowson, PRODEX programme Controller, travelled to Bucharest to present the operation of the office and explain how projects are implemented through PRODEX. Marius-Ioan Piso, the ROSA head, discussed the current Romanian space programme and how Romanian organizations might have the interest and capabilities of getting involved with missions through PRODEX.
The Netherlands has begun plans to work on its first instrument through PRODEX. Poland joined PRODEX almost immediately upon becoming an ESA Member State in 2012, having been a Cooperating State since 2007.
"There are clear benefits to getting involved in PRODEX," said Lazerges, "We welcome these new Participating States and look forward to supporting their development work on instruments and experiments in the future."
Last Update: 1 September 2019