Solar Orbiter launch media kit
Publication date: 27 January 2020
Copyright: ESA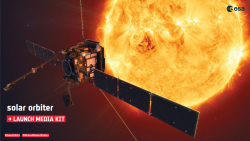 Download this interactive media kit to learn more about the launch of Solar Orbiter in February 2020 and the science goals of the mission. Solar Orbiter will perform unprecedented close-up observations of the Sun and from high-latitudes, providing the first images of the uncharted polar regions of the Sun, and investigating the Sun-Earth connection.
Contents:
Introduction
How to use this media kit
Event programme
How to follow the launch online
What's new
Answering the big questions
Operating in extreme environments
Instruments
Launch and deployment sequence
Journey around the Sun
Extreme exploration with Solar Orbiter and Parker Solar Probe
Anatomy of the Sun
Missions studying the Sun
Meet the Sun
Solar Orbiter team
Selected multimedia
Media services
To open the pdf file (16 MB) click on the image or on the link to publication below.
Link to publication
Last Update: Feb 6, 2020 1:23:19 PM